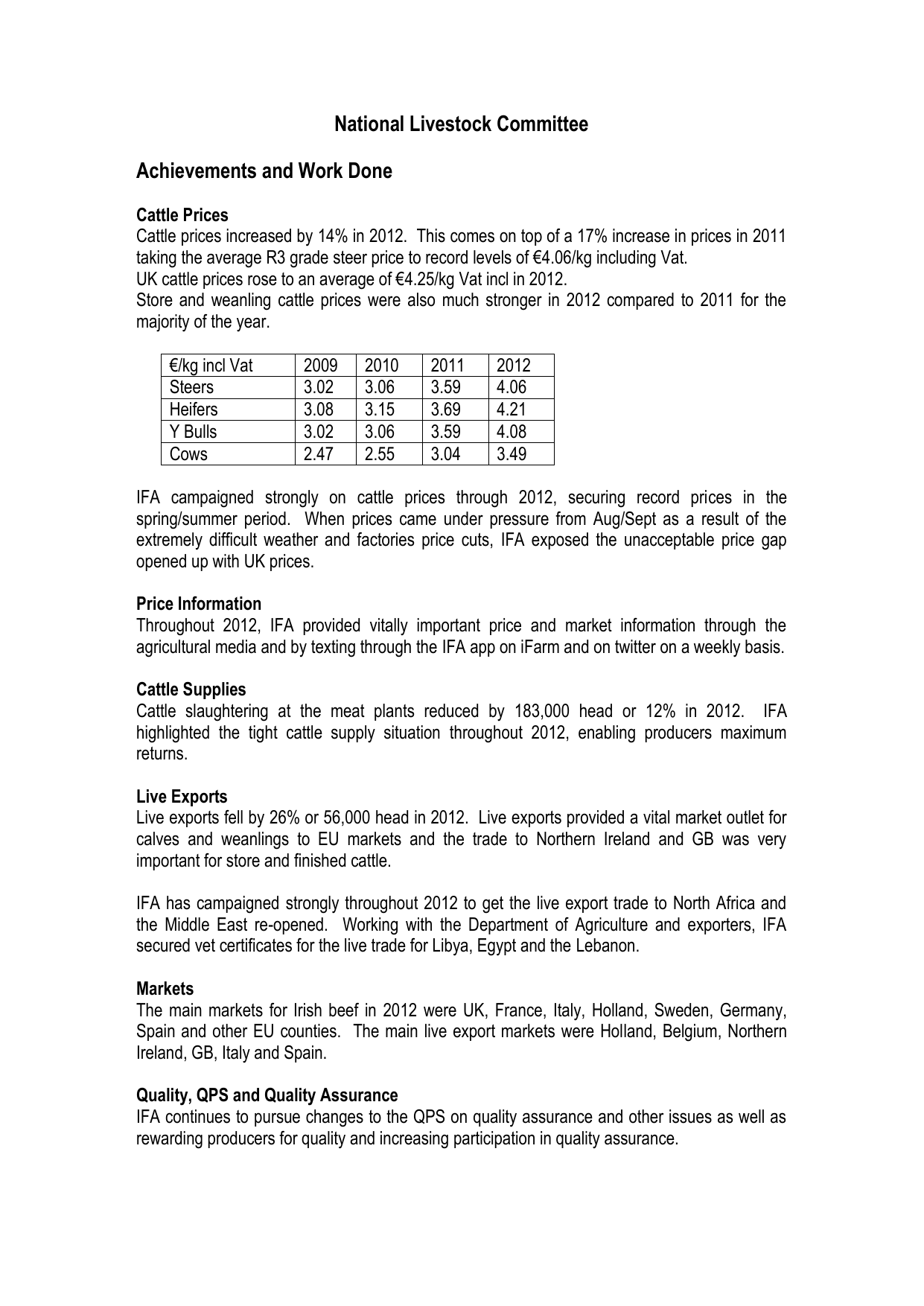 National Livestock Committee
Achievements and Work Done
Cattle Prices
Cattle prices increased by 14% in 2012. This comes on top of a 17% increase in prices in 2011
taking the average R3 grade steer price to record levels of €4.06/kg including Vat.
UK cattle prices rose to an average of €4.25/kg Vat incl in 2012.
Store and weanling cattle prices were also much stronger in 2012 compared to 2011 for the
majority of the year.
€/kg incl Vat
Steers
Heifers
Y Bulls
Cows
2009
3.02
3.08
3.02
2.47
2010
3.06
3.15
3.06
2.55
2011
3.59
3.69
3.59
3.04
2012
4.06
4.21
4.08
3.49
IFA campaigned strongly on cattle prices through 2012, securing record prices in the
spring/summer period. When prices came under pressure from Aug/Sept as a result of the
extremely difficult weather and factories price cuts, IFA exposed the unacceptable price gap
opened up with UK prices.
Price Information
Throughout 2012, IFA provided vitally important price and market information through the
agricultural media and by texting through the IFA app on iFarm and on twitter on a weekly basis.
Cattle Supplies
Cattle slaughtering at the meat plants reduced by 183,000 head or 12% in 2012. IFA
highlighted the tight cattle supply situation throughout 2012, enabling producers maximum
returns.
Live Exports
Live exports fell by 26% or 56,000 head in 2012. Live exports provided a vital market outlet for
calves and weanlings to EU markets and the trade to Northern Ireland and GB was very
important for store and finished cattle.
IFA has campaigned strongly throughout 2012 to get the live export trade to North Africa and
the Middle East re-opened. Working with the Department of Agriculture and exporters, IFA
secured vet certificates for the live trade for Libya, Egypt and the Lebanon.
Markets
The main markets for Irish beef in 2012 were UK, France, Italy, Holland, Sweden, Germany,
Spain and other EU counties. The main live export markets were Holland, Belgium, Northern
Ireland, GB, Italy and Spain.
Quality, QPS and Quality Assurance
IFA continues to pursue changes to the QPS on quality assurance and other issues as well as
rewarding producers for quality and increasing participation in quality assurance.
CAP Reform
The National Livestock Committee highlighted the key issues on the CAP 2012 Ciolos proposals
focusing on the importance of maintaining the CAP budget, opposing flattening and
regionalisation, the importance of coupling for vulnerable sectors and the need to retain strong
Pillar II payments for dry stock farmers.
The Livestock Committee worked hard to maximise the 20,000 strong turnout of farmers in
Dublin on October 9th and led the protest in the EU offices in November against the CAP Budget
cuts.
IFA played a key role in the French/Italian/Spanish and Irish beef policy position paper launched
with the French Minister in Clermont Ferrand in October.
Marts
IFA strongly opposed the negative aspect to the changes imposed by the marts regulator in
2012. IFA organised a large series of livestock farmer meetings with marts throughout the
country.
Suckler Cow Welfare Scheme
Despite a strong campaign to retain the SCWS, Minister Coveney abolished the scheme in
Budget 2013 and replaced it with a Beef Recording Scheme, valued at €10m p.a.
Weather Crisis
IFA set up project teams throughout the country in response to the extremely difficult weather
crisis in 2012. In addition, IFA worked closely with Teagasc on weather clinics and produced a
newsletter to 90,000 farmers with assistance from the Farmers' Journal setting out options for
fodder problems.
World Trade
IFA highlighted the threat and damage to the EU/Irish beef sector from an EU/Canadian trade
deal at the highest level in the EU Commission and with the Taoiseach.
Animal Health and Welfare Bill
IFA highlighted farmer concerns and issues including providing over 82 amendments on the
Animal Health & Welfare Bill being pushed through the House of the Oireachtas by Minister
Coveney.
Discussion Groups
IFA secured €5m in Government funding for the establishment of Beef Discussion Groups with
payment of €925 per farmer.
Direct Payments
IFA secured a 50% advance on the SFP from October 16 th and through strong lobbying secured
payments to over 122,000 farmers (99%) worth €1.2bn by year end.
Priorities for 2013
Incomes
Improving livestock farms incomes through strong cattle prices, price information and
competition, buoyant market outlets and strong direct payments.
Cattle Prices/Market/Live Exports
IFA will apply maximum pressure to optimise cattle prices and competition, and work to secure
the resumption of the North Africa/Middle East live export trade.
CAP 2013
IFA will continue its strong campaign on CAP 2013 resisting budget cuts, flattening and
regionalisation and securing an acceptable payment model to protect livestock farm incomes.
Farm Schemes/Budget
IFA will continue a strong campaign against the Government/Minister strategy on cuts to the
Farm Schemes.
Direct Payments
IFA will insist on full payments within the deadlines set down.