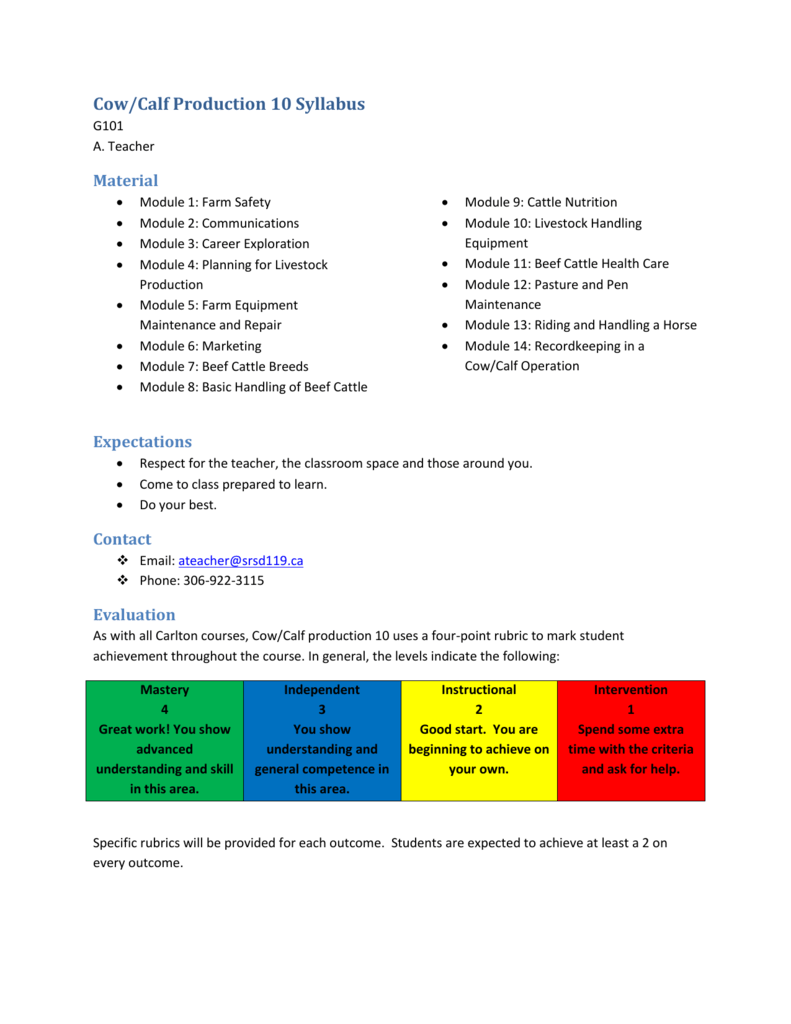 Cow/Calf Production 10 Syllabus
G101
A. Teacher
Material








Module 1: Farm Safety
Module 2: Communications
Module 3: Career Exploration
Module 4: Planning for Livestock
Production
Module 5: Farm Equipment
Maintenance and Repair
Module 6: Marketing
Module 7: Beef Cattle Breeds
Module 8: Basic Handling of Beef Cattle






Module 9: Cattle Nutrition
Module 10: Livestock Handling
Equipment
Module 11: Beef Cattle Health Care
Module 12: Pasture and Pen
Maintenance
Module 13: Riding and Handling a Horse
Module 14: Recordkeeping in a
Cow/Calf Operation
Expectations



Respect for the teacher, the classroom space and those around you.
Come to class prepared to learn.
Do your best.
Contact
 Email: [email protected]
 Phone: 306-922-3115
Evaluation
As with all Carlton courses, Cow/Calf production 10 uses a four-point rubric to mark student
achievement throughout the course. In general, the levels indicate the following:
Mastery
4
Great work! You show
advanced
understanding and skill
in this area.
Independent
3
You show
understanding and
general competence in
this area.
Instructional
2
Good start. You are
beginning to achieve on
your own.
Intervention
1
Spend some extra
time with the criteria
and ask for help.
Specific rubrics will be provided for each outcome. Students are expected to achieve at least a 2 on
every outcome.