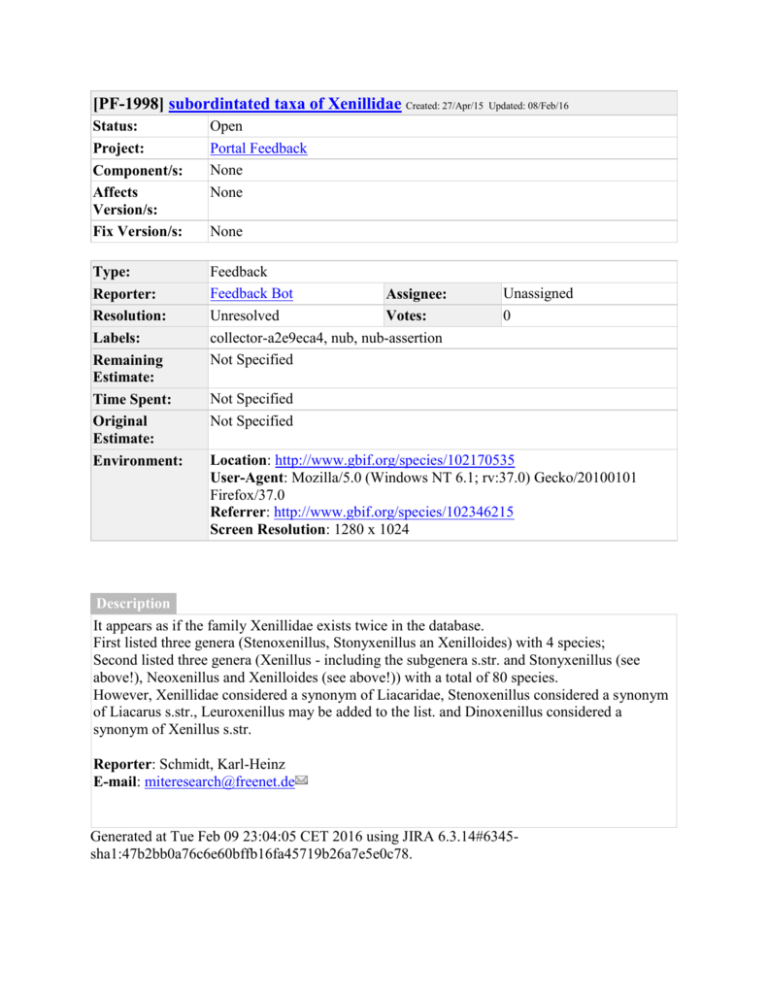 [PF-1998] subordintated taxa of Xenillidae Created: 27/Apr/15
Status:
Project:
Component/s:
Affects
Version/s:
Fix Version/s:
Open
Portal Feedback
None
None
Type:
Reporter:
Resolution:
Labels:
Remaining
Estimate:
Time Spent:
Original
Estimate:
Environment:
Feedback
Feedback Bot
Assignee:
Unresolved
Votes:
collector-a2e9eca4, nub, nub-assertion
Not Specified
Updated: 08/Feb/16
None
Unassigned
0
Not Specified
Not Specified
Location: http://www.gbif.org/species/102170535
User-Agent: Mozilla/5.0 (Windows NT 6.1; rv:37.0) Gecko/20100101
Firefox/37.0
Referrer: http://www.gbif.org/species/102346215
Screen Resolution: 1280 x 1024
Description
It appears as if the family Xenillidae exists twice in the database.
First listed three genera (Stenoxenillus, Stonyxenillus an Xenilloides) with 4 species;
Second listed three genera (Xenillus - including the subgenera s.str. and Stonyxenillus (see
above!), Neoxenillus and Xenilloides (see above!)) with a total of 80 species.
However, Xenillidae considered a synonym of Liacaridae, Stenoxenillus considered a synonym
of Liacarus s.str., Leuroxenillus may be added to the list. and Dinoxenillus considered a
synonym of Xenillus s.str.
Reporter: Schmidt, Karl-Heinz
E-mail: miteresearch@freenet.de
Generated at Tue Feb 09 23:04:05 CET 2016 using JIRA 6.3.14#6345sha1:47b2bb0a76c6e60bffb16fa45719b26a7e5e0c78.