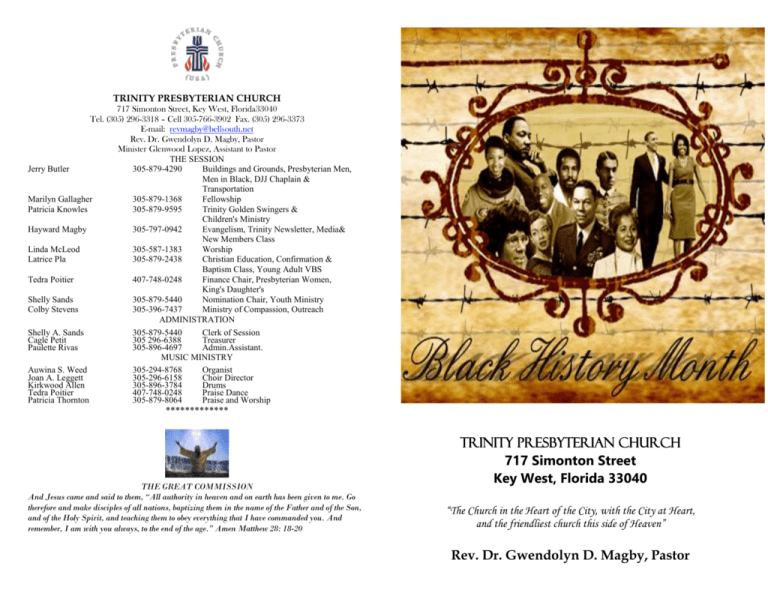 TRINITY PRESBYTERIAN CHURCH
717 Simonton Street, Key West, Florida33040
Tel. (305) 296-3318 – Cell 305-766-3902 Fax. (305) 296-3373
E-mail: revmagby@bellsouth.net
Rev. Dr. Gwendolyn D. Magby, Pastor
Minister Glenwood Lopez, Assistant to Pastor
THE SESSION
Jerry Butler
305-879-4290
Buildings and Grounds, Presbyterian Men,
Men in Black, DJJ Chaplain &
Transportation
Marilyn Gallagher
305-879-1368
Fellowship
Patricia Knowles
305-879-9595
Trinity Golden Swingers &
Children's Ministry
Hayward Magby
305-797-0942
Evangelism, Trinity Newsletter, Media&
New Members Class
Linda McLeod
305-587-1383
Worship
Latrice Pla
305-879-2438
Christian Education, Confirmation &
Baptism Class, Young Adult VBS
Tedra Poitier
407-748-0248
Finance Chair, Presbyterian Women,
King's Daughter's
Shelly Sands
305-879-5440
Nomination Chair, Youth Ministry
Colby Stevens
305-396-7437
Ministry of Compassion, Outreach
ADMINISTRATION
Shelly A. Sands
305-879-5440
Clerk of Session
Cagle Petit
305 296-6388
Treasurer
Paulette Rivas
305-896-4697
Admin.Assistant.
MUSIC MINISTRY
Auwina S. Weed
305-294-8768
Organist
Joan A. Leggett
305-296-6158
Choir Director
Kirkwood Allen
305-896-3784
Drums
Tedra Poitier
407-748-0248
Praise Dance
Patricia Thornton
305-879-8064
Praise and Worship
*************
THE GREAT COMMISSION
And Jesus came and said to them, "All authority in heaven and on earth has been given to me. Go
therefore and make disciples of all nations, baptizing them in the name of the Father and of the Son,
and of the Holy Spirit, and teaching them to obey everything that I have commanded you. And
remember, I am with you always, to the end of the age." Amen Matthew 28: 18-20
TRINITY PRESBYTERIAN CHURCH
717 Simonton Street
Key West, Florida 33040
"The Church in the Heart of the City, with the City at Heart,
and the friendliest church this side of Heaven"
Rev. Dr. Gwendolyn D. Magby, Pastor
THIS WEEK AT TRINITY
TRINITY PRESBYTERIAN CHURCH
717 Simonton Street
Tel. (305) 296-3318
Rev. Dr. Gwendolyn D. Magby, Pastor
Monday (2nd& 4th)
P.O. Box 6471
Key West, FL 33041
Wednesday
Thursday
Next Sunday
Elder Shelly Sands Worship Leader
5 Sunday in ordinary time
Transfiguration of the lord
th
February 10, 2013
11:00 A.M.
Monday
Tuesday
MUSICAL PRELUDE
PRAISE AND WORSHIP:
Growing Stars
King's Daughters
Bible Study
Chancel Choir Rehearsal
Sunday Church School
Morning Worship Service
________________________________________________________________
*indicates congregation please stand
PROCESSIONAL:
6:00 pm
6:45 pm
6:30 pm
7:30 pm
9:30 am
11:00 am
"Oh, Freedom"
Patricia Thornton
PRAYER OF PRAISE
You are high and lifted up, O God of hosts; the seraphim sing of your glory. Holy,
holy, holy, you are the one we adore. The whole earth is full of your splendor; we
see all about us signs of your grace. We come into your temple chanting your
praises. You are God of steadfast love and faithfulness; hear us as with our hearts
we give you our thanks. Amen.
Evenings
Wednesday
Thursday
Friday
Saturday
Sunday
Pastor's Weekly Schedule
Congregational Appointments & Visitations (day,
Afternoon & Evening)
Congregational Appointments, Visitations & IMA Meeting
(Morning & Afternoon)
NAB, PW and Session Meetings
Bible Study and Sermon Preparation
Sermon Preparation
DAY OFF -EMERGENCY CALLS ONLY
Sermon Preparation
Worship
SERVING TODAY:
Ushers: Sis. Joann Anderson and Bro. Gerald Poitier
Acolyte: Malik Hunter
*CALL TO WORSHIP
Leader:
I bow down and give thanks to your name for your steadfast
love and faithfulness.
People:
On the day I called, you answered me, you increased my
strength of soul.
Leader:
Though I walk in the midst of trouble, you stretch out your
hand and deliver me.
People:
Your steadfast love, O Lord, endures forever. Do not forsake
the work of your hands.
Leader:
Let us worship God!
*OPENING HYMN: #487
INVOCATION
"When Morning Gilds the Skies"
Damon Jones
"PRAYERS of the RIGHTEOUS" Availeth Much: Charles Knowles, Schnell
Johnson, Austin Butler, Thurlow Weed, Myrtis Tynes, Harvey Sherrod, Suzie
Mack, Lavere Roberts, Milton Brown, Pastor Jean-Jean & family, Robert Radics,
Eugenia Thurston, Bobby Bailey and all other sick and shut-ins and their
families.
CHURCH CALANDER FOR YEAR 2013
LORD'S PRAYER (chanted)
Mar 09
Pastor Magby's Birthday
LITANY OF AFFIRMATION
Mar 17
PW Celebrate Gifts of Women/ time?
Mar 24
Palm Sunday
Mar 31
Leader:
I delivered to you as of first importance what I also received.
Christ died for our sins in accordance with the scriptures.
Easter
People:
By God's grace I am what I am.
May 14
Presbytery Meeting Tropical Florida
Leader:
Christ was buried and on the third day was raised in accordance
with the scriptures.
May 26
Pastor Magby & Hayward Magby Wedding
People:
By God's grace I am what I am.
Leader:
Christ appeared to Cephas, then to the twelve, then to more
than five hundred and to all called as apostles.
People:
By God's grace I am what I am.
Leader:
God's grace was not in vain; so we preach and so you believe.
People:
By God's grace I am what I am.
Anniversary/Vacation
June 10-14
Vacation Bible School
June 16
Trinity Men in Black Program
June 30
5th Sunday Worship on the Beach
July 25-26
Barnes Family Reunion
July 28-Aug 3 NBPC Big Tent Louisville KY and Black Pastor's
*GLORIA PATRI
Conference
*AFFIRMATION OF FAITH: Apostles' Creed
August 18
Pastor's Appreciation 11:00 Worship Service
Sept 24
Presbytery Meeting Tropical Florida
Sept 28
Presbytery Women Meeting/Also Coordinating Council
Sept 29
Youth Sunday
Oct.12 -19
Renewing Vows Cruise
Nov 23
Presbytery Meeting at Tropical Florida
Dec. 8
121st Church Anniversary
I believe in God the Father Almighty, Maker of heaven and earth.
And in Jesus Christ his only Son our Lord, who was conceived by the
Holy Ghost, born of the Virgin Mary, suffered under Pontius Pilate, was
crucified, dead, and buried; he descended into hell; the third day he rose
again from the dead; he ascended into heaven, and sitteth on the right
hand of God the Father Almighty; from thence he shall come to judge
the quick and the dead.
I believe in the Holy Ghost; the holy Catholic Church; the communion
of saints; the forgiveness of sins; the resurrection of the body; and the life
everlasting. Amen.
Dec. 24
Christmas Eve Service
WELCOME & THE PEACE
Dec 31
Watch Night Service
Sis. Latonia Lopez
CONCERNS OF THE CHURCH
THE OFFERING
Offertory: (SZ 131)
*DOXOLOGY (please stand)
"Tis the Old Ship of Zion"
CHORAL PREPARATION OF PRAYER
PRAYERS OF THE PEOPLE
"Spirit of the Living God"
Sis. Patricia Thornton
If anyone is celebrating a birthday or anniversary this week, Feb. 3rd-9th would
you please stand so that we can affirm God's blessings on your life.
CHORAL RESPONSE
PRAYER FOR ILLUMINATION
SCRIPTURE READING: (Pg. 698)
Sis. Sandra Vanderpool
Jeremiah 1:4-10
MINISTRY IN MUSIC: (SZ 174)
SERMON:
"DON'T BE AFRAID"
If you have not already done so, please pay your Per-Capita Apportionment of
$31.54, ASAP.
Today
Ordination and Installation of Elders.
Session will meet immediately following service.
Feb. 12
Presbyterian Women will meet 7:00 p.m. Continuation
of lesson 5 & to begin lesson 6.
Feb. 13
Ash Wednesday Service 7:00 p.m.
Feb. 14
A night of Romance Valentine's Dinner in the Fellowship Hall
at 7:00 p.m. Donations are accepted.
Feb. 18
Session Meeting at 7:00 p.m.
Feb. 19
Usher Board Meeting at 6:30. Call Elder McLeod if you can't
make the meeting.
Feb. 23
Men In Black Dinner/Concert.
Feb. 24
Trinity Presbyterian Black History Christian Education
Service/Repast follows.
Feb. 26
Tropical Florida Presbytery Meeting at Second Presbyterian, Ft.
Lauderdale.
March 3
National Week of Prayer for the Healing of AIDS.
"Even Me"
Pastor Magby
INVITATION TO DISCIPLESHIP
*CLOSING HYMN: #372
"Lord, I Want to Be a Christian"
*BENEDICTION
POSTLUDE
Part in peace, Christ's life was peace. Let us live our life in Him;
Part in Peace, our duties call us. We must serve as well as praise. Amen.
________________________________________________________________
LITTLE KNOWN BLACK HISTORY FACTS
The Jheri curl is a hairstyle developed in the 1970's by white chemist and stylist
Robert William Redding.
Daurene Lewis is the first black woman to serve as mayor in Canada. A major
figure in the African Nova Scotian community, 68 year old Lewis passed away
last weekend. She was elected to serve as Mayor in 1984.
The Tuskegee Airmen were the first African-American pilots in the U.S. armed
forces. Beginning in 1941, select groups of extensively tested and rigorously
trained African-Americans were trained at The Tuskegee Institute in Alabama.
The Tuskegee Airmen are depicted in the G.I. Joe action figure series.
OUTSIDE NEWS
Feb. 16
Cornish Memorial AMEZ Church Annual Love Feast Prayer
Breakfast at 10:00 a.m.
Feb. 22
Bethel AME Church 143rd Church Anniversary at 6:30 p.m.