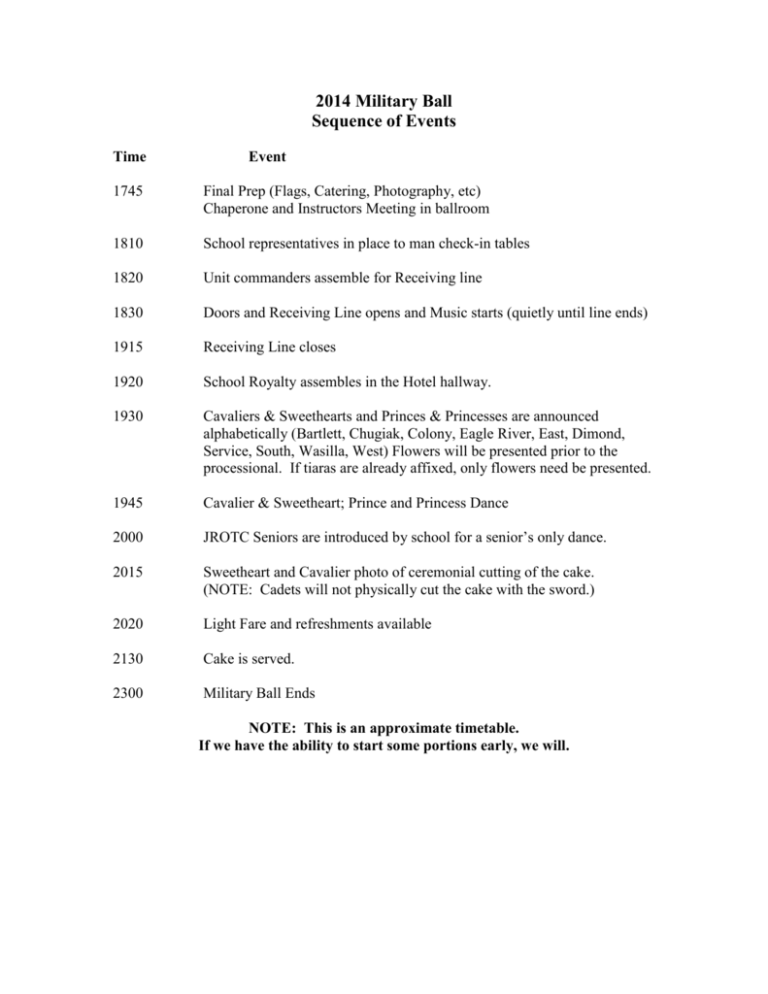 2014 Military Ball
Sequence of Events
Time
Event
1745
Final Prep (Flags, Catering, Photography, etc)
Chaperone and Instructors Meeting in ballroom
1810
School representatives in place to man check-in tables
1820
Unit commanders assemble for Receiving line
1830
Doors and Receiving Line opens and Music starts (quietly until line ends)
1915
Receiving Line closes
1920
School Royalty assembles in the Hotel hallway.
1930
Cavaliers & Sweethearts and Princes & Princesses are announced
alphabetically (Bartlett, Chugiak, Colony, Eagle River, East, Dimond,
Service, South, Wasilla, West) Flowers will be presented prior to the
processional. If tiaras are already affixed, only flowers need be presented.
1945
Cavalier & Sweetheart; Prince and Princess Dance
2000
JROTC Seniors are introduced by school for a senior's only dance.
2015
Sweetheart and Cavalier photo of ceremonial cutting of the cake.
(NOTE: Cadets will not physically cut the cake with the sword.)
2020
Light Fare and refreshments available
2130
Cake is served.
2300
Military Ball Ends
NOTE: This is an approximate timetable.
If we have the ability to start some portions early, we will.