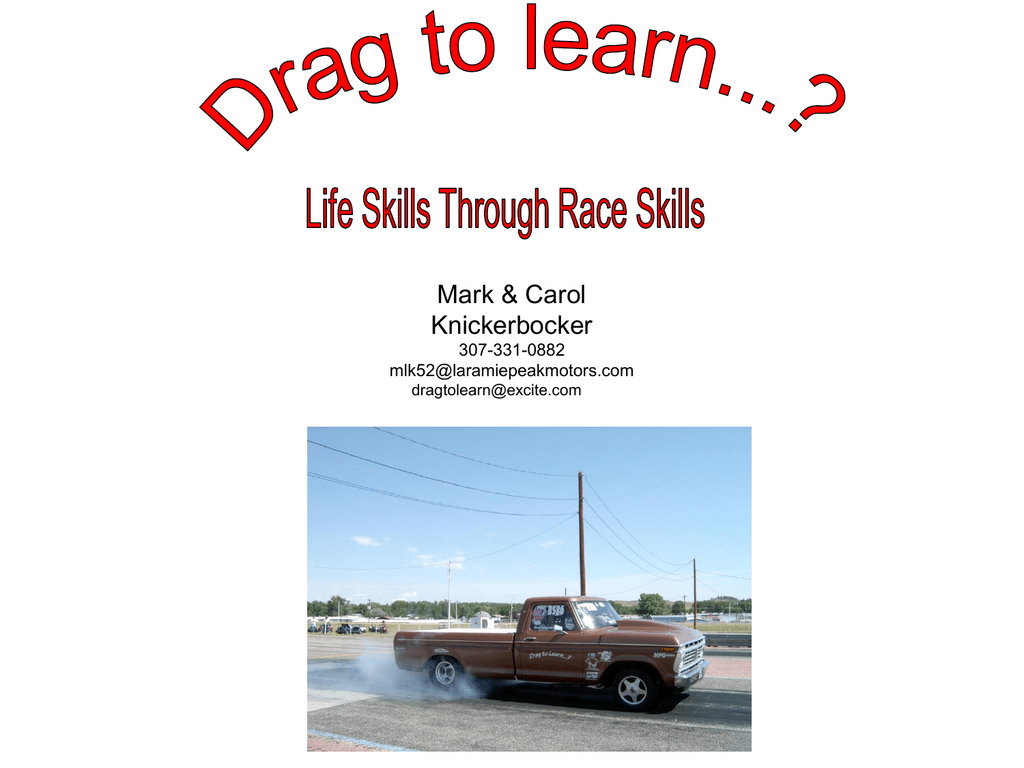 Mark & Carol
Knickerbocker
307-331-0882
[email protected]
[email protected]
Drag To Learn Supporters:
Wheatland,WY:
Laramie Peak Motors
Brown Company
Amazing Monogramming
Ace Hardware
Jenkins Auto Body
Jennifer and Brooke Raser
Bank of the West
Lynda Lenz, State Farm Ins.
Best Western Torchlight Inn
Drube Supply
Wheatland Automotive
Consolidated Manufacturing
Wind and Wings Program
Lusk, Wyoming:
Niobrara Electric Assoc.
Douglas, WY:
Bank of the West
Link Oil Company
Village Inn
Racers:
Keck Racing & Hot
Rod Sales
Dan Mayfield
Gary Stinson
Joe Larson
V. Gaines
Dave and Ann Nyberg
Cheyenne, WY:
Elite Auto Glass
Clermont, GA:
Knicks Trucking
"Thank you for your support of our kids!"
"This child will not be the tallest, nor the
strongest, nor the most fair…but this
child will have the most precious gift
of all. This child will have the gift of
resiliency. Regardless of what happens,
this child will always try again. After
every failure, no matter how many, no
matter how broken the heart, this
child will rise again."
- Dr. Micheal Johnson
"Cowboys and Angels"
Ron Messemer
"Fast Eddy" Siel
John Gooch
Jill Arnold
Shannon Purviance
Darrell Russell
Eric Melden
Scott Kalitta
Wally Parks
AJ Knickerbocker
DRAG TO LEARN…?
"LIFE SKILLS THROUGH RACE SKILLS"
(INTERVIEWS / JOB APPLICANTS / OBSERVATIONS)
• APPEARANCE (one chance to make a first impression)
• LANGUAGE AND COMMUNICATION (written and
verbal)
• PERSONAL RESPONSIBILITY (you are responsible for
your success)
• TEAMWORK (willing to work with others and
compromise when needed)
• WILLINGNESS TO LEARN AND GROW (willingness to
get better… not satisfied with you lot in life)
• HAPPINESS (self-determined, your choice)
Appearance
Language and Communication
The decoration on a cake for a friend named Suzanne: "Best Wishes Suzanne.
Under Neat That, We Will Miss You"
The conversation when ordering the cake went:
Employee: Hello 'dis Wal-Mart, how can I help you?
Customer: I would like to order a cake for a going away party this week.
Employee: What do you want on the cake?
Customer: "Best wishes Suzanne" and underneath that "We will miss you."
"COASY"
Work Ethics / Employment Skills
• COME TO WORK TO WORK (Focus, Time = $,
Preparation)
• ON TIME TO WORK ("15 minutes early, your are still 15
minutes late" Coach Vince Lombardi Green Bay Packers)
• ATTITUDE (Attitude determines Altitude)
• STAY UNTIL THE JOB IS COMPLETE (Complete
means accurate and complete: doing the right job, right. "Why
Is there never enough time to do the job right, and there is always
time to do it over.")
• YOU REPRESENT YOUR EMPLOYER 24/7
(People make decisions about others based upon your performance
/ behavior)
Get There With Math
What makes 100%? What makes up 100% in Life?
Here's a little mathematical formula that might help you answer these
questions.
If: the alphabet is assigned numerical values:
A=1 B=2 C=3 D=4 E=5 F=6 G=7 H=8 I=9 J=10 K=11 L=12 M=13 N=14 0=15
P=16 Q=17 R=18 S=19 T=20 U=21 V=22 W=23 X=24 Y=25 Z=26
Then:
H-A-R-D-W-O-R-K
8+1+18+4+23+15+18+11= 98%
And:
K-N-O-W-L-E-D-G-E
11+14+15+23+12+5+4+7+5= 96%
But:
A-T-T-I-T-U-D-E
1+20+20+9+20+21+4+5= 100%
- Chris Foot of Richmond Hill
WHICH IS THE FASTEST?
HOW MUCH DO YOU KNOW
ABOUT CARS???