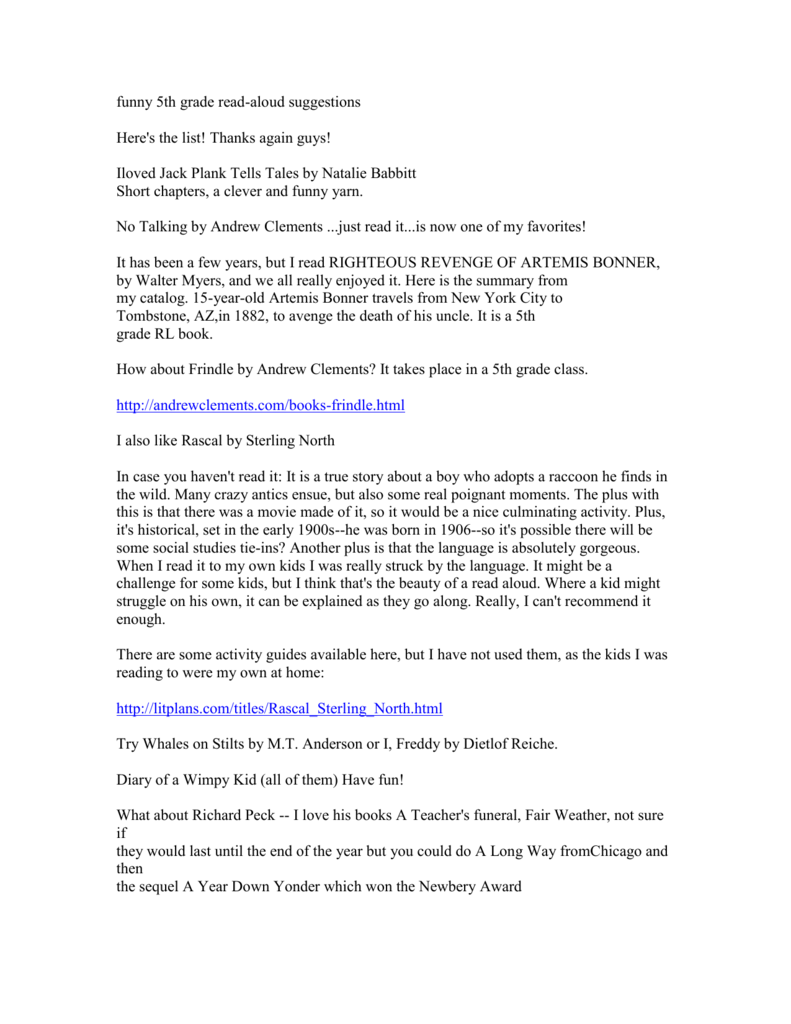 funny 5th grade read-aloud suggestions
Here's the list! Thanks again guys!
Iloved Jack Plank Tells Tales by Natalie Babbitt
Short chapters, a clever and funny yarn.
No Talking by Andrew Clements ...just read it...is now one of my favorites!
It has been a few years, but I read RIGHTEOUS REVENGE OF ARTEMIS BONNER,
by Walter Myers, and we all really enjoyed it. Here is the summary from
my catalog. 15-year-old Artemis Bonner travels from New York City to
Tombstone, AZ,in 1882, to avenge the death of his uncle. It is a 5th
grade RL book.
How about Frindle by Andrew Clements? It takes place in a 5th grade class.
http://andrewclements.com/books-frindle.html
I also like Rascal by Sterling North
In case you haven't read it: It is a true story about a boy who adopts a raccoon he finds in
the wild. Many crazy antics ensue, but also some real poignant moments. The plus with
this is that there was a movie made of it, so it would be a nice culminating activity. Plus,
it's historical, set in the early 1900s--he was born in 1906--so it's possible there will be
some social studies tie-ins? Another plus is that the language is absolutely gorgeous.
When I read it to my own kids I was really struck by the language. It might be a
challenge for some kids, but I think that's the beauty of a read aloud. Where a kid might
struggle on his own, it can be explained as they go along. Really, I can't recommend it
enough.
There are some activity guides available here, but I have not used them, as the kids I was
reading to were my own at home:
http://litplans.com/titles/Rascal_Sterling_North.html
Try Whales on Stilts by M.T. Anderson or I, Freddy by Dietlof Reiche.
Diary of a Wimpy Kid (all of them) Have fun!
What about Richard Peck -- I love his books A Teacher's funeral, Fair Weather, not sure
if
they would last until the end of the year but you could do A Long Way fromChicago and
then
the sequel A Year Down Yonder which won the Newbery Award
Wednesday Wars by gary Schmidt is funny and poignant, or The Schwa was Here by
Neal
Schusterman -- both of these were Virginia Readers Choice books this year and my 6th
grade students loved them
Jack Gantos's Joey Pigza books
Henry Winkler's Hank Zipzer series (books are short, but she could read
them all)
anything by Roald Dahl
The middle of somewhere / [by] J.B. Cheaney.
The thing about Georgie : a novel / by Lisa Graff.
Lawn boy / Gary Paulsen.
The Gollywhopper Games by Jody Feldman, Victoria Jamieson
All funny, Gollywhopper is the newest, but they are all LOL funny!
Any of the "Just" books by Andy Griffiths or the new hilarious book by Dave BarrySCIENCE FAIR>
No Talking by Andrew Clements would be perfect.
Zuchini Warriors by Gordon Korman
I loved Toad Rage by Morris Gleitzman. There are three books in the series, so that
would last until the end of the year for sure.
I would try "Diary of a Wimpy Kid" It's awesome
Some of my favorites include: My Life in Dog Years by Gary Paulsen, Wayside School
books by Louis Sachar, Million Dollar Strike by Dan Gutman, most books by Dan
Gutman!, and the Time Warp Trio books by Scieszka (these are short so she'd probably
end up reading a few of them before the end of the year but they're very funny). Good
luck!
All About Sam by Lowry. It has real appeal to all types of children. Very funny
Schooled by Korman, I am reading it right now and have heard from others it is funny
and appropriate for fifth grade.
I loved Eoin Colfer's Legend of Captain Crow's Teeth.
I also thought Whales on Stilts by M.T. Anderson was funny.
I always loved the Soup series by Robert Newton Peck.
When I chose one of them to read, the rest of the series flew off the shelves.