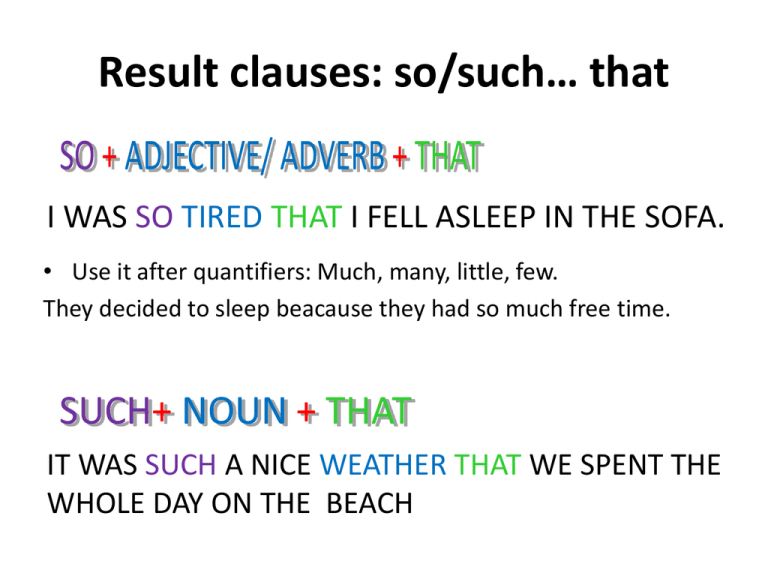 Result clauses: so/such… that
I WAS SO TIRED THAT I FELL ASLEEP IN THE SOFA.
• Use it after quantifiers: Much, many, little, few.
They decided to sleep beacause they had so much free time.
IT WAS SUCH A NICE WEATHER THAT WE SPENT THE
WHOLE DAY ON THE BEACH
She developed so/such a good project for science
class.
What/That a great idea!
They´re such a good group what/that we invite them
every year.
Her project is so/such good that I´m sure she´ll win.
He was so/such funny! He´s so/such a funny guy!
•She is ____ funny! She
always makes me laugh.
• Sarah and Ed
are ________ crazy people! I
never know what they are
going to do next.
• James has _______ much
money that he could actually
buy that Ferrari.
• Although most of the
audience had never been
exposed to _______ music,
they thoroughly enjoyed the
performance of
the Tibetan folk choir.
• The movie was ____ good
that I saw it five times.
• Terry speaks English
____ fluently that I thought
he was American.
• Most students never discuss
______ topics in class, but I
think it is important to teach
our children to question the
media.
• Jerry had never
seen ____ high mountains.
He thought they were
spectacular.
• Fred is ____ a clown! He is
always telling jokes and
making people laugh.
• There was ____ little interest
in his talk on
macroeconomics that the
room was half empty by the
time he stopped speaking.
• How could you
say __ horrible things to me?
• He is ___ a jerk! He hasn't
said one nice thing since he
started working here.
• That new song is ____ cool
that it hit the top ten within a
week of being released.
• Martha is ______ a good
cook that she is writing her
own book of family recipes.
• I don't know if that is ___ a
good idea. Maybe we should
try something else.
• She has ____ many hats that
she needs two closets to
store them all.
• That takes ____ little time
and effort that you might as
well do it yourself.
• I had to pay $140 for books
for my new Spanish class. I
don't know why my professor
has to choose ____ expensive
books for her course.
• I really wish you wouldn't
smoke ___ much! It's
destroying your health.