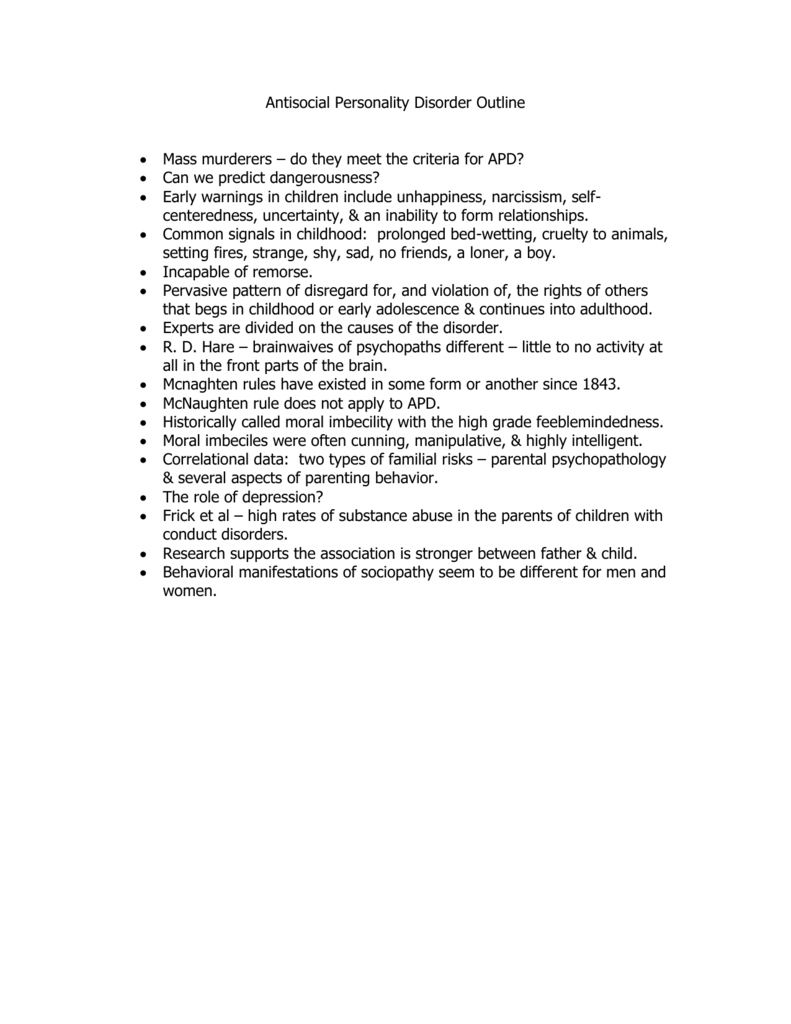 Antisocial Personality Disorder Outline

















Mass murderers – do they meet the criteria for APD?
Can we predict dangerousness?
Early warnings in children include unhappiness, narcissism, selfcenteredness, uncertainty, & an inability to form relationships.
Common signals in childhood: prolonged bed-wetting, cruelty to animals,
setting fires, strange, shy, sad, no friends, a loner, a boy.
Incapable of remorse.
Pervasive pattern of disregard for, and violation of, the rights of others
that begs in childhood or early adolescence & continues into adulthood.
Experts are divided on the causes of the disorder.
R. D. Hare – brainwaives of psychopaths different – little to no activity at
all in the front parts of the brain.
Mcnaghten rules have existed in some form or another since 1843.
McNaughten rule does not apply to APD.
Historically called moral imbecility with the high grade feeblemindedness.
Moral imbeciles were often cunning, manipulative, & highly intelligent.
Correlational data: two types of familial risks – parental psychopathology
& several aspects of parenting behavior.
The role of depression?
Frick et al – high rates of substance abuse in the parents of children with
conduct disorders.
Research supports the association is stronger between father & child.
Behavioral manifestations of sociopathy seem to be different for men and
women.