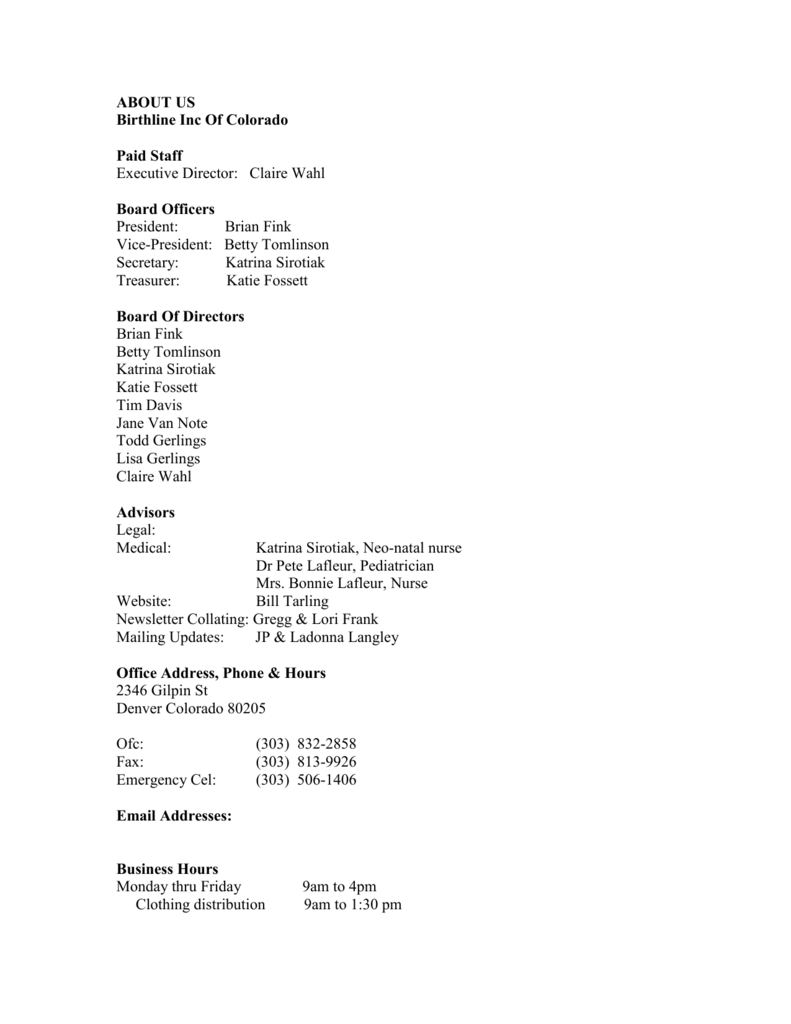 ABOUT US
Birthline Inc Of Colorado
Paid Staff
Executive Director: Claire Wahl
Board Officers
President:
Vice-President:
Secretary:
Treasurer:
Brian Fink
Betty Tomlinson
Katrina Sirotiak
Katie Fossett
Board Of Directors
Brian Fink
Betty Tomlinson
Katrina Sirotiak
Katie Fossett
Tim Davis
Jane Van Note
Todd Gerlings
Lisa Gerlings
Claire Wahl
Advisors
Legal:
Medical:
Katrina Sirotiak, Neo-natal nurse
Dr Pete Lafleur, Pediatrician
Mrs. Bonnie Lafleur, Nurse
Website:
Bill Tarling
Newsletter Collating: Gregg & Lori Frank
Mailing Updates:
JP & Ladonna Langley
Office Address, Phone & Hours
2346 Gilpin St
Denver Colorado 80205
Ofc:
Fax:
Emergency Cel:
(303) 832-2858
(303) 813-9926
(303) 506-1406
Email Addresses:
Business Hours
Monday thru Friday
Clothing distribution
9am to 4pm
9am to 1:30 pm
Directions:
Birthline is located at 2349 Gilpin, which is 7 blocks west of York
and between 23rd and 24th Avenues.
Directions from St Joseph & St Lukes Presbyterian Hospitals:
St Joseph is located at the corner of 18th avenue Franklin.
Go past St Joseph Hospital to St Lukes (1 block north).
Go two blocks past St Lukes to 23rd.
Turn right on 23rd Ave and go one block to Gilpin St
Turn left on Gilpin St to the 3rd house at the end of that block and
on the right hand side.
Directions from I 25 (going north or south)
Going South: Take I 25 to the exit just past I70, which is Park & 38th which is the exit
that you would take if going to Coors Field to watch the Rockies play ball.
Drop Off Location for Donations
Please go around to the back of the house (via the alley) and you can drive right up to our
gate. In case you might be coming when we are not in the office, call us for the
combination to the lock on the gate.
We have an enclosed porch where people drop off their donations.
Simply place you name and address in the holder which is located on the inside of the
porch door, and list how many bags/boxes you have donated. Write a brief and general
statement regarding what it was you donated (ie: childrens clothing, maternity clothes).
Forms are provided for this information if you prefer to use them.
This information is entered into our donation book and once a week, we send a copy to a
home volunteer. The volunteer then sends out the thank you, which serves are you
receipt.
We are not responsible for establishing a dollar value for your donations. This is your
responsibility.