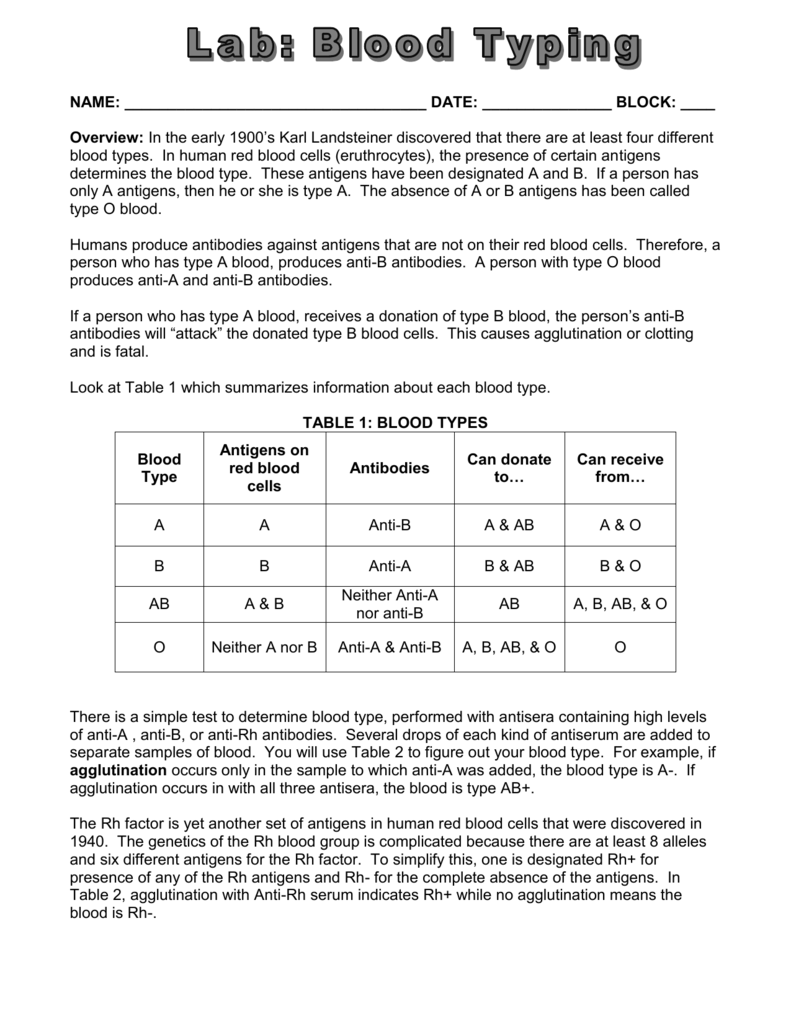 NAME: ___________________________________ DATE: _______________ BLOCK: ____
Overview: In the early 1900's Karl Landsteiner discovered that there are at least four different
blood types. In human red blood cells (eruthrocytes), the presence of certain antigens
determines the blood type. These antigens have been designated A and B. If a person has
only A antigens, then he or she is type A. The absence of A or B antigens has been called
type O blood.
Humans produce antibodies against antigens that are not on their red blood cells. Therefore, a
person who has type A blood, produces anti-B antibodies. A person with type O blood
produces anti-A and anti-B antibodies.
If a person who has type A blood, receives a donation of type B blood, the person's anti-B
antibodies will "attack" the donated type B blood cells. This causes agglutination or clotting
and is fatal.
Look at Table 1 which summarizes information about each blood type.
TABLE 1: BLOOD TYPES
Blood
Type
Antigens on
red blood
cells
Antibodies
Can donate
to…
Can receive
from…
A
A
Anti-B
A & AB
A&O
B
B
Anti-A
B & AB
B&O
AB
A&B
Neither Anti-A
nor anti-B
AB
A, B, AB, & O
O
Neither A nor B
Anti-A & Anti-B
A, B, AB, & O
O
There is a simple test to determine blood type, performed with antisera containing high levels
of anti-A , anti-B, or anti-Rh antibodies. Several drops of each kind of antiserum are added to
separate samples of blood. You will use Table 2 to figure out your blood type. For example, if
agglutination occurs only in the sample to which anti-A was added, the blood type is A-. If
agglutination occurs in with all three antisera, the blood is type AB+.
The Rh factor is yet another set of antigens in human red blood cells that were discovered in
1940. The genetics of the Rh blood group is complicated because there are at least 8 alleles
and six different antigens for the Rh factor. To simplify this, one is designated Rh+ for
presence of any of the Rh antigens and Rh- for the complete absence of the antigens. In
Table 2, agglutination with Anti-Rh serum indicates Rh+ while no agglutination means the
blood is Rh-.
Use Table 2 to see if you can determine the blood type in the example in Figure 1.
TABLE 2: AGGLUTINAION REACTION OF ABO BLOOD-TYPING SERA
Agglutination or not?
BLOOD TYPE
Anti-A Serum
Anti-B Serum
Anti-Rh Serum
Yes
No
No
A-
Yes
No
Yes
A+
No
Yes
No
B-
No
Yes
Yes
B+
Yes
Yes
No
AB-
Yes
Yes
Yes
AB+
No
No
No
O-
No
No
Yes
O+
Remember simply that YOU ARE WHAT YOU CLOT!
What blood type is shown in the results
pictured?__________________
Gather the following materials:
MATERIALS
 2 sterile alcohol pads
 1 sterile lancet
 1 blood typing tray
 3 toothpicks




Gloves
Anti-A typing serum
Anti-B typing serum
Anti-Rh serum
PROCEDURE
Each student may test only his or her own blood!
1. Thoroughly clean the tip of one finger on your non-dominant hand with a sterile alcohol
pad.
2. Open a sterile lancet from the end that is closest to the blunt end of the lancet.
3. Prick the finger that you cleaned with alcohol.
4. Put the lancet back into the package and dispose of in the biohazard bag.
5. Squeeze one drop of blood into each well on the blood typing tray.
6. Clean your pricked finger with a sterile alcohol wipe and dispose of the wipe in the
biohazard bag.
7. Add 1 drop of Anti-A serum to the A well, add 1
drop of Anti-B serum to the B well, and add 1
drop of Anti-Rh serum to the Rh well (see
Figure 1).
8. Stir each mixture thoroughly with a clean
toothpick. Use a new toothpick per well to
avoid cross-contamination! Dispose of the
tooth picks in the biohazard bag.
9. Observe and record you results in Table 3;
write "yes" if it clots and "no" if there is no clot.
10. Determine your blood type. Refer to Table 2 for help.
TABLE 3: AGGLUTINATION REACTIONS
Anti-A reaction
Anti-B reaction
Anti-Rh reaction
Blood Type
(Agglutination or not?) (Agglutination or not?) (Agglutination or not?)
11. Pool and record the class data and calculate percentage of students with each blood type
in Table 4.
Blood Type
TABLE 4: CLASS BLOOD TYPE DATA
# of students with
Total # of students
blood type
in class
% of students with
blood type
A+
AB+
BAB+
ABO+
O-
Questions
Answer questions 1 - 5 based on your blood type.
1. What is your blood type?
2. What antigens are found on your red blood cells?
3. What antibodies are found in your plasma?
4. If you need a blood transfusion, what blood types could you safely receive?
5. If you donated blood, to what blood type(s) could you safely donate?
6. Below is a diagram representing the bllod type analysis of a new patient (patient X).
From the information obtained from the slide, fill out the medical technologist's report
below.
Medical Technologist's Report
Patient Name: __________________________
ABO Group: ___________
Rh Type: ______________
Med Tech Name: _______________________
7. Contrast antigens and antibodies. Include at least two differences.
8. List three situations where blood typing could be used.
9. Define erythroblastosis fetalis.
10. In the case of erythroblastosis fetalis and Rh incompatibility, how is this condition
treated?
11. Summarize how the method of blood typing works and how the results explain what
blood type a person has.