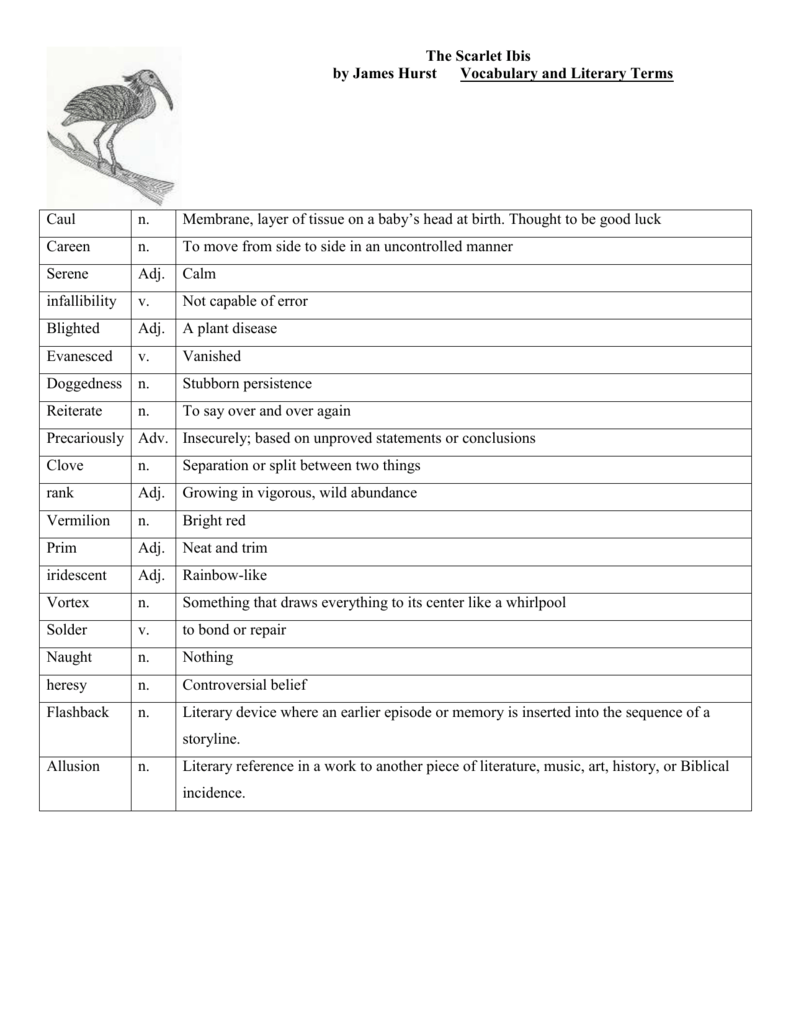 The Scarlet Ibis
by James Hurst
Vocabulary and Literary Terms
Caul
n.
Membrane, layer of tissue on a baby's head at birth. Thought to be good luck
Careen
n.
To move from side to side in an uncontrolled manner
Serene
Adj.
Calm
infallibility
v.
Not capable of error
Blighted
Adj.
A plant disease
Evanesced
v.
Vanished
Doggedness
n.
Stubborn persistence
Reiterate
n.
To say over and over again
Precariously Adv. Insecurely; based on unproved statements or conclusions
Clove
n.
Separation or split between two things
rank
Adj.
Growing in vigorous, wild abundance
Vermilion
n.
Bright red
Prim
Adj.
Neat and trim
iridescent
Adj.
Rainbow-like
Vortex
n.
Something that draws everything to its center like a whirlpool
Solder
v.
to bond or repair
Naught
n.
Nothing
heresy
n.
Controversial belief
Flashback
n.
Literary device where an earlier episode or memory is inserted into the sequence of a
storyline.
Allusion
n.
Literary reference in a work to another piece of literature, music, art, history, or Biblical
incidence.