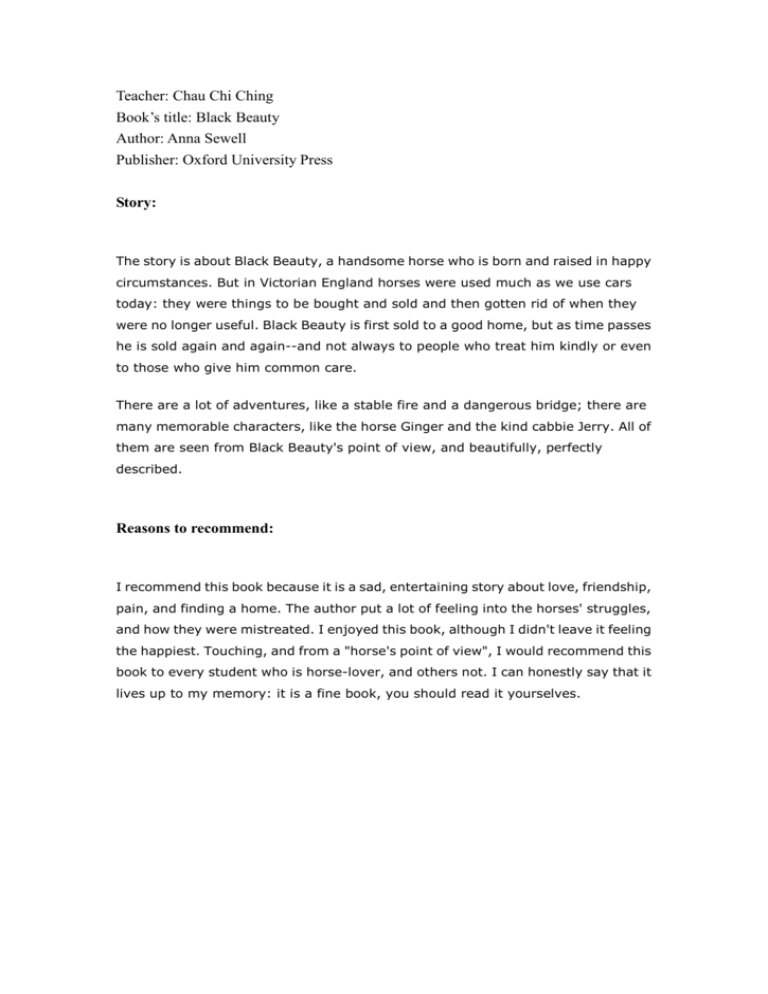 Teacher: Chau Chi Ching
Book's title: Black Beauty
Author: Anna Sewell
Publisher: Oxford University Press
Story:
The story is about Black Beauty, a handsome horse who is born and raised in happy
circumstances. But in Victorian England horses were used much as we use cars
today: they were things to be bought and sold and then gotten rid of when they
were no longer useful. Black Beauty is first sold to a good home, but as time passes
he is sold again and again--and not always to people who treat him kindly or even
to those who give him common care.
There are a lot of adventures, like a stable fire and a dangerous bridge; there are
many memorable characters, like the horse Ginger and the kind cabbie Jerry. All of
them are seen from Black Beauty's point of view, and beautifully, perfectly
described.
Reasons to recommend:
I recommend this book because it is a sad, entertaining story about love, friendship,
pain, and finding a home. The author put a lot of feeling into the horses' struggles,
and how they were mistreated. I enjoyed this book, although I didn't leave it feeling
the happiest. Touching, and from a "horse's point of view", I would recommend this
book to every student who is horse-lover, and others not. I can honestly say that it
lives up to my memory: it is a fine book, you should read it yourselves.