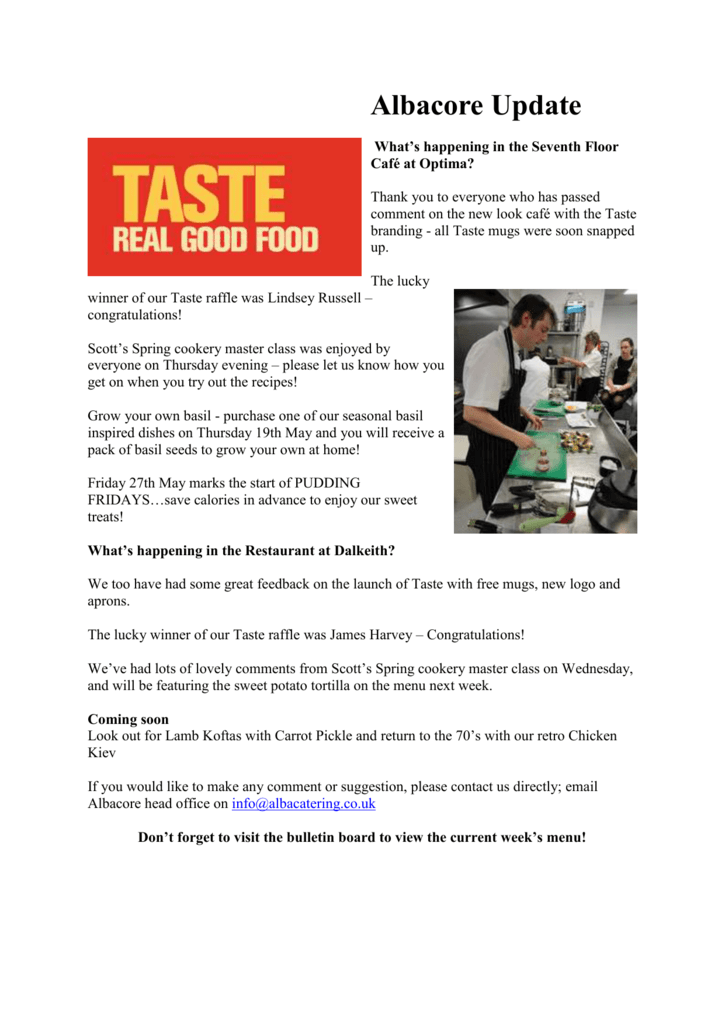 Albacore Update
What's happening in the Seventh Floor
Café at Optima?
Thank you to everyone who has passed
comment on the new look café with the Taste
branding - all Taste mugs were soon snapped
up.
The lucky
winner of our Taste raffle was Lindsey Russell –
congratulations!
Scott's Spring cookery master class was enjoyed by
everyone on Thursday evening – please let us know how you
get on when you try out the recipes!
Grow your own basil - purchase one of our seasonal basil
inspired dishes on Thursday 19th May and you will receive a
pack of basil seeds to grow your own at home!
Friday 27th May marks the start of PUDDING
FRIDAYS…save calories in advance to enjoy our sweet
treats!
What's happening in the Restaurant at Dalkeith?
We too have had some great feedback on the launch of Taste with free mugs, new logo and
aprons.
The lucky winner of our Taste raffle was James Harvey – Congratulations!
We've had lots of lovely comments from Scott's Spring cookery master class on Wednesday,
and will be featuring the sweet potato tortilla on the menu next week.
Coming soon
Look out for Lamb Koftas with Carrot Pickle and return to the 70's with our retro Chicken
Kiev
If you would like to make any comment or suggestion, please contact us directly; email
Albacore head office on [email protected]
Don't forget to visit the bulletin board to view the current week's menu!