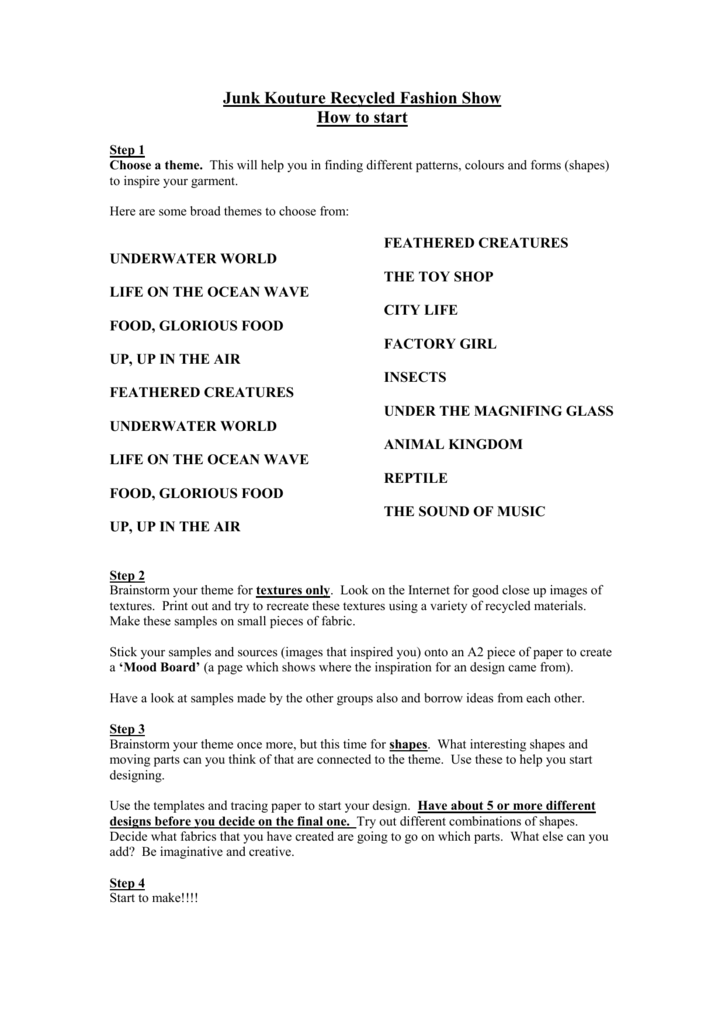 Junk Kouture Recycled Fashion Show
How to start
Step 1
Choose a theme. This will help you in finding different patterns, colours and forms (shapes)
to inspire your garment.
Here are some broad themes to choose from:
FEATHERED CREATURES
UNDERWATER WORLD
THE TOY SHOP
LIFE ON THE OCEAN WAVE
CITY LIFE
FOOD, GLORIOUS FOOD
FACTORY GIRL
UP, UP IN THE AIR
INSECTS
FEATHERED CREATURES
UNDER THE MAGNIFING GLASS
UNDERWATER WORLD
ANIMAL KINGDOM
LIFE ON THE OCEAN WAVE
REPTILE
FOOD, GLORIOUS FOOD
THE SOUND OF MUSIC
UP, UP IN THE AIR
Step 2
Brainstorm your theme for textures only. Look on the Internet for good close up images of
textures. Print out and try to recreate these textures using a variety of recycled materials.
Make these samples on small pieces of fabric.
Stick your samples and sources (images that inspired you) onto an A2 piece of paper to create
a 'Mood Board' (a page which shows where the inspiration for an design came from).
Have a look at samples made by the other groups also and borrow ideas from each other.
Step 3
Brainstorm your theme once more, but this time for shapes. What interesting shapes and
moving parts can you think of that are connected to the theme. Use these to help you start
designing.
Use the templates and tracing paper to start your design. Have about 5 or more different
designs before you decide on the final one. Try out different combinations of shapes.
Decide what fabrics that you have created are going to go on which parts. What else can you
add? Be imaginative and creative.
Step 4
Start to make!!!!