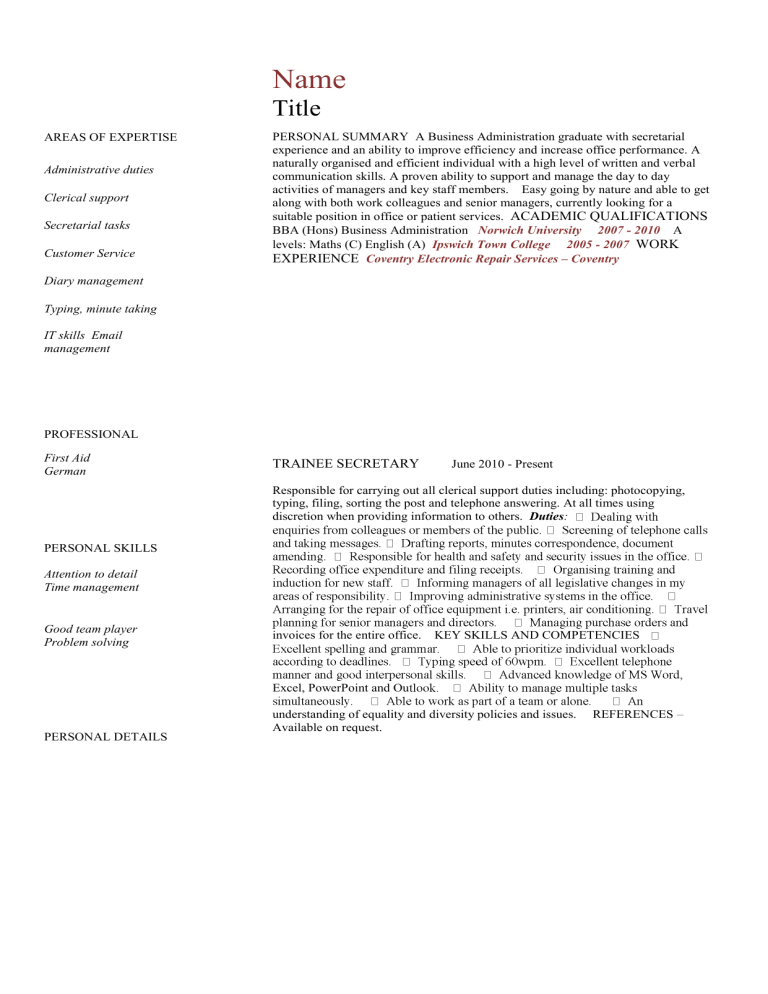 AREAS OF EXPERTISE
Administrative duties
Clerical support
Secretarial tasks
Customer Service
Diary management
Typing, minute taking
IT skills Email management
PROFESSIONAL
First Aid
German
PERSONAL SKILLS
Attention to detail
Time management
Good team player
Problem solving
PERSONAL DETAILS
Name
Title
PERSONAL SUMMARY A Business Administration graduate with secretarial experience and an ability to improve efficiency and increase office performance. A naturally organised and efficient individual with a high level of written and verbal communication skills. A proven ability to support and manage the day to day activities of managers and key staff members. Easy going by nature and able to get along with both work colleagues and senior managers, currently looking for a suitable position in office or patient services.
ACADEMIC QUALIFICATIONS
BBA (Hons) Business Administration Norwich University 2007 - 2010 A levels: Maths (C) English (A) Ipswich Town College 2005 - 2007
WORK
EXPERIENCE
Coventry Electronic Repair Services – Coventry
TRAINEE SECRETARY
June 2010 - Present
Responsible for carrying out all clerical support duties including: photocopying, typing, filing, sorting the post and telephone answering. At all times using discretion when providing information to others. Duties: invoices for the entire office. KEY SKILLS AND COMPETENCIES
Excel, PowerPoint and Ou understanding of equality and diversity policies and issues. REFERENCES –
Available on request.