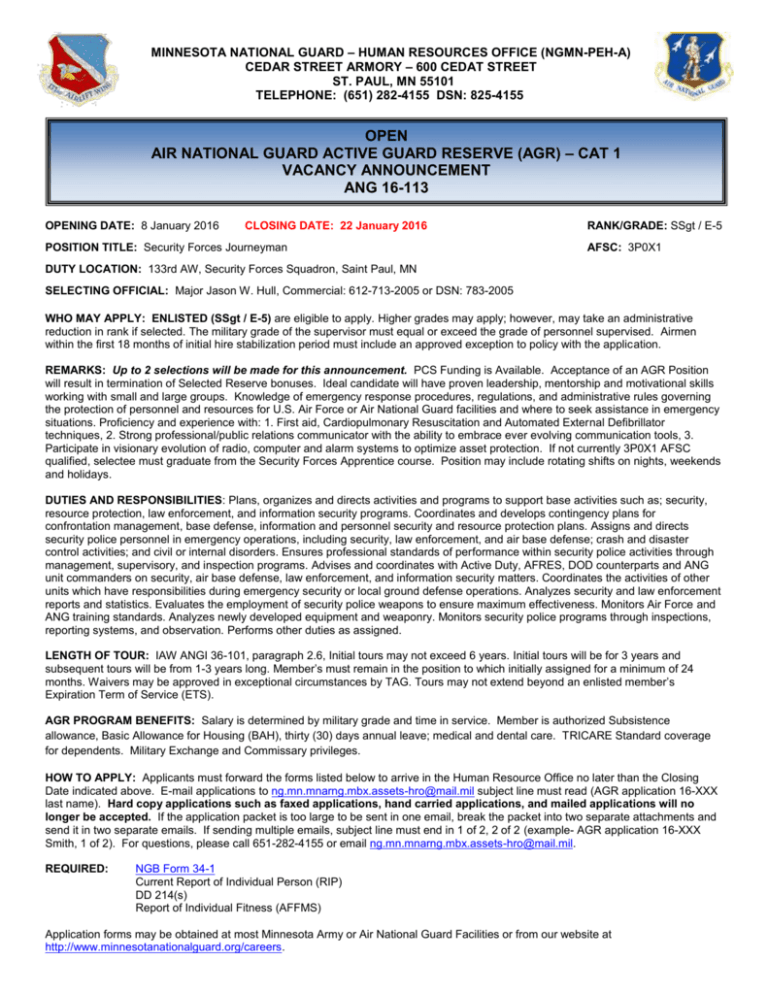 MINNESOTA NATIONAL GUARD – HUMAN RESOURCES OFFICE (NGMN-PEH-A)
CEDAR STREET ARMORY – 600 CEDAT STREET
ST. PAUL, MN 55101
TELEPHONE: (651) 282-4155 DSN: 825-4155
OPEN
AIR NATIONAL GUARD ACTIVE GUARD RESERVE (AGR) – CAT 1
VACANCY ANNOUNCEMENT
ANG 16-113
OPENING DATE: 8 January 2016
CLOSING DATE: 22 January 2016
POSITION TITLE: Security Forces Journeyman
RANK/GRADE: SSgt / E-5
AFSC: 3P0X1
DUTY LOCATION: 133rd AW, Security Forces Squadron, Saint Paul, MN
SELECTING OFFICIAL: Major Jason W. Hull, Commercial: 612-713-2005 or DSN: 783-2005
WHO MAY APPLY: ENLISTED (SSgt / E-5) are eligible to apply. Higher grades may apply; however, may take an administrative
reduction in rank if selected. The military grade of the supervisor must equal or exceed the grade of personnel supervised. Airmen
within the first 18 months of initial hire stabilization period must include an approved exception to policy with the application.
REMARKS: Up to 2 selections will be made for this announcement. PCS Funding is Available. Acceptance of an AGR Position
will result in termination of Selected Reserve bonuses. Ideal candidate will have proven leadership, mentorship and motivational skills
working with small and large groups. Knowledge of emergency response procedures, regulations, and administrative rules governing
the protection of personnel and resources for U.S. Air Force or Air National Guard facilities and where to seek assistance in emergency
situations. Proficiency and experience with: 1. First aid, Cardiopulmonary Resuscitation and Automated External Defibrillator
techniques, 2. Strong professional/public relations communicator with the ability to embrace ever evolving communication tools, 3.
Participate in visionary evolution of radio, computer and alarm systems to optimize asset protection. If not currently 3P0X1 AFSC
qualified, selectee must graduate from the Security Forces Apprentice course. Position may include rotating shifts on nights, weekends
and holidays.
DUTIES AND RESPONSIBILITIES: Plans, organizes and directs activities and programs to support base activities such as; security,
resource protection, law enforcement, and information security programs. Coordinates and develops contingency plans for
confrontation management, base defense, information and personnel security and resource protection plans. Assigns and directs
security police personnel in emergency operations, including security, law enforcement, and air base defense; crash and disaster
control activities; and civil or internal disorders. Ensures professional standards of performance within security police activities through
management, supervisory, and inspection programs. Advises and coordinates with Active Duty, AFRES, DOD counterparts and ANG
unit commanders on security, air base defense, law enforcement, and information security matters. Coordinates the activities of other
units which have responsibilities during emergency security or local ground defense operations. Analyzes security and law enforcement
reports and statistics. Evaluates the employment of security police weapons to ensure maximum effectiveness. Monitors Air Force and
ANG training standards. Analyzes newly developed equipment and weaponry. Monitors security police programs through inspections,
reporting systems, and observation. Performs other duties as assigned.
LENGTH OF TOUR: IAW ANGI 36-101, paragraph 2.6, Initial tours may not exceed 6 years. Initial tours will be for 3 years and
subsequent tours will be from 1-3 years long. Member's must remain in the position to which initially assigned for a minimum of 24
months. Waivers may be approved in exceptional circumstances by TAG. Tours may not extend beyond an enlisted member's
Expiration Term of Service (ETS).
AGR PROGRAM BENEFITS: Salary is determined by military grade and time in service. Member is authorized Subsistence
allowance, Basic Allowance for Housing (BAH), thirty (30) days annual leave; medical and dental care. TRICARE Standard coverage
for dependents. Military Exchange and Commissary privileges.
HOW TO APPLY: Applicants must forward the forms listed below to arrive in the Human Resource Office no later than the Closing
Date indicated above. E-mail applications to ng.mn.mnarng.mbx.assets-hro@mail.mil subject line must read (AGR application 16-XXX
last name). Hard copy applications such as faxed applications, hand carried applications, and mailed applications will no
longer be accepted. If the application packet is too large to be sent in one email, break the packet into two separate attachments and
send it in two separate emails. If sending multiple emails, subject line must end in 1 of 2, 2 of 2 (example- AGR application 16-XXX
Smith, 1 of 2). For questions, please call 651-282-4155 or email ng.mn.mnarng.mbx.assets-hro@mail.mil.
REQUIRED:
NGB Form 34-1
Current Report of Individual Person (RIP)
DD 214(s)
Report of Individual Fitness (AFFMS)
Application forms may be obtained at most Minnesota Army or Air National Guard Facilities or from our website at
http://www.minnesotanationalguard.org/careers.
AGR PROGRAM MINIMUM QUALIFICATION REQUIREMENTS
1.
Individuals must meet Physical Fitness Standards. Air applicants must provide a printed copy of the electronic Air Force Fitness
Assessment Results dated within the past 12 months of application close date, reference AFI 36-2905.
2.
Air National Guard members must meet the physical qualifications outlined in AFI 48-123. Medical exams must be conducted not
more than 36 months prior to entry on AGR duty. HIV test must be within six (6) months prior to the tour start date.
3.
Failure to obtain and maintain a SECRET security clearance will result in removal from the AGR program.
4.
Air National Guard, Air Force Reserve or the United States Air Force members who have not achieved a passing Fitness Program
score are ineligible for entry into the AGR Program.
5.
Selected individual must extend/re-enlist for a period equal to or greater than initial tour end date.
6.
Minnesota Air National Guard enlisted members currently serving in an AGR status may be selected for a vacant position without
an awarded 3-level in the advertised/compatible duty AFSC.
7.
A Minnesota Air National Guard/AGR not possessing the ADVERTISED AFSC must agree in writing to retrain and successfully
upgrade to the 3-level within 12 months of assignment to the AGR position or be reassigned to a position for which qualified or be
removed from the AGR program.
8.
Enlisted applicant's military grade cannot exceed the maximum military grade authorized. Over grade enlisted applicant must
indicate, in writing, the willingness to be administratively reduced in grade when assigned to the position. Officers may not enter
into the AGR program in an over grade status.
9.
IAW ANGI 36-101, paragraph 2.1.3.8, an individual must not have been previously separated for cause from active duty or
previous AGR tour.
10. Applicant selected will not be reassigned during the first 18 months of the initial tour, unless waived by The Adjutant General for
mobilization, force structure changes or command directed reassignments.
11. IAW ANGI 36-101, paragraph 2.1.3.6, AGR personnel may not be eligible for or be receiving an Immediate Federal Retirement
Annuity (military or civilian).
12. IAW ANGI 36-101, paragraph 2.1.3.7, applicants should be able to complete 20 years of active federal service prior to Mandatory
Separation Date (MSD). Individuals selected for AGR tours that cannot attain 20 years of active federal service prior to reaching
mandatory separation must complete a Statement of Understanding contained in Attachment 2 of ANGI 36-101.
13. IAW ANGI 36-101, paragraph 2.2.3, members must remain in the position to which initially assigned for a minimum of 24 months.
TAG may waive this requirement in exceptional circumstances which must be requested through the AGR member's current fulltime OIC.
14. Candidates will be evaluated on the basis of their education, experience, training, and performance. Consideration will be based
on available information contained in the individual's application.
The Minnesota Department of Military Affairs is an Equal Opportunity Employer. All qualified applicants will receive consideration
for the position without discrimination for any non-merit reason(s) such as age, race, religion, gender, ethnic origin or non-disqualifying
disability. If you have information or questions regarding this issue, please contact the Equal Employment Manager at 651-282-4472.