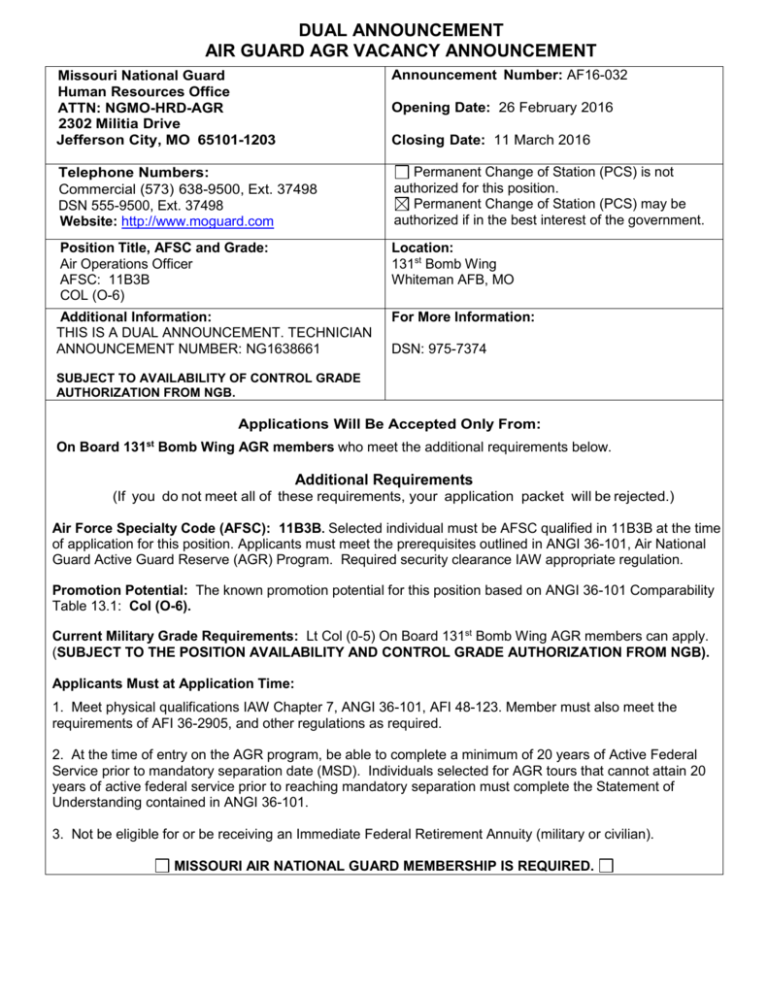 DUAL ANNOUNCEMENT
AIR GUARD AGR VACANCY ANNOUNCEMENT
Missouri National Guard
Human Resources Office
ATTN: NGMO-HRD-AGR
2302 Militia Drive
Jefferson City, MO 65101-1203
Announcement Number: AF16-032
Telephone Numbers:
Commercial (573) 638-9500, Ext. 37498
DSN 555-9500, Ext. 37498
Website: http://www.moguard.com
Permanent Change of Station (PCS) is not
authorized for this position.
Permanent Change of Station (PCS) may be
authorized if in the best interest of the government.
Position Title, AFSC and Grade:
Air Operations Officer
AFSC: 11B3B
COL (O-6)
Location:
131st Bomb Wing
Whiteman AFB, MO
Additional Information:
THIS IS A DUAL ANNOUNCEMENT. TECHNICIAN
ANNOUNCEMENT NUMBER: NG1638661
For More Information:
Opening Date: 26 February 2016
Closing Date: 11 March 2016
DSN: 975-7374
SUBJECT TO AVAILABILITY OF CONTROL GRADE
AUTHORIZATION FROM NGB.
Applications Will Be Accepted Only From:
On Board 131st Bomb Wing AGR members who meet the additional requirements below.
Additional Requirements
(If you do not meet all of these requirements, your application packet will be rejected.)
Air Force Specialty Code (AFSC): 11B3B. Selected individual must be AFSC qualified in 11B3B at the time
of application for this position. Applicants must meet the prerequisites outlined in ANGI 36-101, Air National
Guard Active Guard Reserve (AGR) Program. Required security clearance IAW appropriate regulation.
Promotion Potential: The known promotion potential for this position based on ANGI 36-101 Comparability
Table 13.1: Col (O-6).
Current Military Grade Requirements: Lt Col (0-5) On Board 131st Bomb Wing AGR members can apply.
(SUBJECT TO THE POSITION AVAILABILITY AND CONTROL GRADE AUTHORIZATION FROM NGB).
Applicants Must at Application Time:
1. Meet physical qualifications IAW Chapter 7, ANGI 36-101, AFI 48-123. Member must also meet the
requirements of AFI 36-2905, and other regulations as required.
2. At the time of entry on the AGR program, be able to complete a minimum of 20 years of Active Federal
Service prior to mandatory separation date (MSD). Individuals selected for AGR tours that cannot attain 20
years of active federal service prior to reaching mandatory separation must complete the Statement of
Understanding contained in ANGI 36-101.
3. Not be eligible for or be receiving an Immediate Federal Retirement Annuity (military or civilian).
MISSOURI AIR NATIONAL GUARD MEMBERSHIP IS REQUIRED.
IMPORTANT NOTICE
Applications will be screened after the job closing date; therefore, all documents must be current and valid as of
the closing date. Please review your application for accuracy prior to submission to HRO. Nothing will be added
to the application after 1700 CST on the closing date. Applications received after 1700 CST on the closing date
of the vacancy announcement will be rejected. A separate application is required for each vacancy
announcement.
Instructions for Applying
If you are unable to provide any of the documents below or your documents do not comply with the
below guidance, a memorandum must be submitted explaining the discrepancy.
Individuals must submit the following REQUIRED documents:
1. NGB Form 34-1 (Application for Active Guard/Reserve (AGR) Position), (USE LATEST VERSION 20131111).
ENSURE position announcement number and position title are completed. This form must be signed and dated. Ensure
you explain any "YES" answers per instructions on NGB Form 34-1 section V (except Questions 9 & 17).
2. Current Individual Fitness Report (within 12 months), applicant must meet the minimum requirements for each
fitness component in addition to scoring an overall composite of 75 or higher for entry into the AGR program. For
applicants/members with a documented DLC at the time of application, which prohibits them from performing one or
more components of the Fitness Assessment, an overall "Pass" rating is required, or equivalent, if other branch of
service.
3. Current Career Data Brief (CDB) from virtual MPF.
4. Record Review RIP within the last six months or equivalent, if other branch of service.
5. DD Form 469, Duty Limiting Condition Report (if applicable).
6. AF Form 422 (Notification of Air Force Member's Qualification Status) or equivalent, if other branch of service.
7. Last three EPRs or OPRs. If the full three EPRs/OPRs are not available, you must submit any available
EPRs/OPRs as well as a statement by a member of your chain of command attesting to your character of
service. This statement will take the place of any missing EPRs/OPRs.
8. AF Form 526 (ANG Point Credit Summary) or equivalent, if other branch of service.
9. All DD Form 214 or NGB Form 22 to verify active service (if applicable).
10. If necessary, memorandum from over-grade applicant stating that they will voluntarily take a reduction in
rank if selected for the position.
CAUTION: IF YOUR APPLICATION PACKET DOES NOT PROVIDE ALL THE INFORMATION
REQUESTED ON THE FORMS AND DOCUMENTS LISTED ABOVE, YOU WILL LOSE CONSIDERATION
FOR THE JOB. ONLY COMPLETE APPLICATIONS WILL BE CONSIDERED. Applicants are responsible
for maintaining a copy of their applications. If you have questions, please call the AGR section well in advance
of the closing date at 573-638-9500 ext. 37498.
Application Submission: Submit your application to: Missouri National Guard Headquarters, ATTN:
NGMO-HRD-AGR, 2302 Militia Drive, Jefferson City, MO 65101-1203 or using SAFE
(https://safe.amrdec.army.mil/SAFE/) in one .pdf file to ng.mo.moarng.mbx.jfmo-hrt-agr-jobapplications@mail.mil (SAFE Instructions are below). APPLICATIONS SUBMITTED AS AN
UNENCRYPTED E-MAIL ATTACHMENT WILL NOT BE ACCEPTED.
SAFE Instructions: Website: https://safe.amrdec.army.mil/safe
1. Select accordingly if you are accessing the website from a computer with CAC Access or
not. Note: Either option will allow you to send an encrypted file.
2. Enter or confirm your name is entered, then enter email address (all e-mail addresses work with
SAFE).
3. Click Browse to attach your PDF File and once selected it will appear under File(s)
(Applications must be submitted as one file).
4. Once you see the file, click the Box next to Privacy Act Data.
5. To the right, in the Box "Description of Files," please enter the following:
"Announcement Number", "Position Title", and "Your Last Name" (ie: A15-114, Recruiter,
Smith)
6. Under Recipient Information, enter the email address: ng.mo.moarng.mbx.jfmo-hrtagr-job-applications@mail.mil and Click Add.
7. Confirm the e-mail address has moved to the Recipients List Box next to where you entered it.
8. Under Email Setting, Click on the following boxes:
- Encrypt email message when possible.
- (Optional) Notify me when file(s) downloads are STARTED (system generated email).
- Notify me when file(s) downloads are COMPLETED (system generated email).
- Require CAC for Pick-up (all recipients will need to log in with a CAC to download file(s).
9. Click on FOUO.
10. Click Upload.
Salary: Salary IAW current rank and active duty pay documents.
Equal Opportunity: The Missouri National Guard is an Equal Opportunity Employer. Personnel on Title 32
Tours will be protected under Title VI of the Civil Rights Act of 1964 against discrimination based on race,
color, religion, gender, national origin, political affiliation or any other non-merit factor.