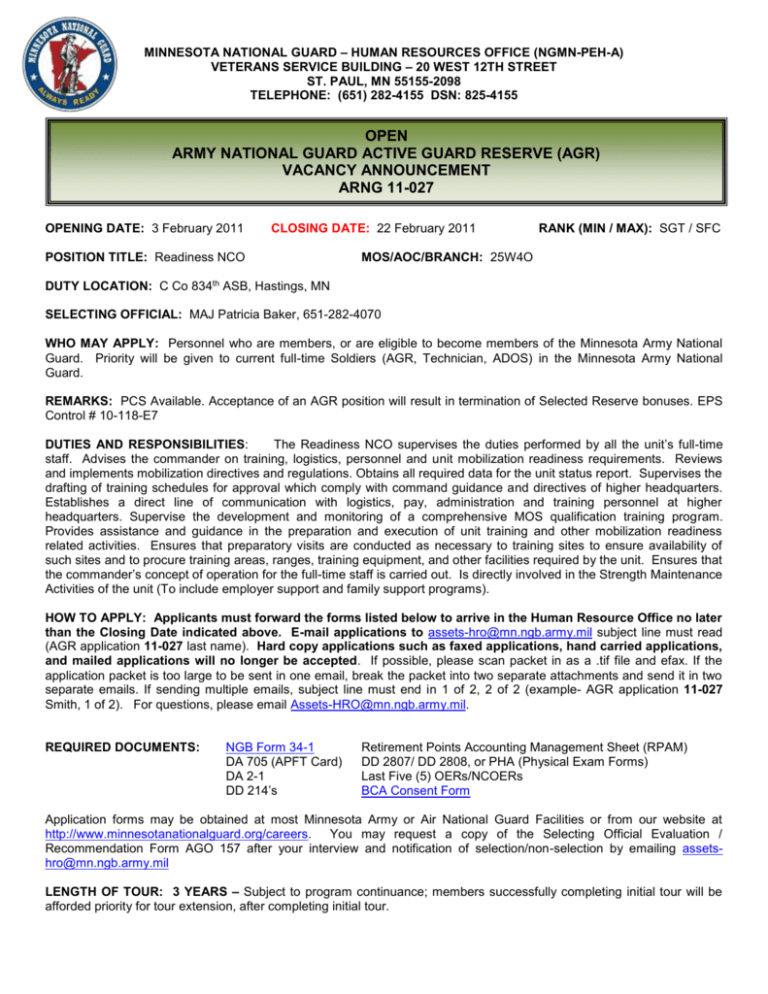 MINNESOTA NATIONAL GUARD – HUMAN RESOURCES OFFICE (NGMN-PEH-A)
VETERANS SERVICE BUILDING – 20 WEST 12TH STREET
ST. PAUL, MN 55155-2098
TELEPHONE: (651) 282-4155 DSN: 825-4155
OPEN
ARMY NATIONAL GUARD ACTIVE GUARD RESERVE (AGR)
VACANCY ANNOUNCEMENT
ARNG 11-027
OPENING DATE: 3 February 2011
CLOSING DATE: 22 February 2011
POSITION TITLE: Readiness NCO
RANK (MIN / MAX): SGT / SFC
MOS/AOC/BRANCH: 25W4O
DUTY LOCATION: C Co 834th ASB, Hastings, MN
SELECTING OFFICIAL: MAJ Patricia Baker, 651-282-4070
WHO MAY APPLY: Personnel who are members, or are eligible to become members of the Minnesota Army National
Guard. Priority will be given to current full-time Soldiers (AGR, Technician, ADOS) in the Minnesota Army National
Guard.
REMARKS: PCS Available. Acceptance of an AGR position will result in termination of Selected Reserve bonuses. EPS
Control # 10-118-E7
DUTIES AND RESPONSIBILITIES:
The Readiness NCO supervises the duties performed by all the unit's full-time
staff. Advises the commander on training, logistics, personnel and unit mobilization readiness requirements. Reviews
and implements mobilization directives and regulations. Obtains all required data for the unit status report. Supervises the
drafting of training schedules for approval which comply with command guidance and directives of higher headquarters.
Establishes a direct line of communication with logistics, pay, administration and training personnel at higher
headquarters. Supervise the development and monitoring of a comprehensive MOS qualification training program.
Provides assistance and guidance in the preparation and execution of unit training and other mobilization readiness
related activities. Ensures that preparatory visits are conducted as necessary to training sites to ensure availability of
such sites and to procure training areas, ranges, training equipment, and other facilities required by the unit. Ensures that
the commander's concept of operation for the full-time staff is carried out. Is directly involved in the Strength Maintenance
Activities of the unit (To include employer support and family support programs).
HOW TO APPLY: Applicants must forward the forms listed below to arrive in the Human Resource Office no later
than the Closing Date indicated above. E-mail applications to assets-hro@mn.ngb.army.mil subject line must read
(AGR application 11-027 last name). Hard copy applications such as faxed applications, hand carried applications,
and mailed applications will no longer be accepted. If possible, please scan packet in as a .tif file and efax. If the
application packet is too large to be sent in one email, break the packet into two separate attachments and send it in two
separate emails. If sending multiple emails, subject line must end in 1 of 2, 2 of 2 (example- AGR application 11-027
Smith, 1 of 2). For questions, please email Assets-HRO@mn.ngb.army.mil.
REQUIRED DOCUMENTS:
NGB Form 34-1
DA 705 (APFT Card)
DA 2-1
DD 214's
Retirement Points Accounting Management Sheet (RPAM)
DD 2807/ DD 2808, or PHA (Physical Exam Forms)
Last Five (5) OERs/NCOERs
BCA Consent Form
Application forms may be obtained at most Minnesota Army or Air National Guard Facilities or from our website at
http://www.minnesotanationalguard.org/careers. You may request a copy of the Selecting Official Evaluation /
Recommendation Form AGO 157 after your interview and notification of selection/non-selection by emailing assetshro@mn.ngb.army.mil
LENGTH OF TOUR: 3 YEARS – Subject to program continuance; members successfully completing initial tour will be
afforded priority for tour extension, after completing initial tour.
AGR PROGRAM BENEFITS: Salary is determined by military grade and time in service. Member is authorized
Subsistence allowance, Basic Allowance for Housing (BAH), thirty (30) days annual leave; medical and dental care.
TRICARE Prime Remote or TRICARE Standard for dependents. Military Exchange and Commissary privileges.
AGR PROGRAM MINIMUM QUALIFICATION REQUIREMENTS
1. Must be a member or eligible to become a member of the Minnesota Army National Guard. Selected individual must
extend/enlist for a period equal to the AGR tour.
2. Must meet medical standards prescribed by AR 40-501, Chapter 3 and physical standards prescribed by AR 600-9.
Soldier must have a favorable Periodic Health Assessment (PHA) in accordance with (IAW) AR 40-501, chapter 3
conducted within 12 months prior to initial entry into the AGR Program. Soldier must have a Human
Immunodeficiency Virus (HIV) test within the last 24 months prior to initial entry into the AGR program IAW AR 600110. This examination is to be accomplished at an active military medical treatment facility, an ARNG medical unit,
US Army Reserve medical units; or a civilian medical facility.
3. The individual must be eligible to complete a minimum of five (5) years in AGR status immediately prior to his/her
mandatory separation date or prior to completing 18 years of Active Federal Service.
4. Individual must not be eligible for, nor receiving a federal military retired or retainer pay, nor federal service annuities.
5. Individual must possess or be able to obtain appropriate security clearance.
6. Must not be a candidate for elective office, holding a civil office (full or part-time), or engage in partisan political
activities as defined by DoD Directive 5500.7, Joint Ethics Regulation.
7. Applicant selected will be subject to State Military Justice procedures/statutes and State Civil Laws/statutes, as
appropriate, when serving under provisions of Title 32 U.S.C.
8. Applicant must meet other eligibility requirements for AGR service under the provisions of AR 135-18 and NGR 600-5
MILITARY COMPATIBILITY
Upon selection, individual must be or become MOS/AOC qualified within twelve (12) months of appointment. Individual
must also maintain satisfactory membership in the MN ARNG to include adherence to APFT and the height/weight
standards.
The Minnesota Department of Military Affairs is an Equal Opportunity Employer. All qualified applicants will receive
consideration for the position without discrimination for any non-merit reason(s) such as age, race, religion, gender, ethnic
origin or non-disqualifying disability. Pre-selection is not only counter-productive to effective recruitment and placement,
but also violates Minnesota National Guard Merit Placement principles and will not be tolerated. If you have information
or questions regarding this issue, please contact the Equal Employment Manager at 651-282-4472 or 651-282-4078.