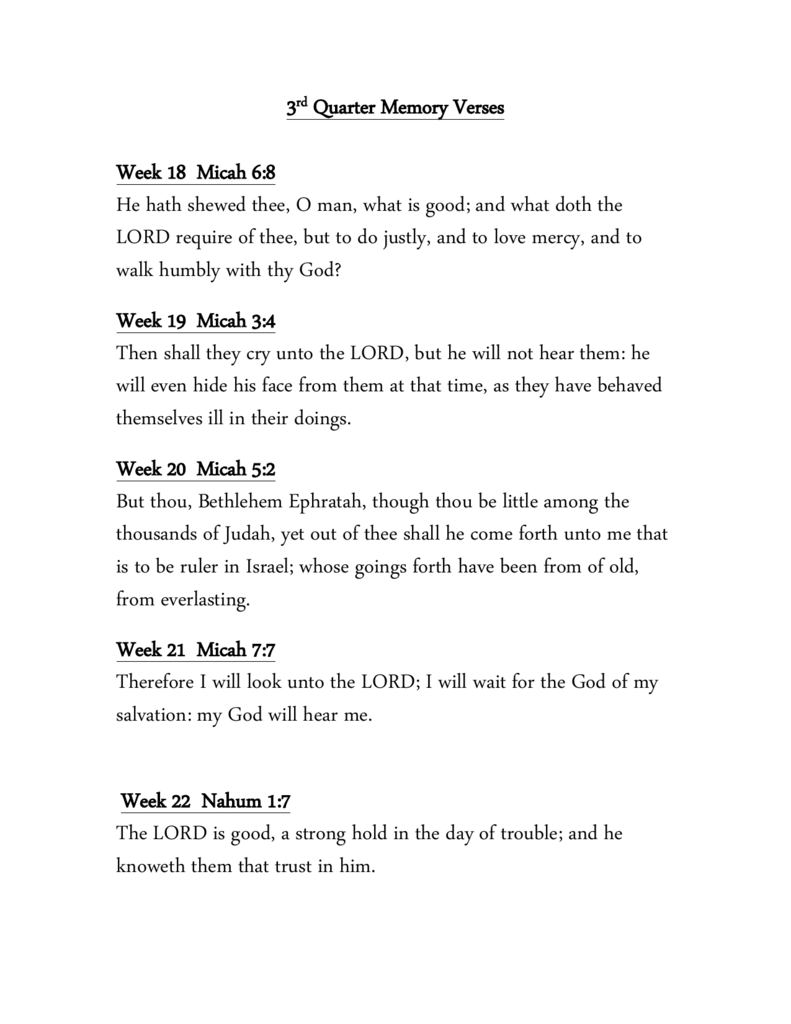 3rd Quarter Memory Verses
Week 18 Micah 6:8
He hath shewed thee, O man, what is good; and what doth the
LORD require of thee, but to do justly, and to love mercy, and to
walk humbly with thy God?
Week 19 Micah 3:4
Then shall they cry unto the LORD, but he will not hear them: he
will even hide his face from them at that time, as they have behaved
themselves ill in their doings.
Week 20 Micah 5:2
But thou, Bethlehem Ephratah, though thou be little among the
thousands of Judah, yet out of thee shall he come forth unto me that
is to be ruler in Israel; whose goings forth have been from of old,
from everlasting.
Week 21 Micah 7:7
Therefore I will look unto the LORD; I will wait for the God of my
salvation: my God will hear me.
Week 22 Nahum 1:7
The LORD is good, a strong hold in the day of trouble; and he
knoweth them that trust in him.
Week 23 Nahum 2:13
Behold, I am against thee, saith the LORD of hosts, and I will burn
her chariots in the smoke, and the sword shall devour thy young
lions: and I will cut off thy prey from the earth, and the voice of thy
messengers shall no more be heard
Week 24 Habakkuk 3:17
Although the fig tree shall not blossom, neither shall fruit be in the
vines; the labour of the olive shall fail, and the fields shall yield no
meat; the flock shall be cut off from the fold, and there shall be no
herd in the stalls:
Week 25 Habakkuk 3:18
Yet I will rejoice in the LORD, I will joy in the God of my salvation.