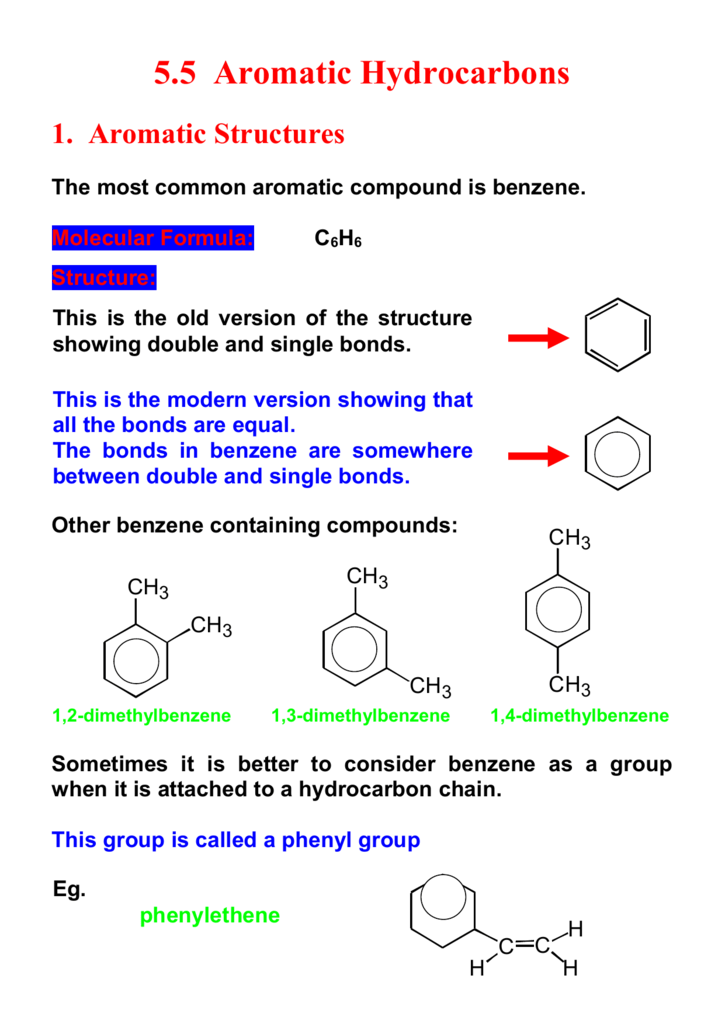 5.5 Aromatic Hydrocarbons
1. Aromatic Structures
The most common aromatic compound is benzene.
Molecular Formula:
C6H6
Structure:
This is the old version of the structure
showing double and single bonds.
This is the modern version showing that
all the bonds are equal.
The bonds in benzene are somewhere
between double and single bonds.
Other benzene containing compounds:
CH3
CH3
CH3
CH3
CH3
CH3
1,2-dimethylbenzene
1,3-dimethylbenzene
1,4-dimethylbenzene
Sometimes it is better to consider benzene as a group
when it is attached to a hydrocarbon chain.
This group is called a phenyl group
Eg.
phenylethene
C C
H
H
H
2. Aromatic Properties
This activity looks at some of the properties methylbenzene (toluene)
as an example of a typical aromatic hydrocarbon.
Property
Observation
Appearance
Colourless liquid
Solubility
Insoluble
pH
Neutral
Combustion
Burns with smoky flame
Bromine Test
No reaction
Like other unsaturated hydrocarbons aromatic compounds
burn with a smoky flame.
The bonds in aromatic hydrocarbons are not true double
bonds and this is why the bromine does not decolourise.
In fact, the benzene ring in aromatic compounds is quite
stable.
As a result, the benzene ring in aromatic hydrocarbons is
resistant to addition reactions.
3. Products from Aromatic Hydrocarbons
This activity considers the uses of aromatic hydrocarbons.
petrol
crude
oil
naphtha
Pain killers
Explosives
Detergents
Agrochemicals
Dyestuffs
Plastics & fibres
Example: (explosives)
CH3
O2N
NO2
NO2
2,4,6-trinitrotoluene (TNT)
Aromatic hydrocarbons are extracted from the naphtha
fraction of crude oil.
These aromatic compounds can be blended with the petrol
fraction of crude oil to give smoother burning fuels or used
to make consumer products.
As a result, there is a competing demand for the naphtha
fraction of crude oil.