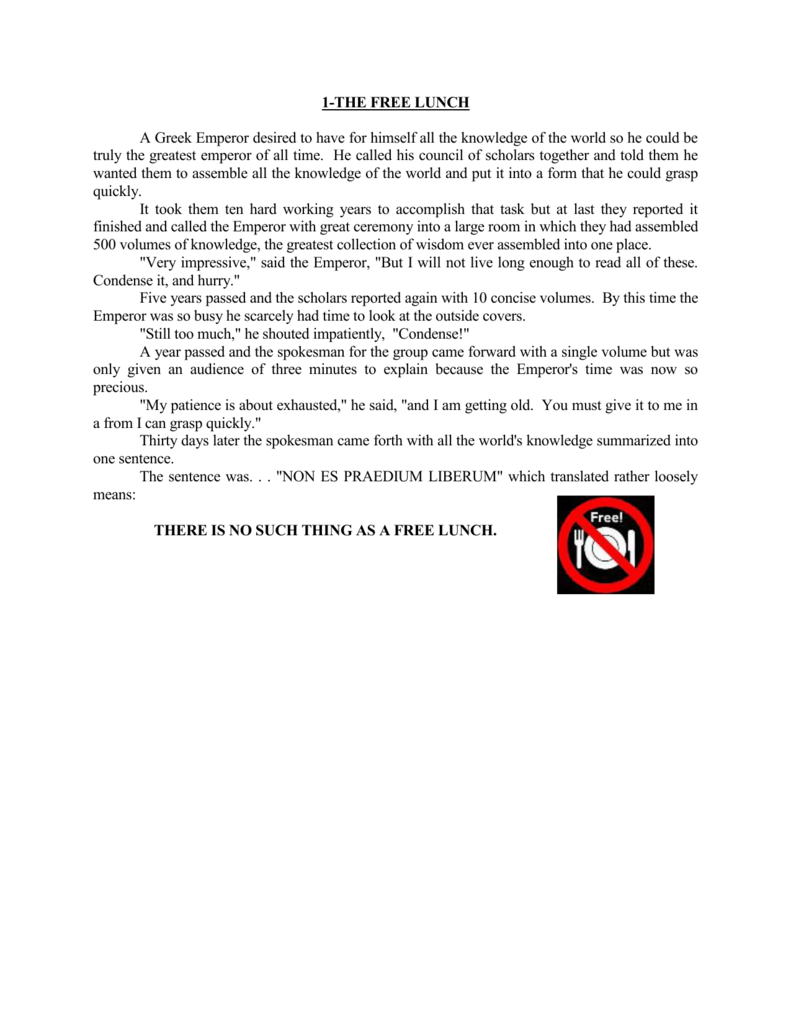 1-THE FREE LUNCH
A Greek Emperor desired to have for himself all the knowledge of the world so he could be
truly the greatest emperor of all time. He called his council of scholars together and told them he
wanted them to assemble all the knowledge of the world and put it into a form that he could grasp
quickly.
It took them ten hard working years to accomplish that task but at last they reported it
finished and called the Emperor with great ceremony into a large room in which they had assembled
500 volumes of knowledge, the greatest collection of wisdom ever assembled into one place.
"Very impressive," said the Emperor, "But I will not live long enough to read all of these.
Condense it, and hurry."
Five years passed and the scholars reported again with 10 concise volumes. By this time the
Emperor was so busy he scarcely had time to look at the outside covers.
"Still too much," he shouted impatiently, "Condense!"
A year passed and the spokesman for the group came forward with a single volume but was
only given an audience of three minutes to explain because the Emperor's time was now so
precious.
"My patience is about exhausted," he said, "and I am getting old. You must give it to me in
a from I can grasp quickly."
Thirty days later the spokesman came forth with all the world's knowledge summarized into
one sentence.
The sentence was. . . "NON ES PRAEDIUM LIBERUM" which translated rather loosely
means:
THERE IS NO SUCH THING AS A FREE LUNCH.