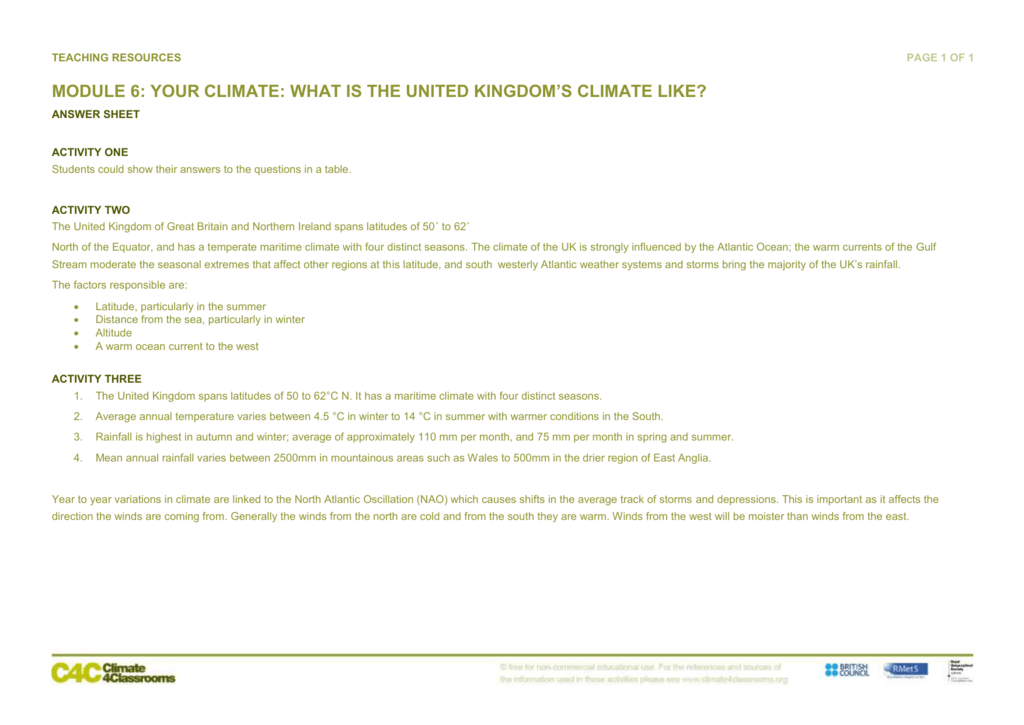 TEACHING RESOURCES
PAGE 1 OF 1
MODULE 6: YOUR CLIMATE: WHAT IS THE UNITED KINGDOM'S CLIMATE LIKE?
ANSWER SHEET
ACTIVITY ONE
Students could show their answers to the questions in a table.
ACTIVITY TWO
The United Kingdom of Great Britain and Northern Ireland spans latitudes of 50˚ to 62˚
North of the Equator, and has a temperate maritime climate with four distinct seasons. The climate of the UK is strongly influenced by the Atlantic Ocean; the warm currents of the Gulf
Stream moderate the seasonal extremes that affect other regions at this latitude, and south westerly Atlantic weather systems and storms bring the majority of the UK's rainfall.
The factors responsible are:




Latitude, particularly in the summer
Distance from the sea, particularly in winter
Altitude
A warm ocean current to the west
ACTIVITY THREE
1.
The United Kingdom spans latitudes of 50 to 62°C N. It has a maritime climate with four distinct seasons.
2.
Average annual temperature varies between 4.5 °C in winter to 14 °C in summer with warmer conditions in the South.
3.
Rainfall is highest in autumn and winter; average of approximately 110 mm per month, and 75 mm per month in spring and summer.
4.
Mean annual rainfall varies between 2500mm in mountainous areas such as Wales to 500mm in the drier region of East Anglia.
Year to year variations in climate are linked to the North Atlantic Oscillation (NAO) which causes shifts in the average track of storms and depressions. This is important as it affects the
direction the winds are coming from. Generally the winds from the north are cold and from the south they are warm. Winds from the west will be moister than winds from the east.