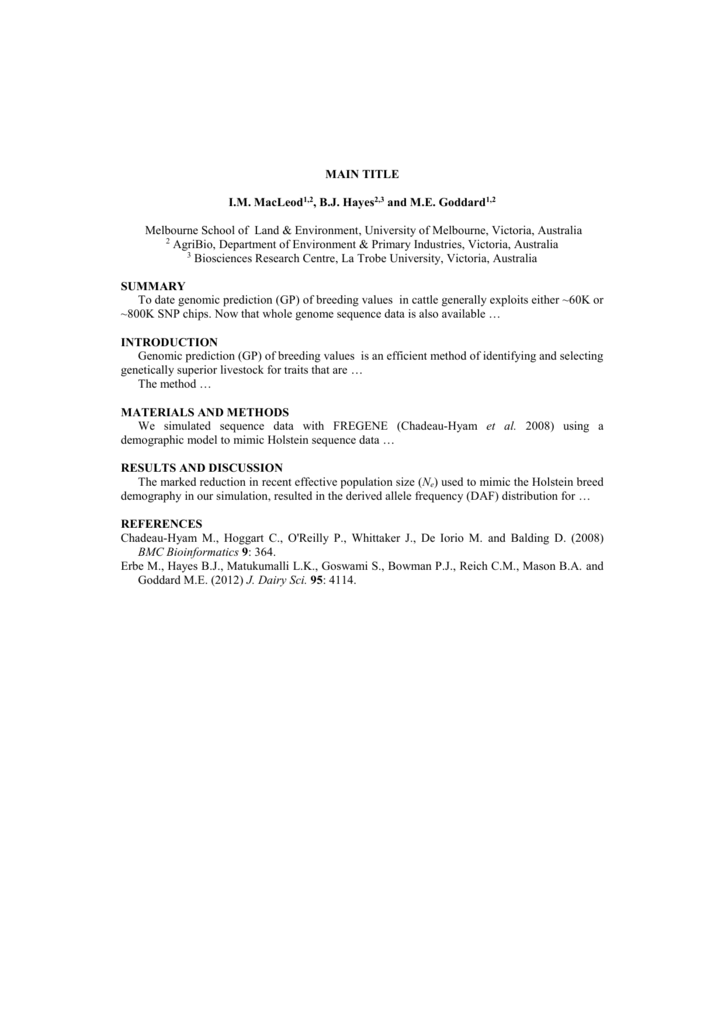 MAIN TITLE
I.M. MacLeod1,2, B.J. Hayes2,3 and M.E. Goddard1,2
Melbourne School of Land & Environment, University of Melbourne, Victoria, Australia
2
AgriBio, Department of Environment & Primary Industries, Victoria, Australia
3
Biosciences Research Centre, La Trobe University, Victoria, Australia
SUMMARY
To date genomic prediction (GP) of breeding values in cattle generally exploits either ~60K or
~800K SNP chips. Now that whole genome sequence data is also available …
INTRODUCTION
Genomic prediction (GP) of breeding values is an efficient method of identifying and selecting
genetically superior livestock for traits that are …
The method …
MATERIALS AND METHODS
We simulated sequence data with FREGENE (Chadeau-Hyam et al. 2008) using a
demographic model to mimic Holstein sequence data …
RESULTS AND DISCUSSION
The marked reduction in recent effective population size (Ne) used to mimic the Holstein breed
demography in our simulation, resulted in the derived allele frequency (DAF) distribution for …
REFERENCES
Chadeau-Hyam M., Hoggart C., O'Reilly P., Whittaker J., De Iorio M. and Balding D. (2008)
BMC Bioinformatics 9: 364.
Erbe M., Hayes B.J., Matukumalli L.K., Goswami S., Bowman P.J., Reich C.M., Mason B.A. and
Goddard M.E. (2012) J. Dairy Sci. 95: 4114.