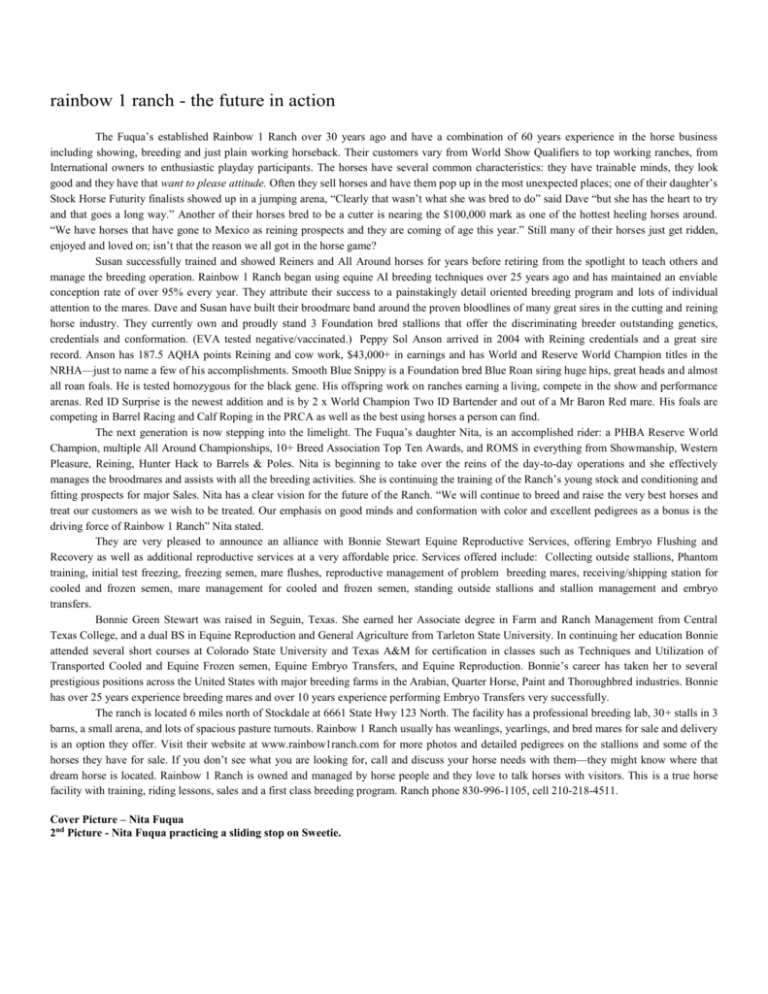 rainbow 1 ranch - the future in action
The Fuqua's established Rainbow 1 Ranch over 30 years ago and have a combination of 60 years experience in the horse business
including showing, breeding and just plain working horseback. Their customers vary from World Show Qualifiers to top working ranches, from
International owners to enthusiastic playday participants. The horses have several common characteristics: they have trainable minds, they look
good and they have that want to please attitude. Often they sell horses and have them pop up in the most unexpected places; one of their daughter's
Stock Horse Futurity finalists showed up in a jumping arena, "Clearly that wasn't what she was bred to do" said Dave "but she has the heart to try
and that goes a long way." Another of their horses bred to be a cutter is nearing the $100,000 mark as one of the hottest heeling horses around.
"We have horses that have gone to Mexico as reining prospects and they are coming of age this year." Still many of their horses just get ridden,
enjoyed and loved on; isn't that the reason we all got in the horse game?
Susan successfully trained and showed Reiners and All Around horses for years before retiring from the spotlight to teach others and
manage the breeding operation. Rainbow 1 Ranch began using equine AI breeding techniques over 25 years ago and has maintained an enviable
conception rate of over 95% every year. They attribute their success to a painstakingly detail oriented breeding program and lots of individual
attention to the mares. Dave and Susan have built their broodmare band around the proven bloodlines of many great sires in the cutting and reining
horse industry. They currently own and proudly stand 3 Foundation bred stallions that offer the discriminating breeder outstanding genetics,
credentials and conformation. (EVA tested negative/vaccinated.) Peppy Sol Anson arrived in 2004 with Reining credentials and a great sire
record. Anson has 187.5 AQHA points Reining and cow work, $43,000+ in earnings and has World and Reserve World Champion titles in the
NRHA—just to name a few of his accomplishments. Smooth Blue Snippy is a Foundation bred Blue Roan siring huge hips, great heads and almost
all roan foals. He is tested homozygous for the black gene. His offspring work on ranches earning a living, compete in the show and performance
arenas. Red ID Surprise is the newest addition and is by 2 x World Champion Two ID Bartender and out of a Mr Baron Red mare. His foals are
competing in Barrel Racing and Calf Roping in the PRCA as well as the best using horses a person can find.
The next generation is now stepping into the limelight. The Fuqua's daughter Nita, is an accomplished rider: a PHBA Reserve World
Champion, multiple All Around Championships, 10+ Breed Association Top Ten Awards, and ROMS in everything from Showmanship, Western
Pleasure, Reining, Hunter Hack to Barrels & Poles. Nita is beginning to take over the reins of the day-to-day operations and she effectively
manages the broodmares and assists with all the breeding activities. She is continuing the training of the Ranch's young stock and conditioning and
fitting prospects for major Sales. Nita has a clear vision for the future of the Ranch. "We will continue to breed and raise the very best horses and
treat our customers as we wish to be treated. Our emphasis on good minds and conformation with color and excellent pedigrees as a bonus is the
driving force of Rainbow 1 Ranch" Nita stated.
They are very pleased to announce an alliance with Bonnie Stewart Equine Reproductive Services, offering Embryo Flushing and
Recovery as well as additional reproductive services at a very affordable price. Services offered include: Collecting outside stallions, Phantom
training, initial test freezing, freezing semen, mare flushes, reproductive management of problem breeding mares, receiving/shipping station for
cooled and frozen semen, mare management for cooled and frozen semen, standing outside stallions and stallion management and embryo
transfers.
Bonnie Green Stewart was raised in Seguin, Texas. She earned her Associate degree in Farm and Ranch Management from Central
Texas College, and a dual BS in Equine Reproduction and General Agriculture from Tarleton State University. In continuing her education Bonnie
attended several short courses at Colorado State University and Texas A&M for certification in classes such as Techniques and Utilization of
Transported Cooled and Equine Frozen semen, Equine Embryo Transfers, and Equine Reproduction. Bonnie's career has taken her to several
prestigious positions across the United States with major breeding farms in the Arabian, Quarter Horse, Paint and Thoroughbred industries. Bonnie
has over 25 years experience breeding mares and over 10 years experience performing Embryo Transfers very successfully.
The ranch is located 6 miles north of Stockdale at 6661 State Hwy 123 North. The facility has a professional breeding lab, 30+ stalls in 3
barns, a small arena, and lots of spacious pasture turnouts. Rainbow 1 Ranch usually has weanlings, yearlings, and bred mares for sale and delivery
is an option they offer. Visit their website at www.rainbow1ranch.com for more photos and detailed pedigrees on the stallions and some of the
horses they have for sale. If you don't see what you are looking for, call and discuss your horse needs with them—they might know where that
dream horse is located. Rainbow 1 Ranch is owned and managed by horse people and they love to talk horses with visitors. This is a true horse
facility with training, riding lessons, sales and a first class breeding program. Ranch phone 830-996-1105, cell 210-218-4511.
Cover Picture – Nita Fuqua
2nd Picture - Nita Fuqua practicing a sliding stop on Sweetie.