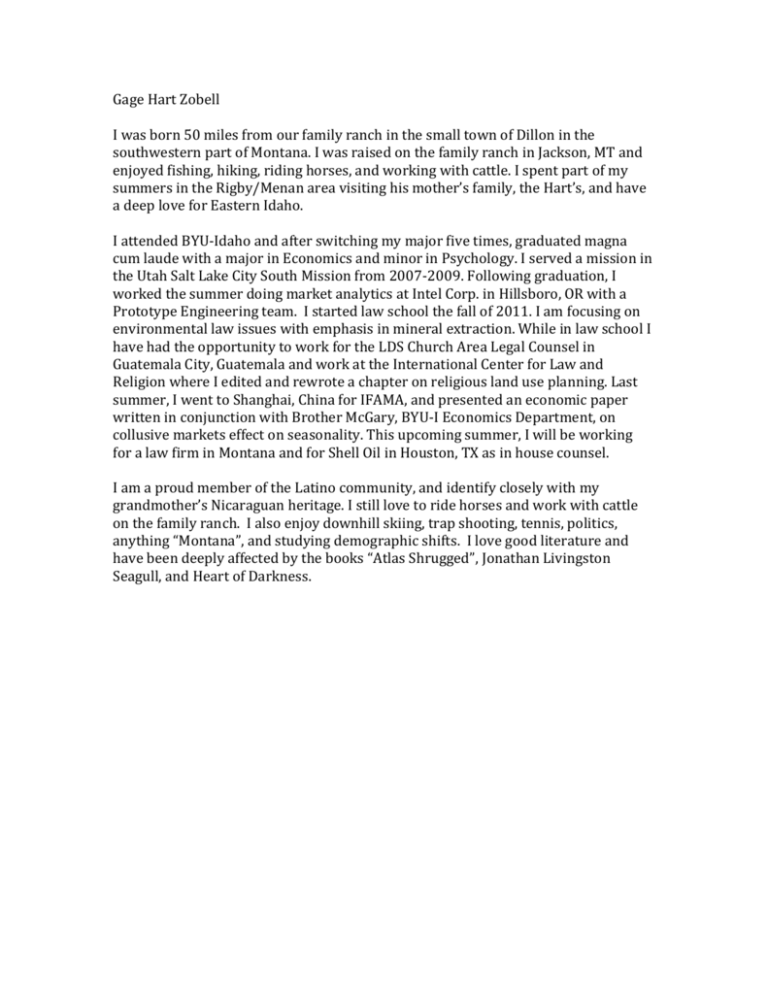 Gage Hart Zobell
I was born 50 miles from our family ranch in the small town of Dillon in the
southwestern part of Montana. I was raised on the family ranch in Jackson, MT and
enjoyed fishing, hiking, riding horses, and working with cattle. I spent part of my
summers in the Rigby/Menan area visiting his mother's family, the Hart's, and have
a deep love for Eastern Idaho.
I attended BYU-Idaho and after switching my major five times, graduated magna
cum laude with a major in Economics and minor in Psychology. I served a mission in
the Utah Salt Lake City South Mission from 2007-2009. Following graduation, I
worked the summer doing market analytics at Intel Corp. in Hillsboro, OR with a
Prototype Engineering team. I started law school the fall of 2011. I am focusing on
environmental law issues with emphasis in mineral extraction. While in law school I
have had the opportunity to work for the LDS Church Area Legal Counsel in
Guatemala City, Guatemala and work at the International Center for Law and
Religion where I edited and rewrote a chapter on religious land use planning. Last
summer, I went to Shanghai, China for IFAMA, and presented an economic paper
written in conjunction with Brother McGary, BYU-I Economics Department, on
collusive markets effect on seasonality. This upcoming summer, I will be working
for a law firm in Montana and for Shell Oil in Houston, TX as in house counsel.
I am a proud member of the Latino community, and identify closely with my
grandmother's Nicaraguan heritage. I still love to ride horses and work with cattle
on the family ranch. I also enjoy downhill skiing, trap shooting, tennis, politics,
anything "Montana", and studying demographic shifts. I love good literature and
have been deeply affected by the books "Atlas Shrugged", Jonathan Livingston
Seagull, and Heart of Darkness.