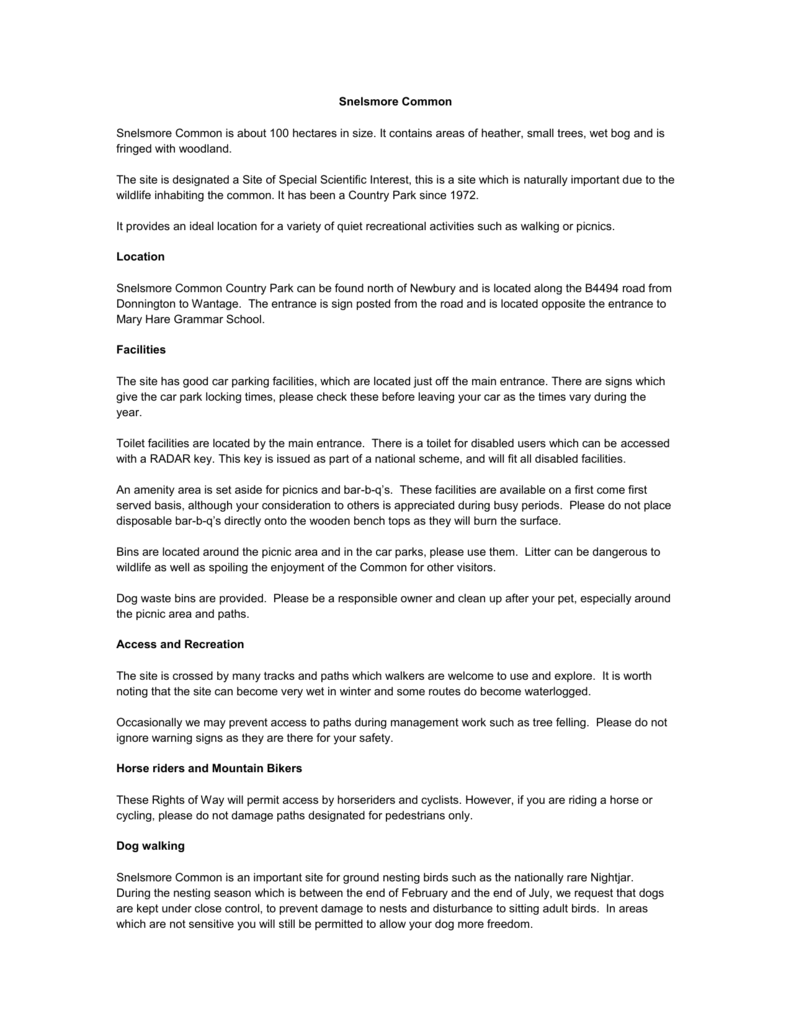 Snelsmore Common
Snelsmore Common is about 100 hectares in size. It contains areas of heather, small trees, wet bog and is
fringed with woodland.
The site is designated a Site of Special Scientific Interest, this is a site which is naturally important due to the
wildlife inhabiting the common. It has been a Country Park since 1972.
It provides an ideal location for a variety of quiet recreational activities such as walking or picnics.
Location
Snelsmore Common Country Park can be found north of Newbury and is located along the B4494 road from
Donnington to Wantage. The entrance is sign posted from the road and is located opposite the entrance to
Mary Hare Grammar School.
Facilities
The site has good car parking facilities, which are located just off the main entrance. There are signs which
give the car park locking times, please check these before leaving your car as the times vary during the
year.
Toilet facilities are located by the main entrance. There is a toilet for disabled users which can be accessed
with a RADAR key. This key is issued as part of a national scheme, and will fit all disabled facilities.
An amenity area is set aside for picnics and bar-b-q's. These facilities are available on a first come first
served basis, although your consideration to others is appreciated during busy periods. Please do not place
disposable bar-b-q's directly onto the wooden bench tops as they will burn the surface.
Bins are located around the picnic area and in the car parks, please use them. Litter can be dangerous to
wildlife as well as spoiling the enjoyment of the Common for other visitors.
Dog waste bins are provided. Please be a responsible owner and clean up after your pet, especially around
the picnic area and paths.
Access and Recreation
The site is crossed by many tracks and paths which walkers are welcome to use and explore. It is worth
noting that the site can become very wet in winter and some routes do become waterlogged.
Occasionally we may prevent access to paths during management work such as tree felling. Please do not
ignore warning signs as they are there for your safety.
Horse riders and Mountain Bikers
These Rights of Way will permit access by horseriders and cyclists. However, if you are riding a horse or
cycling, please do not damage paths designated for pedestrians only.
Dog walking
Snelsmore Common is an important site for ground nesting birds such as the nationally rare Nightjar.
During the nesting season which is between the end of February and the end of July, we request that dogs
are kept under close control, to prevent damage to nests and disturbance to sitting adult birds. In areas
which are not sensitive you will still be permitted to allow your dog more freedom.
It is worth noting that the site is home to a healthy adder population and free roaming dogs are more likely to
be bitten, especially in the open heath areas. If you suspect your dog has been bitten, do not panic it is
rarely fatal, although smaller dogs and bites to the face can have more of a risk. A vet can relieve the
problem with an anti-histamine injection. The nearest vet to the common is: O'Gorman Slater & Main,
Donnington Grove Veterinary Surgery, Oxford Rd, Donnington, Newbury, Berkshire, RG14 2JB. Tel:
01635 47170
Please be a responsible owner and clean up after you dog and use the dog waste bins provided. This is
especially important around the paths, the picnic area and car park as these are the areas where children
are most likely to come into contact with any mess left behind.
Events
A variety of events are held each year on or around the Common. There is a mix of walks and children's
activities usually led by the Countryside Ranger as well as more specialist items including outdoor theatre.
These are all advertised in the events programme produced by Thatcham Nature Discovery Centre.
If you want to use Snelsmore Common for an event of your own please contact the Countryside Ranger or
Countryside Manager well in advance.
History
The Common has been used by humans for at least 2000 years, the soils are poor and stony so the site has
never been improved for farming, and instead the area has been used as rough grazing for stock.
It became recognised as common land during the medieval period which was 1066-1485. The area was
divided between three parishes, Winterbourne, Chieveley and Shaw-cum-Donnington, so at that time there
would have been three commons.
The Common Rights on Snelsmore include cattle and pony grazing, collection of fallen timber, fuel
collecting, gravel digging and rights to shoot game. Also included is the right to cut peat and turf, although
the peat in the mires is too wet to cut, and the right to take fish but there does not appear to be anywhere
good to fish! The Common Rights are not the same for each commoner and the rights remain with the
property not the person.
In the early twentieth century Britain experienced great changes in social conditions and agriculture. After
2000 - 5000 years of stock grazing on the land the common was effectively abandoned.
During the Second World War the site was used as an ammunition dump and some of the infrastructure
present on the site today dates from that time.
Snelsmore was entered onto the Register of Common Land in 1970, although after 70 years of neglect
some boundaries were unclear. The site was then made into a Country Park in 1972. This led to a large
increase in the public use of the site.
Management which balances the recreational and nature conservation interests on the common was then
implemented in an attempt to regain some of the habitat lost over the past 70 years.
The site created fresh interest when the infamous Newbury Bypass was proposed. The path of the road was
to pass through the southern end of the Common, taking with it an area of woodland. Snelsmore then
became the chosen location for protesters tree camps and tunnels, but eventually the protesters were
moved and the bypass went through. The Common gained an equivalent area of woodland to the west in
compensation for the area lost to the road.
In 1999 after an absence of nearly 100 years a group of cattle were once again returned to the Common to
graze.
Conservation and Management
During the twentieth century the 2000 year old practise of grazing stock on the Common came to an end.
Although rabbits and a few deer remained, colonising tree species such as birch gradually started spreading
into the heathland and mires.
Trees change the habitats they invade in two very basic ways. As they start to grow and spread they reduce
the light available to plants growing beneath them and they take up large amounts of water out of the soil.
Although there are species of plant which are adapted to grow in these conditions they are not the same
types of plant which are found in open heaths and mires. Any change in plant species, no matter how
gradual leads to a change in insects, birds and mammals which live there.
Over 75% of the lowland heath like Snelsmore has been lost and as a result many heathland dependent
birds and animals are nationally very rare. It was decided therefore to restore the heathland at Snelsmore
Common.
Initially the restoration work meant removing large numbers of trees. Many of these had grown up over just
the last one or two generations, however that meant that most users of the Common only knew it as a
wooded site. Understandably it has taken time for some people to adapt to the changes which Snelsmore
has undergone, however much of the tree removal work has now been completed and already people are
seeing the benefits of opening up the site. Many areas are showing good fresh growth of heather, the seeds
have remained in the soil for years waiting for the conditions to be right for growth. In other areas where
maybe the tree cover had been thicker or where heather had been absent for a little longer, the heather has
needed a helping hand to re-establish. In these areas the soil is being scrapped and disturbed to bring to
the surface any dormant seeds which do remain and fresh heather cuttings are then placed on these areas
to add fresh seeds to the soil.
Encroaching bracken is another problem as it dies back each year the bracken fronds do not break down
easily, instead they compact to form a dense mat of coarse vegetation which other plants find it hard to
penetrate. Bracken on Snelsmore is being dealt with by a combination of cutting and rolling techniques,
designed to weaken the plant and cause it to die back. In extreme cases the bracken is sprayed, although
use of chemicals is kept to a minimum.
Although the large birch have been removed from the heathland and mires (a wet bog)there are trees In the
surrounding woodlands which will continue to provide fresh seeds which will to grow in these open areas.
Only by returning to traditional methods can we aim to prevent this. Grazing animals had to be returned to
the Common. Due to the large increase in traffic on our roads, it was necessary for the welfare of the stock
and the safety of motorists to erect fencing. This happened in the winter of 1998 and the first stock to graze
the Common in nearly 100 years were set out. As we work to get the right levels of grazing pressure we
may need to continue to manually mange young birch growth, but soon the grazing stock will take on the
role fully and help maintain healthy heathland plants.
Natural History
Snelsmore contains a rich mix of habitats including heather and gorse, wet bog, small trees. Each habitat
supports its own variety of plant and animal species.
Three types of heather can be found amongst the heath; ling, bell heather and cross leaved heath. Other
heath plants such as bilberry and crowberry can also be found.
Areas of scattered gorse provide shrubby areas which are associated with whinchats (small shrubs) and
other scrub loving birds. Mosses and lichens also grow amongst the floor covering plants.
The mires contain many rare sphagnum mosses, sedges and rushes (plants which thrive in wet areas), as
well as cotton-grass, sundews, bog asphodel and heath spotted orchids.
The broad-leaved woodlands contain mainly oak and birch but chestnut, beech, hazel and willow are
common. Winter parties of long-tailed tits feed on the newly forming buds of the trees, they are often
accompanied by goldcrests, great tits and blue tits. In the spring the woodland floor is covered with
bluebells.
Fauna (animals)
Muntjac, roe and fallow deer have all been seen on the Common. There are several rabbit warrens and a
variety of small mammals such as field voles and woodmice live in a variety of habitats. In turn these small
mammals provide an important food source to predators such as fox, tawny owl and kestrel.
Common reptiles such as adder, grass snake, common lizard and slow worm occur, and the pond supports
a breeding population of palmate newts.
The heathland supports a breeding population of the nationally rare nightjar. Whilst also providing good
hunting ground for kestrel and the green woodpecker.
The woodland trees are home to great spotted woodpecker, nuthatch, tawny owl and grey squirrel. Whilst
the shrubs and scrub provide an ideal habitat for smaller birds such as robins, wrens and warblers.