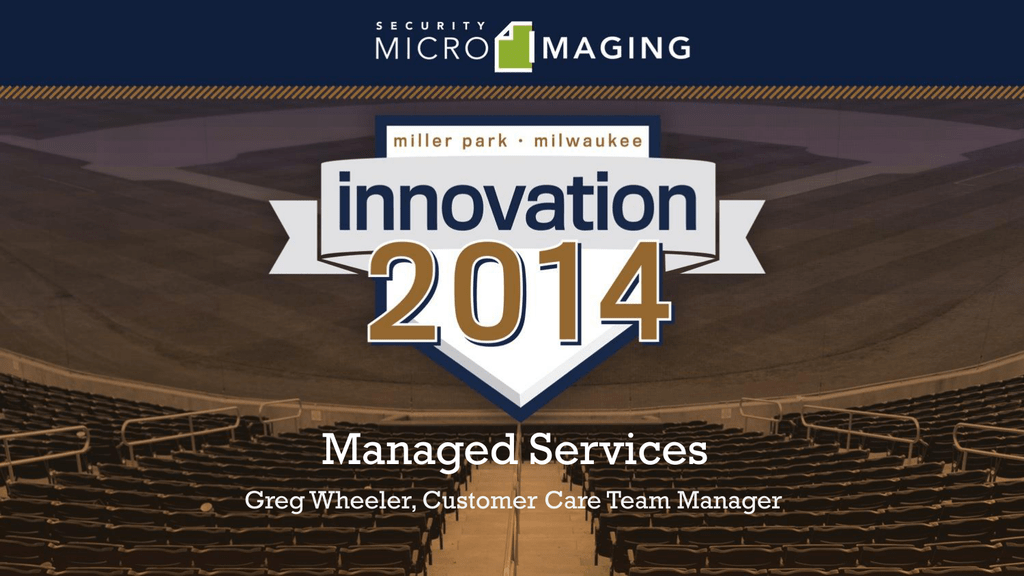 Managed Services
Greg Wheeler, Customer Care Team Manager
Meet Heather!

Heather is your administrator
Thanks Heather!

Heather attends large amounts of training

Sets up complicated import processes and workflows with custom
scripting
Uh oh

Heather then leaves for a better opportunity with her new skills

How can you keep these critical systems running?
Solution A: Find a New Heather

Taxing from HR and management standpoint

Looking for candidates with OnBase or Kofax administration
experience

Ramp up time to learn system and configure

Training takes time and money
Solution B: Managed Services

Team of trained professionals

Staffed to respond to incidents and requests

Provides stability and continuity of service
What is Managed Services?

New offering from SMC

Manages the Application(s) that you need

Expert Administration of your ECM system
Today's IT Mission

"Do more with less"

The business requires more and more services with higher uptime

IT needs to triage and simplify their responsibilities
Where do we fit in?

In-house staff

Staff Augmentation

>> Managed Services <<

Outsourced IT
We know the Applications

Proactively manage your OnBase or Kofax systems to minimize downtime

We've seen and supported hundreds of systems over the years
Benefits

Low upfront costs, predictable monthly costs

Operational budget versus capital budget

We apply Best practices

Faster resolution of issues

Less issues == less downtime

More time to work on other issues!
(Non-obvious) benefits

Rapid access to missing capabilities and skills

We have a productivity incentive

Familiarity with the system

More sets of eyes for connected systems
Choose the help you need

Systems Administration

Monitoring/Alerting (Daily check ups, or more often if needed)

Light Configuration work

Preventative Maintenance
Managed Services is good for…

Quick diagnosis of potential problems in the system

Keeping services and processes running

Working with a helpdesk to receive and resolve tickets

Contacting end users for end user workstation troubleshooting

Small configuration work
Not a good fit for…

Upgrades and software distribution (Services projects)

Maintaining all facets of the system (Operating Systems, hardware,
network, connected systems, etc.)

Staff Augmentation

Conversion Work
Our process

Identify level of service needed

Identify systems to monitor

Small discovery process

Agree on systems to exclude
The future

Looking to expand product offering

Active monitoring of services and processes

Reports

More comprehensive solution

Configuration and Professional Services blocks
Questions?