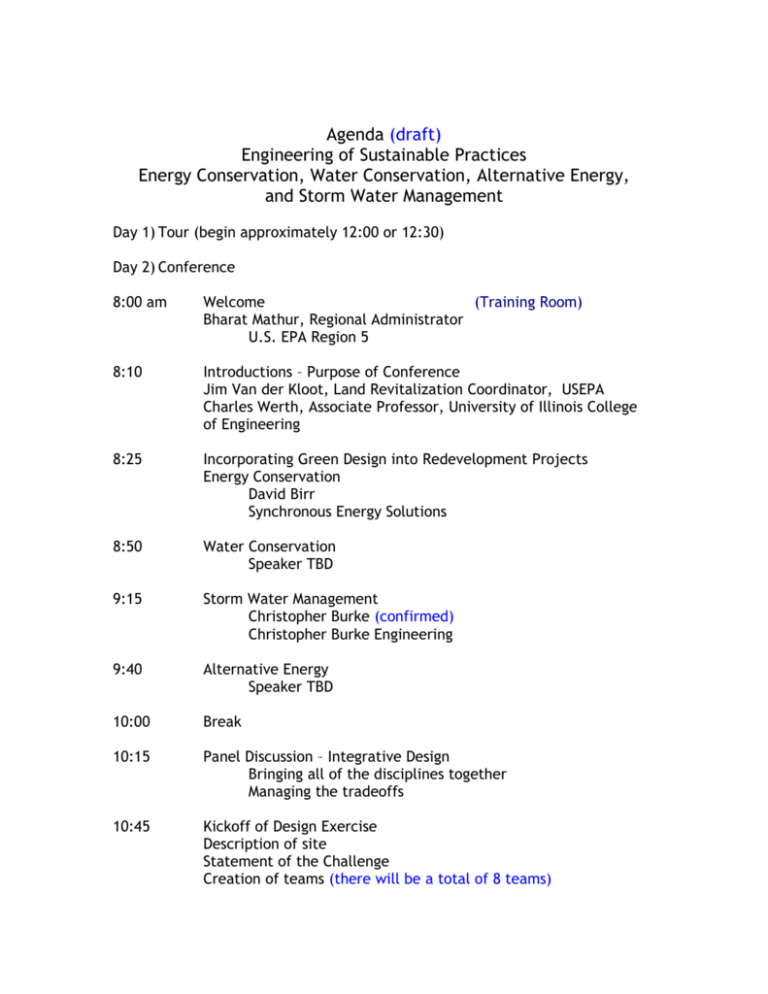 Agenda (draft)
Engineering of Sustainable Practices
Energy Conservation, Water Conservation, Alternative Energy,
and Storm Water Management
Day 1) Tour (begin approximately 12:00 or 12:30)
Day 2) Conference
8:00 am
Welcome
(Training Room)
Bharat Mathur, Regional Administrator
U.S. EPA Region 5
8:10
Introductions – Purpose of Conference
Jim Van der Kloot, Land Revitalization Coordinator, USEPA
Charles Werth, Associate Professor, University of Illinois College
of Engineering
8:25
Incorporating Green Design into Redevelopment Projects
Energy Conservation
David Birr
Synchronous Energy Solutions
8:50
Water Conservation
Speaker TBD
9:15
Storm Water Management
Christopher Burke (confirmed)
Christopher Burke Engineering
9:40
Alternative Energy
Speaker TBD
10:00
Break
10:15
Panel Discussion – Integrative Design
Bringing all of the disciplines together
Managing the tradeoffs
10:45
Kickoff of Design Exercise
Description of site
Statement of the Challenge
Creation of teams (there will be a total of 8 teams)
11:00
Topic 1
Sustainable Use of Energy
1a
Renewable Sources of Energy
1b
Energy Efficiency
1c
Energy Efficiency (2 teams will work on this topic)
Topic 2
Sustainable Use of Water
2a
Grey Water Re-use and Water Conservation
2b
Grey Water Re-use and Water Conservation
(2 teams will work on this topic)
Topic 3
Sustainable Management of Storm Water
3a
Building
3b
Parking Lot/Site
3c
Parking Lot/Site (2 teams will work on this topic)
Teams go to working area and begin exercise
Sustainable Use of Energy teams will tour CCGT
12:00 -
Lunch
(Spire Space)
Lunchtime Speakers - Stretching the Horizons
Green Streetscapes
Janet Attarian
City of Chicago Department of Transportation
Rainwater as a Resource
Speaker
(to be invited)
1:00
Resume Exercise
Grey Water Re-use and Water Conservation teams will tour CCGT
2:00
-
Break
Sustainable Management of Storm Water teams will tour CCGT
Exercise continues
3:30
Exercise Concludes. Report-out of teams (Training Room)
4:15
Reconciling the Recommendations of the Teams
Development of an Integrated Vision for the Site
5:00
Closing Statements, and Adjourn
Description of Exercise:
Each team will convene in a break-out session and will do an in-depth analysis of their
topic area. This will include an alternatives analysis and preliminary development of
design specifications and cost estimates for how the group would propose to
redevelopment this aspect(s) of the case study site. During the course of the day each
group will participate in a tour of the Chicago Center of Green Technology to learn in
more detail how this former Brownfield site was redeveloped into a LEED building with
sustainable storm water management features. Near the end of the time for the
exercise, teams should try to exchange information on what they will be proposing, to
check for potential incongruities or synergies between the teams. At the end of the
exercise, each team will present on what they would like to propose for the site. In the
last session of the day the group as a whole will seek to create a preliminary
redevelopment plan for the site, taking into account the work done by all the groups.
Following the workshop, engineering students from the University of Illinois will continue
to refine plans and specifications for the redevelopment of the site. Products developed
during and after the conference will be provided to the owner/developer of the case
study site for possible use in the actual redevelopment work to be undertaken.