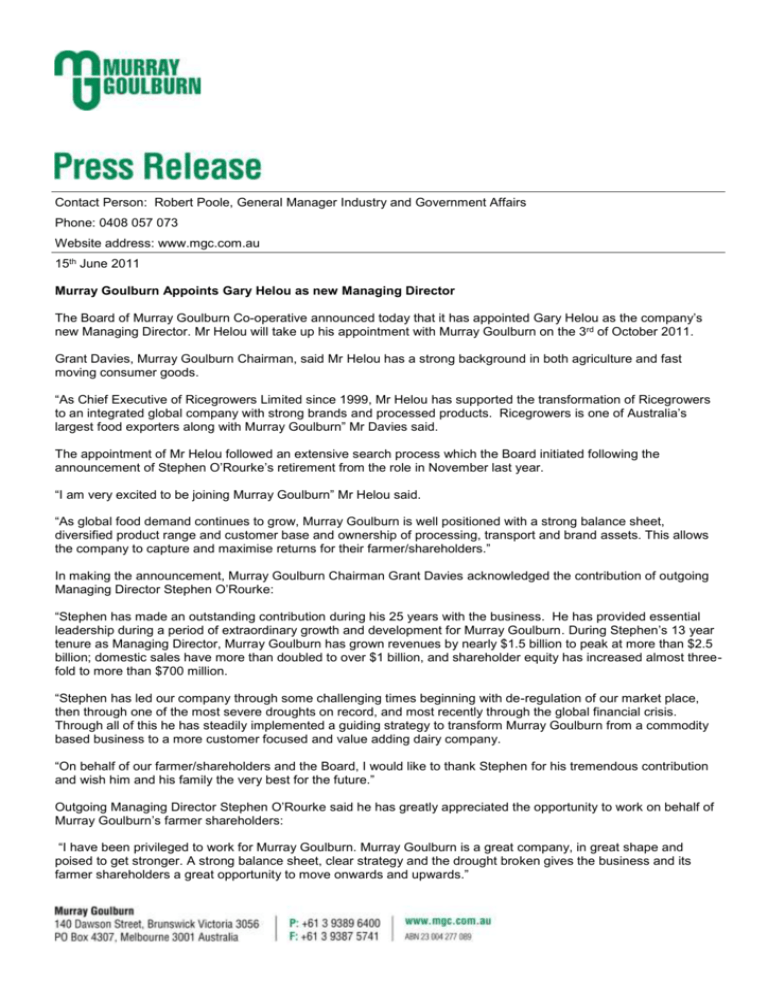 Contact Person: Robert Poole, General Manager Industry and Government Affairs
Phone: 0408 057 073
Website address: www.mgc.com.au
15th June 2011
Murray Goulburn Appoints Gary Helou as new Managing Director
The Board of Murray Goulburn Co-operative announced today that it has appointed Gary Helou as the company's
new Managing Director. Mr Helou will take up his appointment with Murray Goulburn on the 3rd of October 2011.
Grant Davies, Murray Goulburn Chairman, said Mr Helou has a strong background in both agriculture and fast
moving consumer goods.
"As Chief Executive of Ricegrowers Limited since 1999, Mr Helou has supported the transformation of Ricegrowers
to an integrated global company with strong brands and processed products. Ricegrowers is one of Australia's
largest food exporters along with Murray Goulburn" Mr Davies said.
The appointment of Mr Helou followed an extensive search process which the Board initiated following the
announcement of Stephen O'Rourke's retirement from the role in November last year.
"I am very excited to be joining Murray Goulburn" Mr Helou said.
"As global food demand continues to grow, Murray Goulburn is well positioned with a strong balance sheet,
diversified product range and customer base and ownership of processing, transport and brand assets. This allows
the company to capture and maximise returns for their farmer/shareholders."
In making the announcement, Murray Goulburn Chairman Grant Davies acknowledged the contribution of outgoing
Managing Director Stephen O'Rourke:
"Stephen has made an outstanding contribution during his 25 years with the business. He has provided essential
leadership during a period of extraordinary growth and development for Murray Goulburn. During Stephen's 13 year
tenure as Managing Director, Murray Goulburn has grown revenues by nearly $1.5 billion to peak at more than $2.5
billion; domestic sales have more than doubled to over $1 billion, and shareholder equity has increased almost threefold to more than $700 million.
"Stephen has led our company through some challenging times beginning with de-regulation of our market place,
then through one of the most severe droughts on record, and most recently through the global financial crisis.
Through all of this he has steadily implemented a guiding strategy to transform Murray Goulburn from a commodity
based business to a more customer focused and value adding dairy company.
"On behalf of our farmer/shareholders and the Board, I would like to thank Stephen for his tremendous contribution
and wish him and his family the very best for the future."
Outgoing Managing Director Stephen O'Rourke said he has greatly appreciated the opportunity to work on behalf of
Murray Goulburn's farmer shareholders:
"I have been privileged to work for Murray Goulburn. Murray Goulburn is a great company, in great shape and
poised to get stronger. A strong balance sheet, clear strategy and the drought broken gives the business and its
farmer shareholders a great opportunity to move onwards and upwards."
Notes to editors
About Murray Goulburn:
Established in 1950, Murray Goulburn Co-operative is Australia's 100% farmer-owned dairy company. Processing
one third of the nation's milk, the company is Australia's largest exporter of dairy foods. Murray Goulburn's flagship
Devondale brand is sold nationally and is a market leader in key categories.
Mr Gary Helou:
Gary Helou has strong experience across a broad range of roles encompassing the international and domestic food
and agricultural industries. His experience dates back to 1989 when he helped Pacific Brands Food Group and
Polarcup International build the Asian presence of their growing international business. Mr Helou gained further
international experience in Indonesia in his role as Head of Consumer Products at the Indofood Salim Group.
Having gained significant leadership experience, Mr Helou returned home to Australia and joined Ricegrowers
(trading as SunRice). After one year in the position of General Manager, Marketing, Mr Helou was promoted to CEO
at the age of 38. This role cemented his position as a leader in the Australian food industry.
During his 11 years as CEO, Mr Helou identified the opportunity for major growth in the company and helped build it
into one of Australia largest food exporters. Mr Helou also played a central role in leading the company to being an
integrated global company with strong capabilities in product and brand innovation. More recently, Mr Helou
managed the company successfully through a challenging period by retaining momentum and delivering profits while
there was almost no rice stock in Australia. He achieved this by building a network of global supply sources with little
notice and no history of joint supply.
Mr Helou's early career included various roles in large industrial companies including ACI Australia, Amcor and
Century Australia. Gary has a Chemical Engineering degree and a Master of Commerce (Marketing) from the
University of New South Wales. He is 49 years old and is married with two university age children.