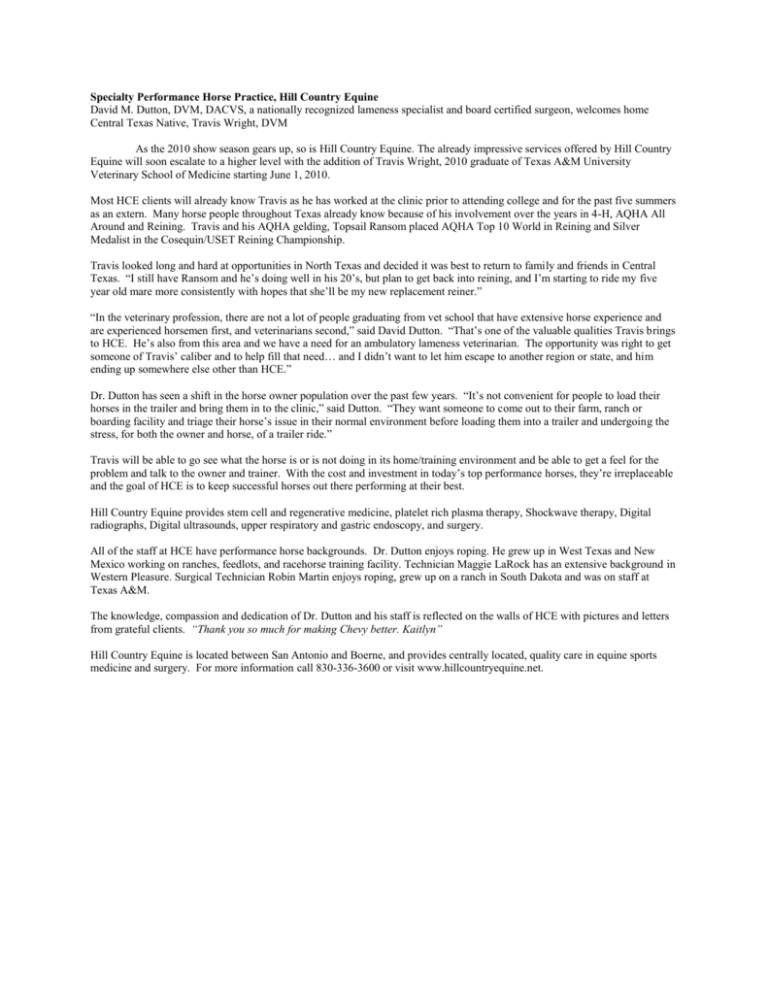 Specialty Performance Horse Practice, Hill Country Equine
David M. Dutton, DVM, DACVS, a nationally recognized lameness specialist and board certified surgeon, welcomes home
Central Texas Native, Travis Wright, DVM
As the 2010 show season gears up, so is Hill Country Equine. The already impressive services offered by Hill Country
Equine will soon escalate to a higher level with the addition of Travis Wright, 2010 graduate of Texas A&M University
Veterinary School of Medicine starting June 1, 2010.
Most HCE clients will already know Travis as he has worked at the clinic prior to attending college and for the past five summers
as an extern. Many horse people throughout Texas already know because of his involvement over the years in 4-H, AQHA All
Around and Reining. Travis and his AQHA gelding, Topsail Ransom placed AQHA Top 10 World in Reining and Silver
Medalist in the Cosequin/USET Reining Championship.
Travis looked long and hard at opportunities in North Texas and decided it was best to return to family and friends in Central
Texas. "I still have Ransom and he's doing well in his 20's, but plan to get back into reining, and I'm starting to ride my five
year old mare more consistently with hopes that she'll be my new replacement reiner."
"In the veterinary profession, there are not a lot of people graduating from vet school that have extensive horse experience and
are experienced horsemen first, and veterinarians second," said David Dutton. "That's one of the valuable qualities Travis brings
to HCE. He's also from this area and we have a need for an ambulatory lameness veterinarian. The opportunity was right to get
someone of Travis' caliber and to help fill that need… and I didn't want to let him escape to another region or state, and him
ending up somewhere else other than HCE."
Dr. Dutton has seen a shift in the horse owner population over the past few years. "It's not convenient for people to load their
horses in the trailer and bring them in to the clinic," said Dutton. "They want someone to come out to their farm, ranch or
boarding facility and triage their horse's issue in their normal environment before loading them into a trailer and undergoing the
stress, for both the owner and horse, of a trailer ride."
Travis will be able to go see what the horse is or is not doing in its home/training environment and be able to get a feel for the
problem and talk to the owner and trainer. With the cost and investment in today's top performance horses, they're irreplaceable
and the goal of HCE is to keep successful horses out there performing at their best.
Hill Country Equine provides stem cell and regenerative medicine, platelet rich plasma therapy, Shockwave therapy, Digital
radiographs, Digital ultrasounds, upper respiratory and gastric endoscopy, and surgery.
All of the staff at HCE have performance horse backgrounds. Dr. Dutton enjoys roping. He grew up in West Texas and New
Mexico working on ranches, feedlots, and racehorse training facility. Technician Maggie LaRock has an extensive background in
Western Pleasure. Surgical Technician Robin Martin enjoys roping, grew up on a ranch in South Dakota and was on staff at
Texas A&M.
The knowledge, compassion and dedication of Dr. Dutton and his staff is reflected on the walls of HCE with pictures and letters
from grateful clients. "Thank you so much for making Chevy better. Kaitlyn"
Hill Country Equine is located between San Antonio and Boerne, and provides centrally located, quality care in equine sports
medicine and surgery. For more information call 830-336-3600 or visit www.hillcountryequine.net.