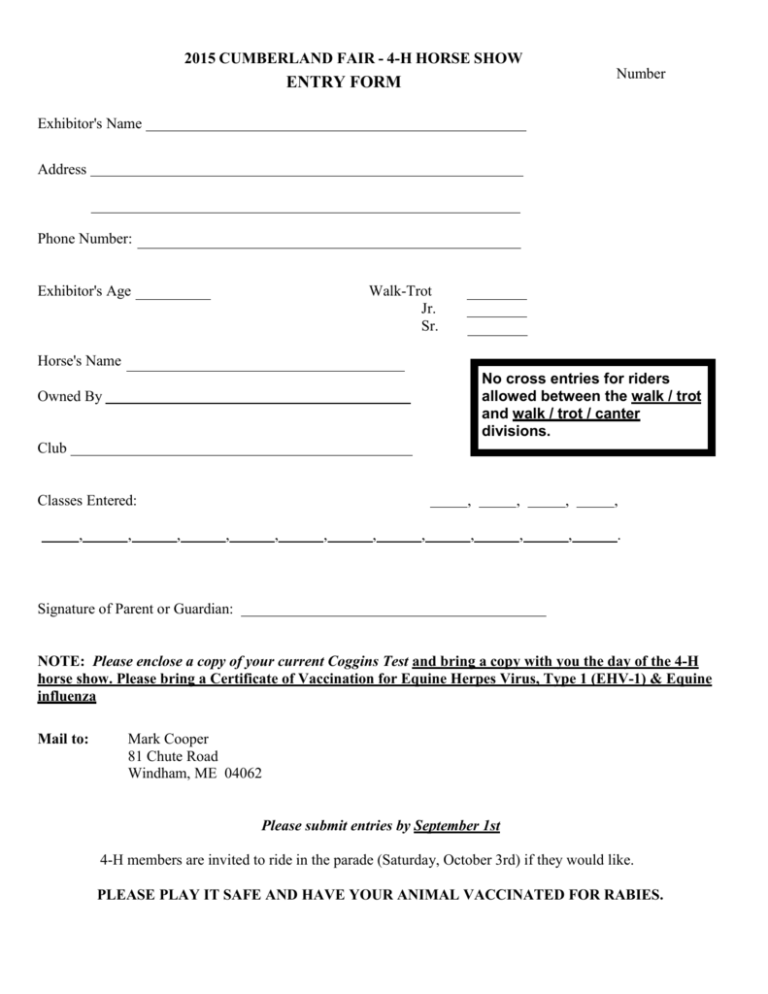 2015 CUMBERLAND FAIR - 4-H HORSE SHOW
Number
ENTRY FORM
Exhibitor's Name
Address
Phone Number:
Exhibitor's Age
Walk-Trot
Jr.
Sr.
Horse's Name
No cross entries for riders
allowed between the walk / trot
and walk / trot / canter
divisions.
Owned By
Club
Classes Entered:
,
,
,
,
,
,
,
,
,
,
,
,
,
,
,
.
Signature of Parent or Guardian:
NOTE: Please enclose a copy of your current Coggins Test and bring a copy with you the day of the 4-H
horse show. Please bring a Certificate of Vaccination for Equine Herpes Virus, Type 1 (EHV-1) & Equine
influenza
Mail to:
Mark Cooper
81 Chute Road
Windham, ME 04062
Please submit entries by September 1st
4-H members are invited to ride in the parade (Saturday, October 3rd) if they would like.
PLEASE PLAY IT SAFE AND HAVE YOUR ANIMAL VACCINATED FOR RABIES.