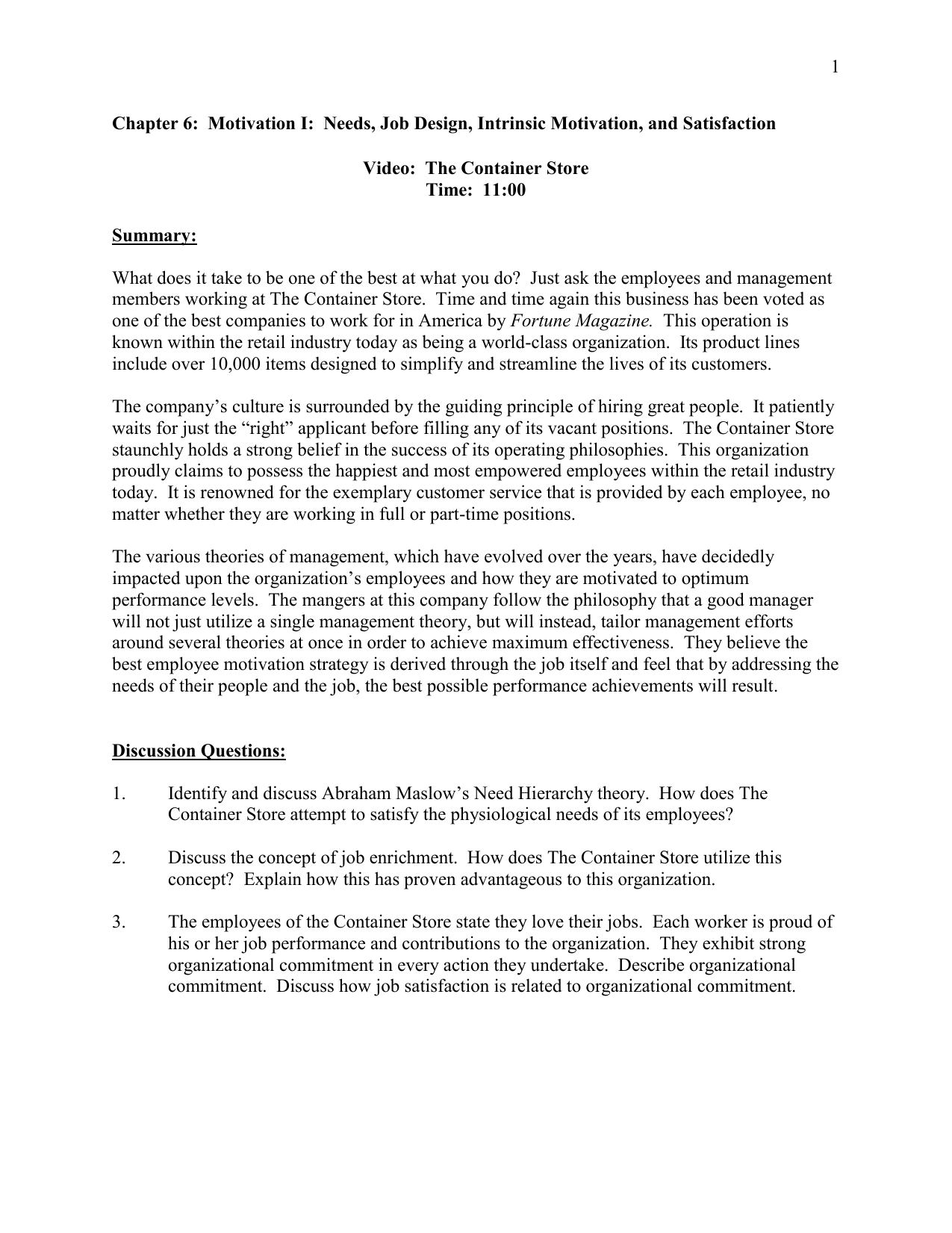 1
Chapter 6: Motivation I: Needs, Job Design, Intrinsic Motivation, and Satisfaction
Video: The Container Store
Time: 11:00
Summary:
What does it take to be one of the best at what you do? Just ask the employees and management
members working at The Container Store. Time and time again this business has been voted as
one of the best companies to work for in America by Fortune Magazine. This operation is
known within the retail industry today as being a world-class organization. Its product lines
include over 10,000 items designed to simplify and streamline the lives of its customers.
The company's culture is surrounded by the guiding principle of hiring great people. It patiently
waits for just the "right" applicant before filling any of its vacant positions. The Container Store
staunchly holds a strong belief in the success of its operating philosophies. This organization
proudly claims to possess the happiest and most empowered employees within the retail industry
today. It is renowned for the exemplary customer service that is provided by each employee, no
matter whether they are working in full or part-time positions.
The various theories of management, which have evolved over the years, have decidedly
impacted upon the organization's employees and how they are motivated to optimum
performance levels. The mangers at this company follow the philosophy that a good manager
will not just utilize a single management theory, but will instead, tailor management efforts
around several theories at once in order to achieve maximum effectiveness. They believe the
best employee motivation strategy is derived through the job itself and feel that by addressing the
needs of their people and the job, the best possible performance achievements will result.
Discussion Questions:
1.
Identify and discuss Abraham Maslow's Need Hierarchy theory. How does The
Container Store attempt to satisfy the physiological needs of its employees?
2.
Discuss the concept of job enrichment. How does The Container Store utilize this
concept? Explain how this has proven advantageous to this organization.
3.
The employees of the Container Store state they love their jobs. Each worker is proud of
his or her job performance and contributions to the organization. They exhibit strong
organizational commitment in every action they undertake. Describe organizational
commitment. Discuss how job satisfaction is related to organizational commitment.