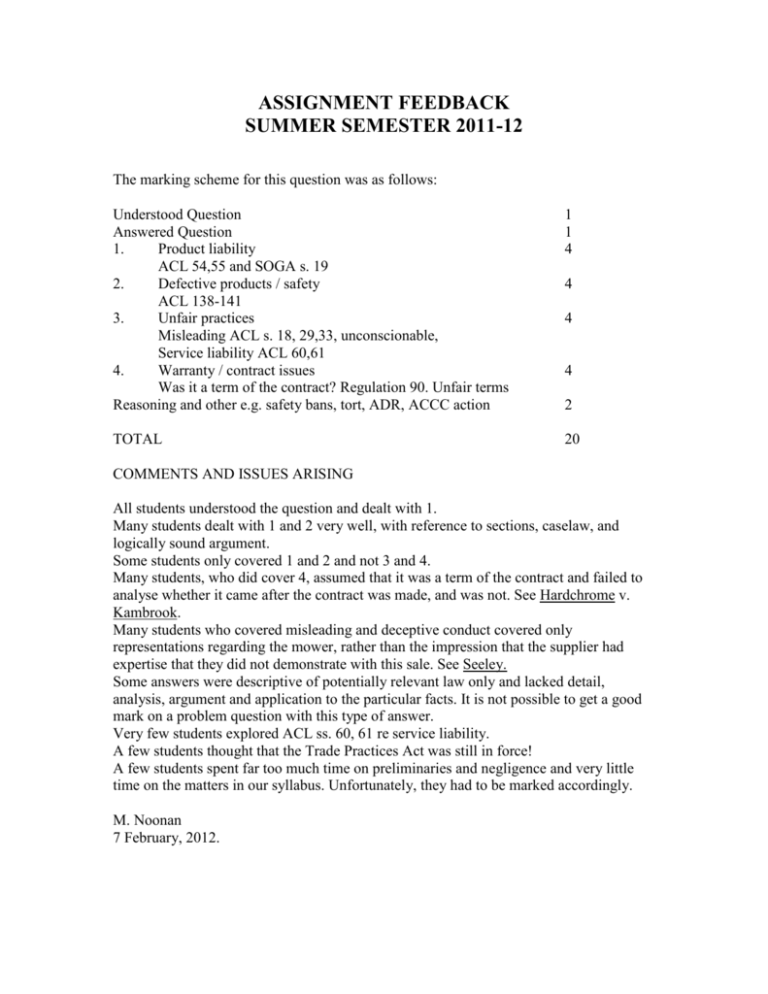 ASSIGNMENT FEEDBACK
SUMMER SEMESTER 2011-12
The marking scheme for this question was as follows:
Understood Question
Answered Question
1.
Product liability
ACL 54,55 and SOGA s. 19
2.
Defective products / safety
ACL 138-141
3.
Unfair practices
Misleading ACL s. 18, 29,33, unconscionable,
Service liability ACL 60,61
4.
Warranty / contract issues
Was it a term of the contract? Regulation 90. Unfair terms
Reasoning and other e.g. safety bans, tort, ADR, ACCC action
1
1
4
TOTAL
20
4
4
4
2
COMMENTS AND ISSUES ARISING
All students understood the question and dealt with 1.
Many students dealt with 1 and 2 very well, with reference to sections, caselaw, and
logically sound argument.
Some students only covered 1 and 2 and not 3 and 4.
Many students, who did cover 4, assumed that it was a term of the contract and failed to
analyse whether it came after the contract was made, and was not. See Hardchrome v.
Kambrook.
Many students who covered misleading and deceptive conduct covered only
representations regarding the mower, rather than the impression that the supplier had
expertise that they did not demonstrate with this sale. See Seeley.
Some answers were descriptive of potentially relevant law only and lacked detail,
analysis, argument and application to the particular facts. It is not possible to get a good
mark on a problem question with this type of answer.
Very few students explored ACL ss. 60, 61 re service liability.
A few students thought that the Trade Practices Act was still in force!
A few students spent far too much time on preliminaries and negligence and very little
time on the matters in our syllabus. Unfortunately, they had to be marked accordingly.
M. Noonan
7 February, 2012.