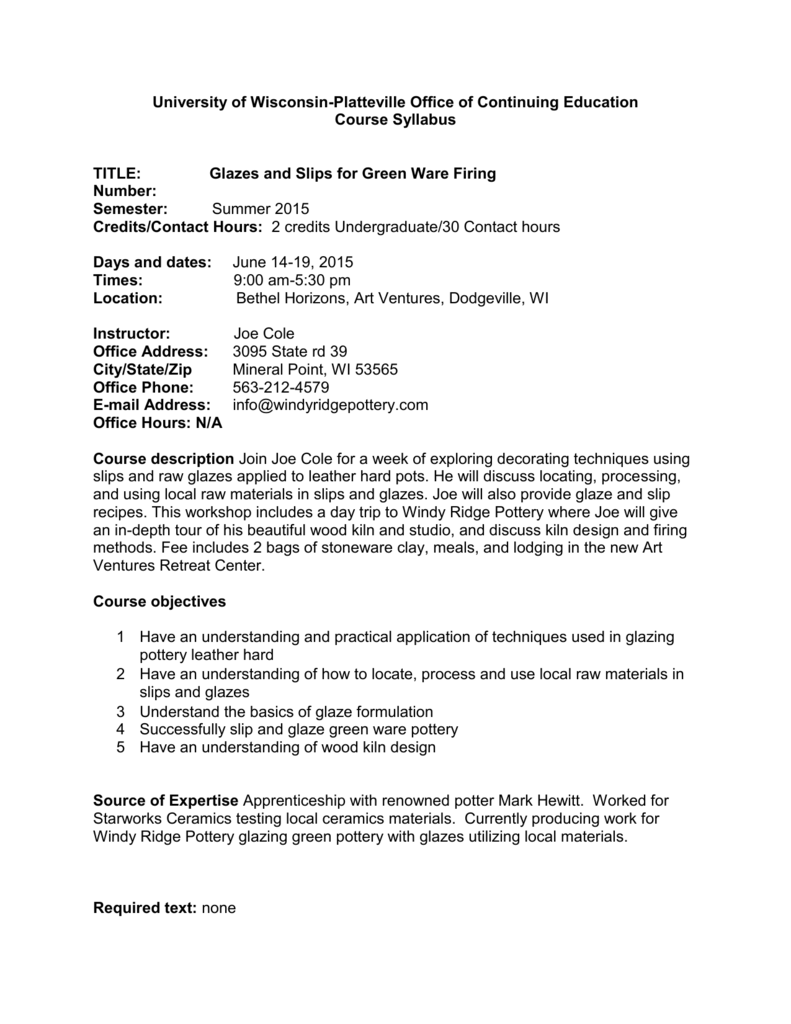 University of Wisconsin-Platteville Office of Continuing Education
Course Syllabus
TITLE:
Glazes and Slips for Green Ware Firing
Number:
Semester:
Summer 2015
Credits/Contact Hours: 2 credits Undergraduate/30 Contact hours
Days and dates:
Times:
Location:
June 14-19, 2015
9:00 am-5:30 pm
Bethel Horizons, Art Ventures, Dodgeville, WI
Instructor:
Office Address:
City/State/Zip
Office Phone:
E-mail Address:
Office Hours: N/A
Joe Cole
3095 State rd 39
Mineral Point, WI 53565
563-212-4579
[email protected]
Course description Join Joe Cole for a week of exploring decorating techniques using
slips and raw glazes applied to leather hard pots. He will discuss locating, processing,
and using local raw materials in slips and glazes. Joe will also provide glaze and slip
recipes. This workshop includes a day trip to Windy Ridge Pottery where Joe will give
an in-depth tour of his beautiful wood kiln and studio, and discuss kiln design and firing
methods. Fee includes 2 bags of stoneware clay, meals, and lodging in the new Art
Ventures Retreat Center.
Course objectives
1 Have an understanding and practical application of techniques used in glazing
pottery leather hard
2 Have an understanding of how to locate, process and use local raw materials in
slips and glazes
3 Understand the basics of glaze formulation
4 Successfully slip and glaze green ware pottery
5 Have an understanding of wood kiln design
Source of Expertise Apprenticeship with renowned potter Mark Hewitt. Worked for
Starworks Ceramics testing local ceramics materials. Currently producing work for
Windy Ridge Pottery glazing green pottery with glazes utilizing local materials.
Required text: none
Course requirements
Must be intermediate to advanced student of ceramics, enough to be able to create
pieces with which to practice raw glazing.
Assignments
All students will bring basic pottery tools to class. They will be provided with glaze, and
50# of clay. Pots will be glazed leather hard during class, but will not be fired. Students
should bring boxes and material with which to pack up unfired pottery to be brought
home.
Attendance and class participation
Attendance and class participation is required. If you are unable to attend class, please
contact the instructor.
Exam
No final exam will be held
Student progress
This instructor assumes that all students will be successful in this course. The student
will be responsible for informing the instructor of any of specific needs for learning about
this topic matter. Please feel free to ask questions, express concerns and share
comments.
Grading criteria
The instructor expects each student will be responsible for his or her own learning and
will gain useful information from this class.
A = excellent participation in the class
B = average participation in the class
C = barely adequate participation in the class
D = disconnected but participation the class
F = no participation in the class
Course outline
Sunday, June 14
• Introductions, class overview
Monday, June 15
Discussion of raw glazing including application process, and formulation of glazes.
Demonstrations
Studio time
Tuesday, June 16
Discussion of utilization of local materials
Demonstrations
Studio time
Wednesday, June 17
Discussion of wood firing
Demonstrations
Studio time
Thursday, June 18
Tour of Windy Ridge Pottery
Studio time
Friday, June 19
Studio time
Clean up
NOTE: Students with impaired sensory, manual, or speaking skills are encouraged and
have the responsibility to contact the Office of Continuing Education toll free 888-2819472 regarding reasonable accommodation needs. Students requiring reasonable
accommodation needs must be registered as a student with a disability. Please contact
Amy Pennekamp at the Continuing Education office.