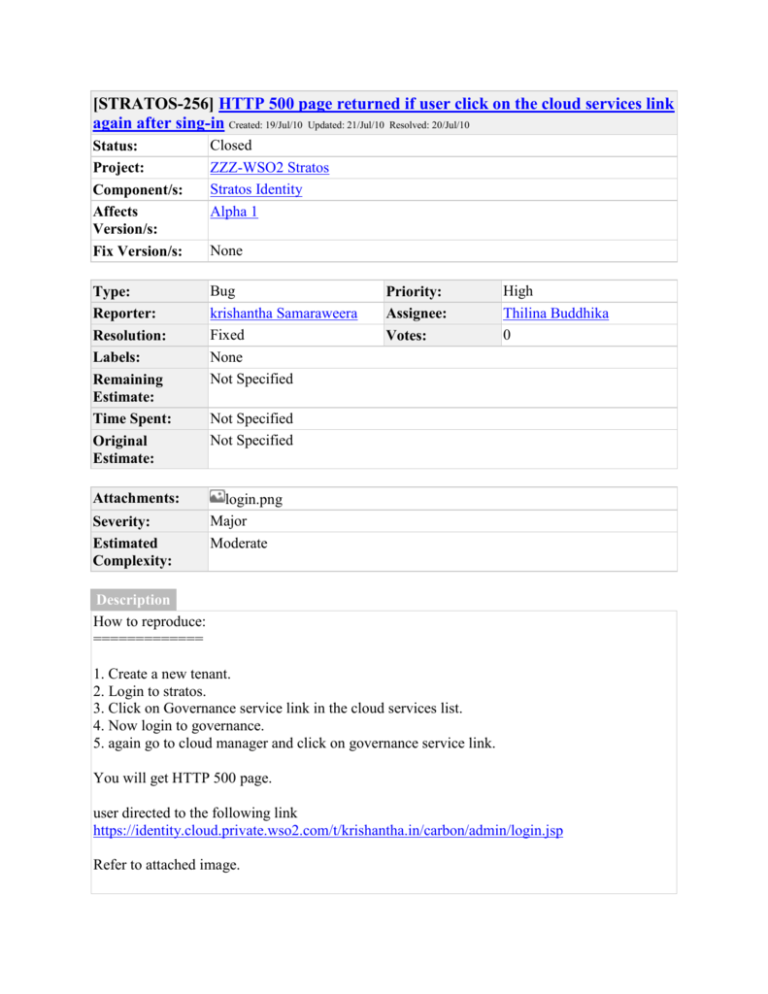 [STRATOS-256] HTTP 500 page returned if user click on the cloud services link
again after sing-in Created: 19/Jul/10 Updated: 21/Jul/10 Resolved: 20/Jul/10
Status:
Project:
Component/s:
Affects
Version/s:
Fix Version/s:
Closed
ZZZ-WSO2 Stratos
Stratos Identity
Alpha 1
Type:
Reporter:
Resolution:
Labels:
Remaining
Estimate:
Time Spent:
Original
Estimate:
Bug
krishantha Samaraweera
Fixed
None
Not Specified
Attachments:
login.png
Major
Moderate
Severity:
Estimated
Complexity:
None
Priority:
Assignee:
Votes:
High
Thilina Buddhika
0
Not Specified
Not Specified
Description
How to reproduce:
=============
1. Create a new tenant.
2. Login to stratos.
3. Click on Governance service link in the cloud services list.
4. Now login to governance.
5. again go to cloud manager and click on governance service link.
You will get HTTP 500 page.
user directed to the following link
https://identity.cloud.private.wso2.com/t/krishantha.in/carbon/admin/login.jsp
Refer to attached image.
Comments
Comment by Thilina Buddhika [ 20/Jul/10 ]
Fixed as 0f r69916.
Comment by krishantha Samaraweera [ 21/Jul/10 ]
Verification done.
Generated at Tue Feb 09 20:01:37 IST 2016 using JIRA 6.0.1#6096sha1:e4a48bd73c6b8a4d99c824976ce5808b4c85857d.