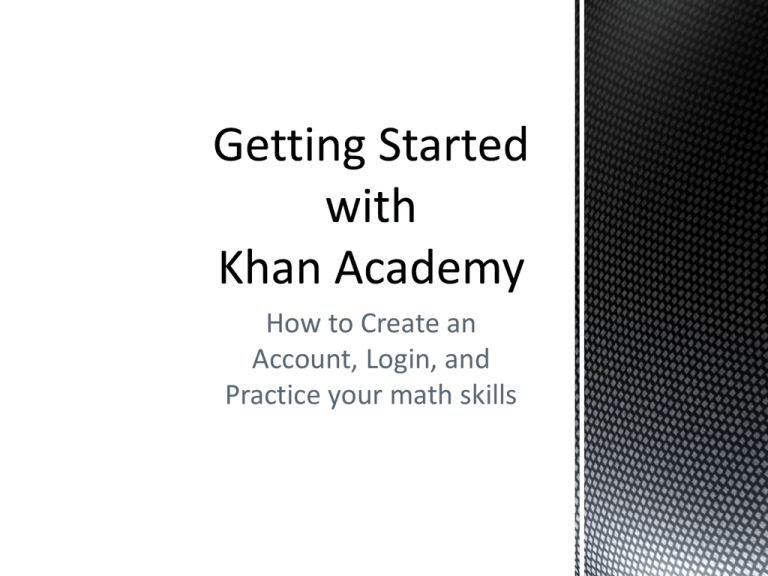 How to Create an
Account, Login, and
Practice your math skills
Click "Login" to create an account or login to an already
existing account.
NOTE: Use your full CFCC Email
Address but do NOT type in your
password. Then click "Sign In"
You will be redirected to a similar
page. Click "Continue"
You will be
redirected to
this page.
Login to
myCFCC like
you always do.
Once you have logged in,
you should see your
username and
information here at the
top of the page.
Once logged in, click
"PRACTICE" to start working
with Khan Academy.
From here, you can work on the modules from the
lists you follow for each class/module.
You can either find any module
in the map below
OR
…you can type the
name of the module
you want into the
search bar on the left.
Once you have clicked on the
module, the questions appear
one per page as seen here. Type
or select your answer and click
"Check Answer."
If you think you know what is
going on but need a little hint, use
the button to the right.
If you are completely lost on how to do
this problem, click the video down at
the bottom for a video lecture and
walkthrough on the topic.
Once you have completed the
module, you get a gold star and
are encouraged to move on.
However, you can continue
working on similar problems to
help your master the topic, if
you so choose.
To complete a module
you need to get 10
questions correct. The
bar to the right keeps
track of your progress in
each module.