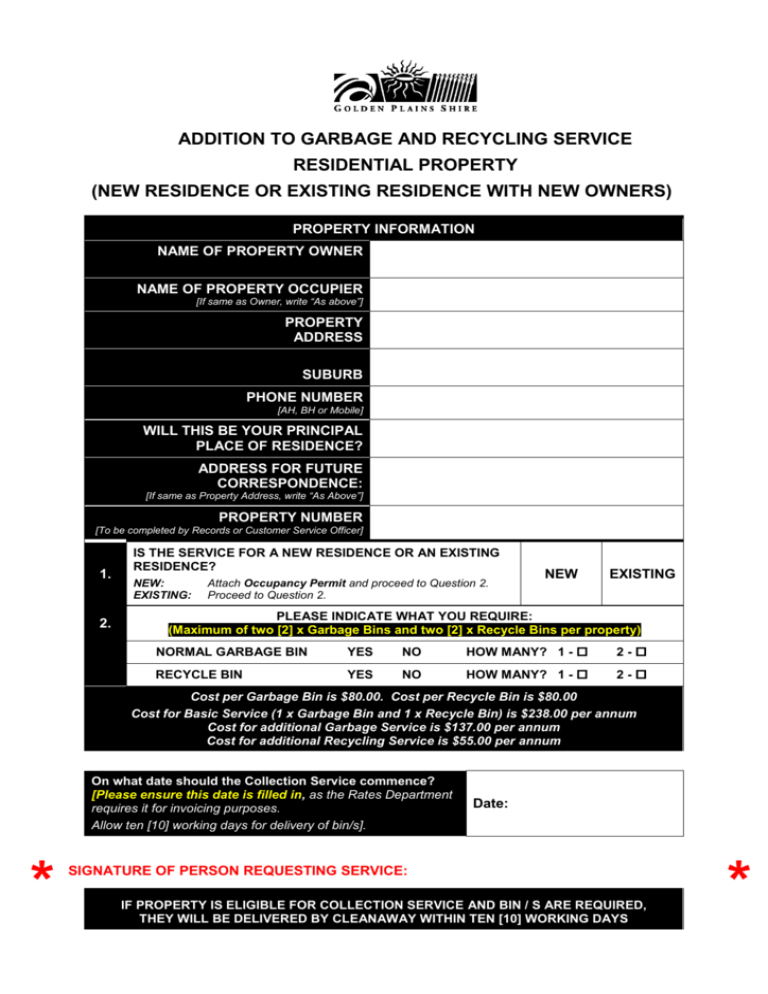 ADDITION TO GARBAGE AND RECYCLING SERVICE
RESIDENTIAL PROPERTY
(NEW RESIDENCE OR EXISTING RESIDENCE WITH NEW OWNERS)
PROPERTY INFORMATION
NAME OF PROPERTY OWNER
NAME OF PROPERTY OCCUPIER
[If same as Owner, write "As above"]
PROPERTY
ADDRESS
SUBURB
PHONE NUMBER
[AH, BH or Mobile]
WILL THIS BE YOUR PRINCIPAL
PLACE OF RESIDENCE?
ADDRESS FOR FUTURE
CORRESPONDENCE:
[If same as Property Address, write "As Above"]
PROPERTY NUMBER
[To be completed by Records or Customer Service Officer]
1.
2.
IS THE SERVICE FOR A NEW RESIDENCE OR AN EXISTING
RESIDENCE?
NEW:
EXISTING:
Attach Occupancy Permit and proceed to Question 2.
Proceed to Question 2.
NEW
EXISTING
PLEASE INDICATE WHAT YOU REQUIRE:
(Maximum of two [2] x Garbage Bins and two [2] x Recycle Bins per property)
NORMAL GARBAGE BIN
YES
NO
HOW MANY? 1 - 
2-
RECYCLE BIN
YES
NO
HOW MANY? 1 - 
2-
Cost per Garbage Bin is $80.00. Cost per Recycle Bin is $80.00
Cost for Basic Service (1 x Garbage Bin and 1 x Recycle Bin) is $238.00 per annum
Cost for additional Garbage Service is $137.00 per annum
Cost for additional Recycling Service is $55.00 per annum
On what date should the Collection Service commence?
[Please ensure this date is filled in, as the Rates Department
requires it for invoicing purposes.
Allow ten [10] working days for delivery of bin/s].
*
Date:
SIGNATURE OF PERSON REQUESTING SERVICE:
IF PROPERTY IS ELIGIBLE FOR COLLECTION SERVICE AND BIN / S ARE REQUIRED,
THEY WILL BE DELIVERED BY CLEANAWAY WITHIN TEN [10] WORKING DAYS
*
DETAILS
A CHEQUE IS ENCLOSED FOR:
OR:
$…………………………………………
 VISA
ELECTRONIC FUNDS TRANSFER:
CREDIT CARD NO:
_ _ _ _
EXPIRY DATE
_ _ _ _
[Charge per Bin for 2015-2016 is $80.00]
 MASTERCARD
 BANKCARD
_ _ _ _
_ _ _ _
……………………… / ………………………..
CARDHOLDER'S NAME:
SIGNED:
(Signature of Cardholder
ACTION REQUIRED
Has the Occupancy Permit been sighted?
[Please attach a copy of the Occupancy Permit to this
form].
Sighted?
YES
NO
Copy Attached?
YES
NO
Paid?
Paid for new, 240 litre Garbage Bin / s?
[Charge per bin in 2015-2016 is $80.00]
[Account No: 80074 – Garbage Bin]
Receipt No. …………….
YES
NO
Date: …………………….
How many bins? ___
Paid?
Paid for new, 240 litre Recycle Bin / s?
[Charge per bin in 2015-2016 is $80.00]
[Account No: 80075 – Recycle Bin]
Receipt No. …………….
YES
NO
Date: …………………….
How many bins? ___
Have delivery and service requirements been
entered into CRMS for Cleanaway?
Date: …………………….
YES
CRMS: …………………..
Council Officer's Name:
Signed:
Date:
Bannockburn Customer Service Centre – 2 Pope Street (P O Box 111), Bannockburn VIC 3331
Linton Customer Service Centre – 68 Sussex Street, Linton, 3360
IMPORTANT NOTE: If your new dwelling is not in a sewered area and a Septic Tank System has been installed
as part of your building works, a copy of the Certificate to Use the Septic Tank System must be provided to
your Building Surveyor in order for an Occupancy Permit to be issued.
GOLDEN PLAINS SHIRE PRIVACY STATEMENT
The Golden Plains Shire considers that the responsible handling of personal information is a key aspect of democratic governance, and is strongly committed
to protecting an individual's right to privacy.
Council will comply with the Information Privacy Principles as set out in the Privacy and Data Protection Act 2014.
Council has in place a standard operating procedure that sets out the requirements for the management and handling of personal information.
If you have any queries regarding this Privacy Statement, please contact the Privacy Officer on  03 5220 7111 or Local Call  1300 36 30 36.