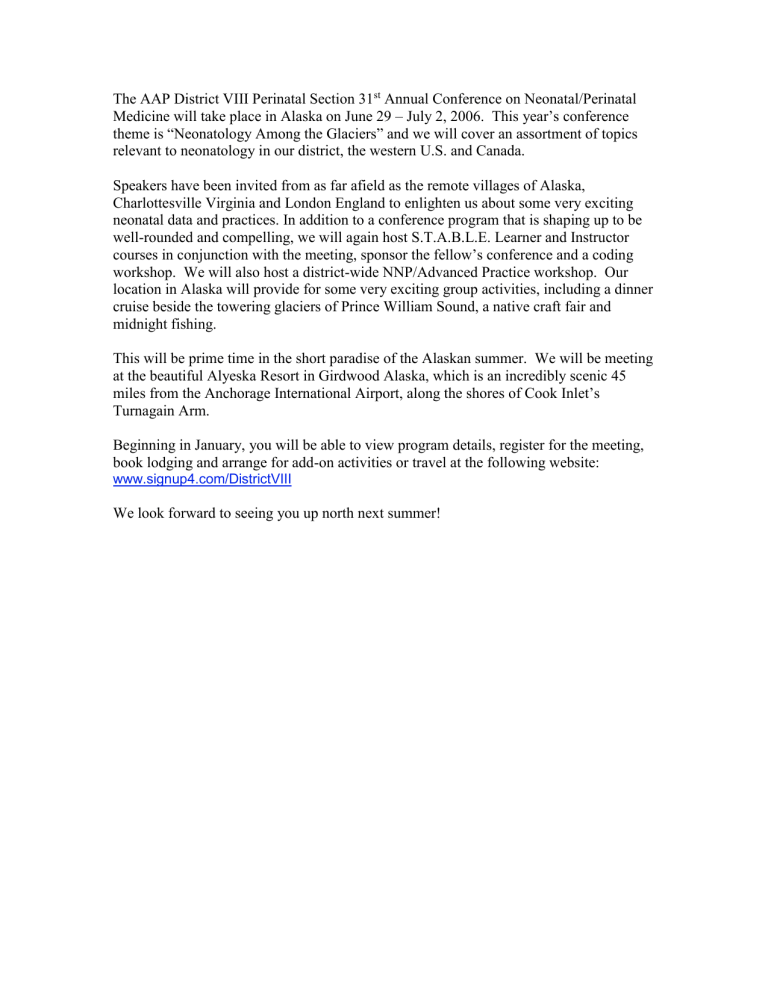 The AAP District VIII Perinatal Section 31 st
Annual Conference on Neonatal/Perinatal
Medicine will take place in Alaska on June 29 – July 2, 2006. This year's conference theme is "Neonatology Among the Glaciers" and we will cover an assortment of topics relevant to neonatology in our district, the western U.S. and Canada.
Speakers have been invited from as far afield as the remote villages of Alaska,
Charlottesville Virginia and London England to enlighten us about some very exciting neonatal data and practices. In addition to a conference program that is shaping up to be well-rounded and compelling, we will again host S.T.A.B.L.E. Learner and Instructor courses in conjunction with the meeting, sponsor the fellow's conference and a coding workshop. We will also host a district-wide NNP/Advanced Practice workshop. Our location in Alaska will provide for some very exciting group activities, including a dinner cruise beside the towering glaciers of Prince William Sound, a native craft fair and midnight fishing.
This will be prime time in the short paradise of the Alaskan summer. We will be meeting at the beautiful Alyeska Resort in Girdwood Alaska, which is an incredibly scenic 45 miles from the Anchorage International Airport, along the shores of Cook Inlet's
Turnagain Arm.
Beginning in January, you will be able to view program details, register for the meeting, book lodging and arrange for add-on activities or travel at the following website: www.signup4.com/DistrictVIII
We look forward to seeing you up north next summer!