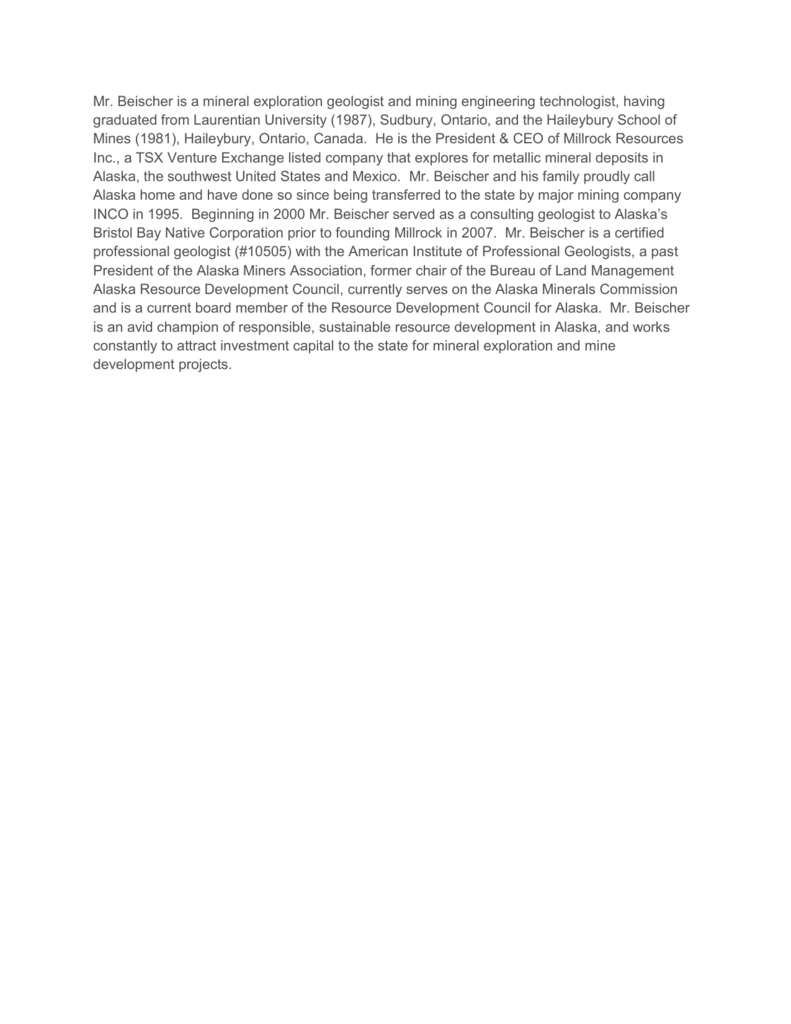 Mr. Beischer is a mineral exploration geologist and mining engineering technologist, having
graduated from Laurentian University (1987), Sudbury, Ontario, and the Haileybury School of
Mines (1981), Haileybury, Ontario, Canada. He is the President & CEO of Millrock Resources
Inc., a TSX Venture Exchange listed company that explores for metallic mineral deposits in
Alaska, the southwest United States and Mexico. Mr. Beischer and his family proudly call
Alaska home and have done so since being transferred to the state by major mining company
INCO in 1995. Beginning in 2000 Mr. Beischer served as a consulting geologist to Alaska's
Bristol Bay Native Corporation prior to founding Millrock in 2007. Mr. Beischer is a certified
professional geologist (#10505) with the American Institute of Professional Geologists, a past
President of the Alaska Miners Association, former chair of the Bureau of Land Management
Alaska Resource Development Council, currently serves on the Alaska Minerals Commission
and is a current board member of the Resource Development Council for Alaska. Mr. Beischer
is an avid champion of responsible, sustainable resource development in Alaska, and works
constantly to attract investment capital to the state for mineral exploration and mine
development projects.