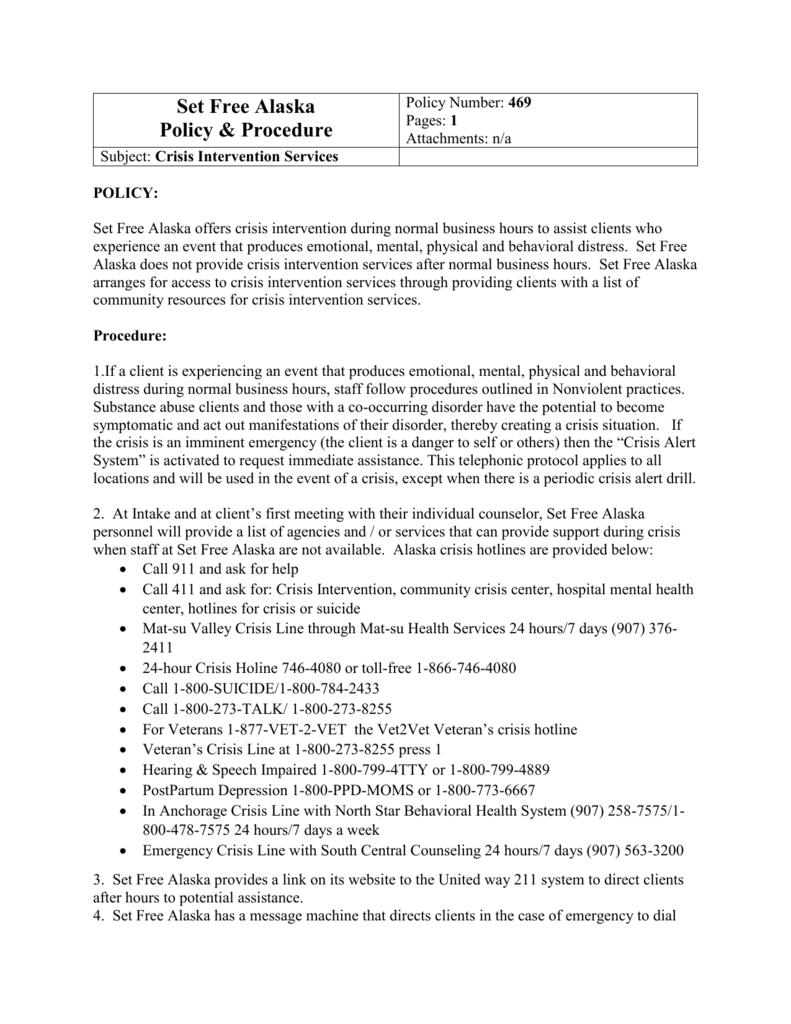 Set Free Alaska
Policy & Procedure
Policy Number: 469
Pages: 1
Attachments: n/a
Subject: Crisis Intervention Services
POLICY:
Set Free Alaska offers crisis intervention during normal business hours to assist clients who
experience an event that produces emotional, mental, physical and behavioral distress. Set Free
Alaska does not provide crisis intervention services after normal business hours. Set Free Alaska
arranges for access to crisis intervention services through providing clients with a list of
community resources for crisis intervention services.
Procedure:
1.If a client is experiencing an event that produces emotional, mental, physical and behavioral
distress during normal business hours, staff follow procedures outlined in Nonviolent practices.
Substance abuse clients and those with a co-occurring disorder have the potential to become
symptomatic and act out manifestations of their disorder, thereby creating a crisis situation. If
the crisis is an imminent emergency (the client is a danger to self or others) then the "Crisis Alert
System" is activated to request immediate assistance. This telephonic protocol applies to all
locations and will be used in the event of a crisis, except when there is a periodic crisis alert drill.
2. At Intake and at client's first meeting with their individual counselor, Set Free Alaska
personnel will provide a list of agencies and / or services that can provide support during crisis
when staff at Set Free Alaska are not available. Alaska crisis hotlines are provided below:
 Call 911 and ask for help
 Call 411 and ask for: Crisis Intervention, community crisis center, hospital mental health
center, hotlines for crisis or suicide
 Mat-su Valley Crisis Line through Mat-su Health Services 24 hours/7 days (907) 3762411
 24-hour Crisis Holine 746-4080 or toll-free 1-866-746-4080
 Call 1-800-SUICIDE/1-800-784-2433
 Call 1-800-273-TALK/ 1-800-273-8255
 For Veterans 1-877-VET-2-VET the Vet2Vet Veteran's crisis hotline
 Veteran's Crisis Line at 1-800-273-8255 press 1
 Hearing & Speech Impaired 1-800-799-4TTY or 1-800-799-4889
 PostPartum Depression 1-800-PPD-MOMS or 1-800-773-6667
 In Anchorage Crisis Line with North Star Behavioral Health System (907) 258-7575/1800-478-7575 24 hours/7 days a week
 Emergency Crisis Line with South Central Counseling 24 hours/7 days (907) 563-3200
3. Set Free Alaska provides a link on its website to the United way 211 system to direct clients
after hours to potential assistance.
4. Set Free Alaska has a message machine that directs clients in the case of emergency to dial
911 or in the case of a non-emergency to call 211 for assistance.