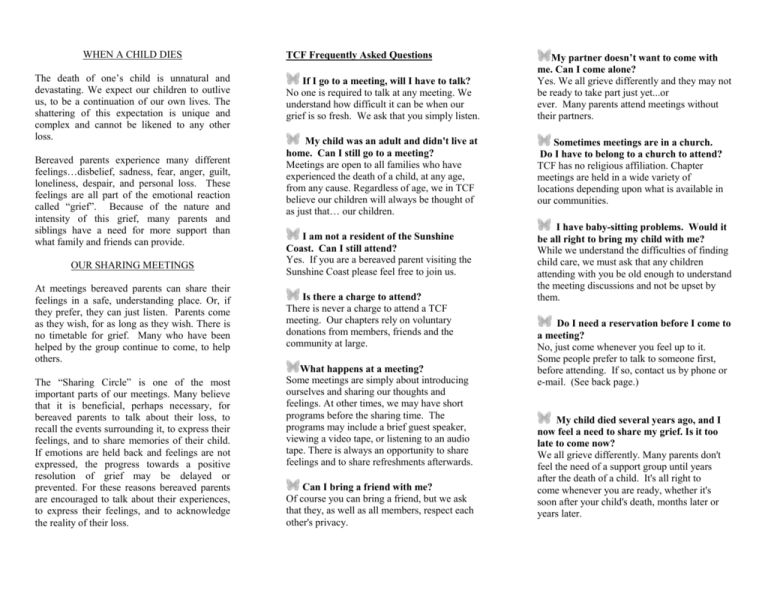 WHEN A CHILD DIES
The death of one's child is unnatural and
devastating. We expect our children to outlive
us, to be a continuation of our own lives. The
shattering of this expectation is unique and
complex and cannot be likened to any other
loss.
Bereaved parents experience many different
feelings…disbelief, sadness, fear, anger, guilt,
loneliness, despair, and personal loss. These
feelings are all part of the emotional reaction
called "grief". Because of the nature and
intensity of this grief, many parents and
siblings have a need for more support than
what family and friends can provide.
OUR SHARING MEETINGS
At meetings bereaved parents can share their
feelings in a safe, understanding place. Or, if
they prefer, they can just listen. Parents come
as they wish, for as long as they wish. There is
no timetable for grief. Many who have been
helped by the group continue to come, to help
others.
The "Sharing Circle" is one of the most
important parts of our meetings. Many believe
that it is beneficial, perhaps necessary, for
bereaved parents to talk about their loss, to
recall the events surrounding it, to express their
feelings, and to share memories of their child.
If emotions are held back and feelings are not
expressed, the progress towards a positive
resolution of grief may be delayed or
prevented. For these reasons bereaved parents
are encouraged to talk about their experiences,
to express their feelings, and to acknowledge
the reality of their loss.
TCF Frequently Asked Questions
If I go to a meeting, will I have to talk?
No one is required to talk at any meeting. We
understand how difficult it can be when our
grief is so fresh. We ask that you simply listen.
My child was an adult and didn't live at
home. Can I still go to a meeting?
Meetings are open to all families who have
experienced the death of a child, at any age,
from any cause. Regardless of age, we in TCF
believe our children will always be thought of
as just that… our children.
I am not a resident of the Sunshine
Coast. Can I still attend?
Yes. If you are a bereaved parent visiting the
Sunshine Coast please feel free to join us.
Is there a charge to attend?
There is never a charge to attend a TCF
meeting. Our chapters rely on voluntary
donations from members, friends and the
community at large.
What happens at a meeting?
Some meetings are simply about introducing
ourselves and sharing our thoughts and
feelings. At other times, we may have short
programs before the sharing time. The
programs may include a brief guest speaker,
viewing a video tape, or listening to an audio
tape. There is always an opportunity to share
feelings and to share refreshments afterwards.
Can I bring a friend with me?
Of course you can bring a friend, but we ask
that they, as well as all members, respect each
other's privacy.
My partner doesn't want to come with
me. Can I come alone?
Yes. We all grieve differently and they may not
be ready to take part just yet...or
ever. Many parents attend meetings without
their partners.
Sometimes meetings are in a church.
Do I have to belong to a church to attend?
TCF has no religious affiliation. Chapter
meetings are held in a wide variety of
locations depending upon what is available in
our communities.
I have baby-sitting problems. Would it
be all right to bring my child with me?
While we understand the difficulties of finding
child care, we must ask that any children
attending with you be old enough to understand
the meeting discussions and not be upset by
them.
Do I need a reservation before I come to
a meeting?
No, just come whenever you feel up to it.
Some people prefer to talk to someone first,
before attending. If so, contact us by phone or
e-mail. (See back page.)
My child died several years ago, and I
now feel a need to share my grief. Is it too
late to come now?
We all grieve differently. Many parents don't
feel the need of a support group until years
after the death of a child. It's all right to
come whenever you are ready, whether it's
soon after your child's death, months later or
years later.
OTHER LOWER MAINLAND
CHAPTERS:
TCF Sunshine Coast
Meets on the 3rd Tuesday of each month
at 7:30 p.m.
Sunshine Coast Hospice Society
Kirkland Centre
4602 Simpkins Rd. Davis Bay
SunshineCoast@TCFCanada.net
Judy Lynne 604 886 7334
Bring a photo of your child to share, if you wish.
Hope to have in the future:
Lending Library
Quarterly Newsletter
Audio/Video Tapes
Telephone Friends
Special Events:
Candlelight Memorial Service
Seasonal Winter Gathering
With Appreciation to
The Sunshine Coast Hospice Society
for providing The Compassionate
Friends with technical and
administrative support and space to hold
the monthly meetings.
When a child Dies…
North Shore
Meets: 2nd Wednesday at 730 pm
North Lonsdale United Church,
3380 Lonsdale Ave.
northshore@tcfcanada.net
Burnaby
Meets: Last Wednesday at 7 pm
South Burnaby United Church Hall
7591 Gray Ave., Burnaby (side entrance)
burnaby@tcfcanada.net
Surrey-White Rock
Meets: 2nd Wednesday at 6:00pm Victory
Memorial Park Funeral Chapel
14831 28th Av. Surrey
Surrey-WhiteRock@TCFCanada.net
Coquitlam
Meets: 3rd Thursday at 730 pm
Annex to Como Lake United Church
535 Marmont St. (at King Albert St.)
coquitlam@tcfcanada.net
National Office
The Compassionate Friends of Canada
1 866 823 0141
nationaloffice@tcfcanada.net
www.tcfcanada.net
"We Need Not Walk Alone,
We Are
The Compassionate Friends"
THE
COMPASSIONATE
FRIENDS
Sunshine Coast Chapter
The Compassionate Friends is an
international, non-profit, nondenominational, self-help organization
offering friendship, understanding, grief
education and hope for the future to all
families who have experienced the death
of a child at any age, from any cause.