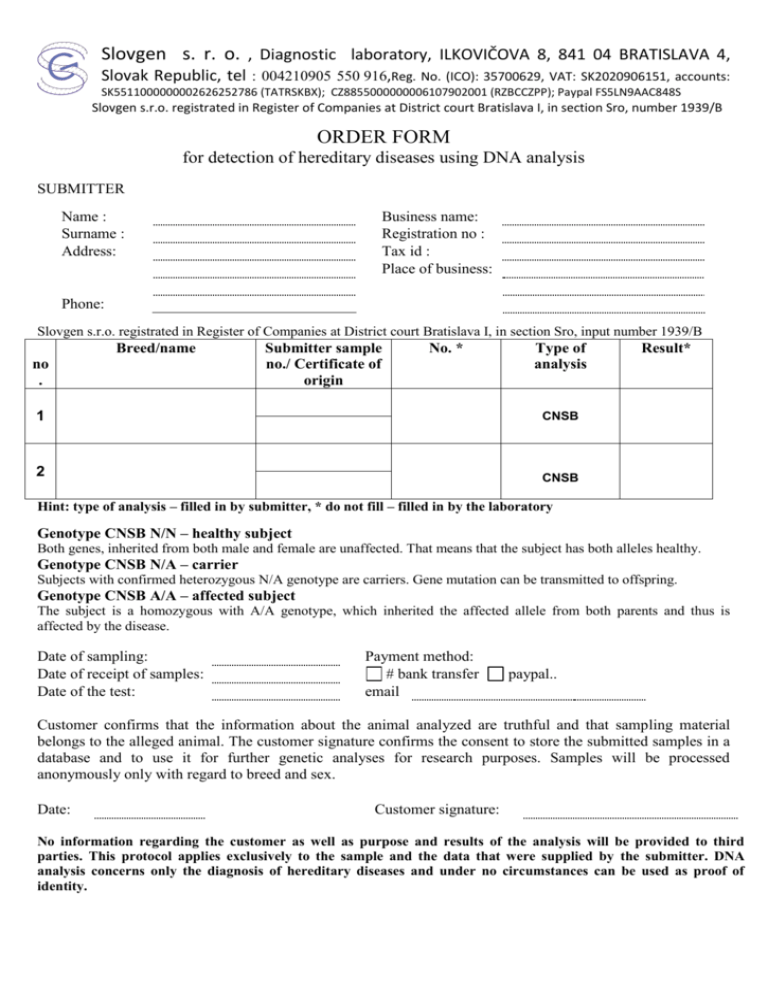 Slovgen s. r. o. , Diagnostic laboratory, ILKOVIČOVA 8, 841 04 BRATISLAVA 4,
Slovak Republic, tel : 004210905 550 916,Reg. No. (ICO): 35700629, VAT: SK2020906151, accounts:
SK5511000000002626252786 (TATRSKBX); CZ8855000000006107902001 (RZBCCZPP); Paypal FS5LN9AAC848S
Slovgen s.r.o. registrated in Register of Companies at District court Bratislava I, in section Sro, number 1939/B
ORDER FORM
for detection of hereditary diseases using DNA analysis
SUBMITTER
Name :
Surname :
Address:
Business name:
Registration no :
Tax id :
Place of business:
Phone:
Slovgen s.r.o. registrated in Register of Companies at District court Bratislava I, in section Sro, input number 1939/B
Breed/name
no
.
Submitter sample
no./ Certificate of
origin
No. *
Type of
analysis
1
CNSB
2
CNSB
Result*
Hint: type of analysis – filled in by submitter, * do not fill – filled in by the laboratory
Genotype CNSB N/N – healthy subject
Both genes, inherited from both male and female are unaffected. That means that the subject has both alleles healthy.
Genotype CNSB N/A – carrier
Subjects with confirmed heterozygous N/A genotype are carriers. Gene mutation can be transmitted to offspring.
Genotype CNSB A/A – affected subject
The subject is a homozygous with A/A genotype, which inherited the affected allele from both parents and thus is
affected by the disease.
Date of sampling:
Date of receipt of samples:
Date of the test:
Payment method:
# bank transfer
email
paypal..
Customer confirms that the information about the animal analyzed are truthful and that sampling material
belongs to the alleged animal. The customer signature confirms the consent to store the submitted samples in a
database and to use it for further genetic analyses for research purposes. Samples will be processed
anonymously only with regard to breed and sex.
Date:
Customer signature:
No information regarding the customer as well as purpose and results of the analysis will be provided to third
parties. This protocol applies exclusively to the sample and the data that were supplied by the submitter. DNA
analysis concerns only the diagnosis of hereditary diseases and under no circumstances can be used as proof of
identity.