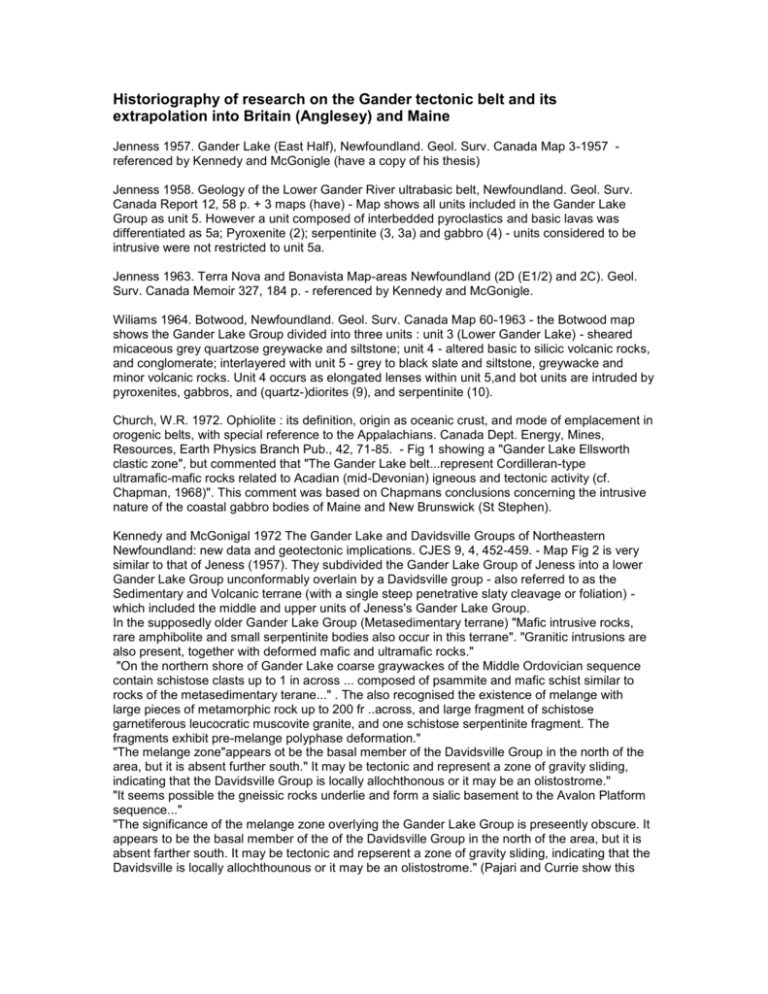 Historiography of research on the Gander tectonic belt and its
extrapolation into Britain (Anglesey) and Maine
Jenness 1957. Gander Lake (East Half), Newfoundland. Geol. Surv. Canada Map 3-1957 referenced by Kennedy and McGonigle (have a copy of his thesis)
Jenness 1958. Geology of the Lower Gander River ultrabasic belt, Newfoundland. Geol. Surv.
Canada Report 12, 58 p. + 3 maps (have) - Map shows all units included in the Gander Lake
Group as unit 5. However a unit composed of interbedded pyroclastics and basic lavas was
differentiated as 5a; Pyroxenite (2); serpentinite (3, 3a) and gabbro (4) - units considered to be
intrusive were not restricted to unit 5a.
Jenness 1963. Terra Nova and Bonavista Map-areas Newfoundland (2D (E1/2) and 2C). Geol.
Surv. Canada Memoir 327, 184 p. - referenced by Kennedy and McGonigle.
Wiliams 1964. Botwood, Newfoundland. Geol. Surv. Canada Map 60-1963 - the Botwood map
shows the Gander Lake Group divided into three units : unit 3 (Lower Gander Lake) - sheared
micaceous grey quartzose greywacke and siltstone; unit 4 - altered basic to silicic volcanic rocks,
and conglomerate; interlayered with unit 5 - grey to black slate and siltstone, greywacke and
minor volcanic rocks. Unit 4 occurs as elongated lenses within unit 5,and bot units are intruded by
pyroxenites, gabbros, and (quartz-)diorites (9), and serpentinite (10).
Church, W.R. 1972. Ophiolite : its definition, origin as oceanic crust, and mode of emplacement in
orogenic belts, with special reference to the Appalachians. Canada Dept. Energy, Mines,
Resources, Earth Physics Branch Pub., 42, 71-85. - Fig 1 showing a "Gander Lake Ellsworth
clastic zone", but commented that "The Gander Lake belt...represent Cordilleran-type
ultramafic-mafic rocks related to Acadian (mid-Devonian) igneous and tectonic activity (cf.
Chapman, 1968)". This comment was based on Chapmans conclusions concerning the intrusive
nature of the coastal gabbro bodies of Maine and New Brunswick (St Stephen).
Kennedy and McGonigal 1972 The Gander Lake and Davidsville Groups of Northeastern
Newfoundland: new data and geotectonic implications. CJES 9, 4, 452-459. - Map Fig 2 is very
similar to that of Jeness (1957). They subdivided the Gander Lake Group of Jeness into a lower
Gander Lake Group unconformably overlain by a Davidsville group - also referred to as the
Sedimentary and Volcanic terrane (with a single steep penetrative slaty cleavage or foliation) which included the middle and upper units of Jeness's Gander Lake Group.
In the supposedly older Gander Lake Group (Metasedimentary terrane) "Mafic intrusive rocks,
rare amphibolite and small serpentinite bodies also occur in this terrane". "Granitic intrusions are
also present, together with deformed mafic and ultramafic rocks."
"On the northern shore of Gander Lake coarse graywackes of the Middle Ordovician sequence
contain schistose clasts up to 1 in across ... composed of psammite and mafic schist similar to
rocks of the metasedimentary terane..." . The also recognised the existence of melange with
large pieces of metamorphic rock up to 200 fr ..across, and large fragment of schistose
garnetiferous leucocratic muscovite granite, and one schistose serpentinite fragment. The
fragments exhibit pre-melange polyphase deformation."
"The melange zone"appears ot be the basal member of the Davidsville Group in the north of the
area, but it is absent further south." It may be tectonic and represent a zone of gravity sliding,
indicating that the Davidsville Group is locally allochthonous or it may be an olistostrome."
"It seems possible the gneissic rocks underlie and form a sialic basement to the Avalon Platform
sequence..."
"The significance of the melange zone overlying the Gander Lake Group is preseently obscure. It
appears to be the basal member of the of the Davidsville Group in the north of the area, but it is
absent farther south. It may be tectonic and repserent a zone of gravity sliding, indicating that the
Davidsville is locally allochthounous or it may be an olistostrome." (Pajari and Currie show this
melange to be a continuous but relatively narrow unit within the upper Davidsville, but also
present on Green Island, and at Rocky Bay and Aspen Cove.)
"Similar rocks with pre-Devonian structures may occur in southern New Brunswick (A.A.
Ruitenberg, pers comm 1971)"
"The pre-lower Ordovician metasedimentary sequence of the west flank of the Mobile Belt (Fleur
de Lys Supergroup) shows close structural and metamorphic similarities (Kennedy 1971) to the
pre-Middle Ordovician metasedimentary Gander Lake Group of the east flank. Both
metasedimentary terranes may have once formed par of a continuous terrane." "The Gander
Lake Group could be interpreted as the western part of an analogous continental rise prism which
thins eastwards on to the Avalon Platform." "resolution of the problem of Gander Lake - Fleur de
Lys correlation will provide evidence for or against the presence of a pre-Ordovician ocean basin
in Central Newfoundland."
Jenness 1972. CJES 9, 12, 1779-1781 - discussion
Kennedy and McGonigal 1972. CJES 9, 12, 1781-1783 - reply to Jeness - "Garnetiferous
leucocratic granites on the south shore of Gander lake are intrusive into our Gander Lake Group
by do not intrude the Davidsville Group." The granites are "clearly cut by the second schistosity
of of our Gander Lake Group."
"If there is only one age of mafic rocks and one age of ultramafic rocks in the area, Jeness'
interpretations are correct." "The amphibolites of the metasedimentary terrane occur as
polydeformed fragments in the basal Davidsville melange and in the graywackes of the
Davidsville Group." "Ultramafic rocks intrude the graywackes of the Davidsville Group on the
north shore of Gander Lake, but schistose serpentinite .. occurs as small bodies within our
Gander Lake Group, which have clearly been deformed with the surrounding metasediments.
Thus two separate suites of ultramafic rocks are present. The earlier, deformed with the
metasedimentary terrane occurs as a large schistose serpentinite inclusion in the Davidsville
melange between Musgrave Harbour and Carmanville... , and should not be confused with the
serpentinites that intrude the overlying Davidsville Group
Berger - 197? discussion - It seems clear to me that the Aspen Cove Pluton (Garnetiferous
leucocratic granite) intrudes and is not unconformably overlain by the Middle Gander lake
Group..." " The ragged Harbour and Aspen Cove Plutons cannot, therefore, be pre-Middle
Ordovician in age..."
Bruckner 1972. CJES 9, p. 1778-1779 - discussion of Kennedy and McGonigal 1972.
Bruckner 1978. Curr. Res. Part C, Geol. Surv.Canada Paper 78-1C, p. 127-129 - discussion of
Pickerill 1978
Church, W. R., and Gayer, R. A. 1973. The Ballantrae ophiolite Geol. Mag., 110, 497-510 Exploits and Gander zones shown located on the SE side of Iapetus as Ellsworth-Gander and
Exploits-Tetagouche zones.
Stevens, Strong and Kean 1974. - eastern Appalachian ultramafic rocks as mantle diapirs
Strong, Dickinson, O'Driscoll, and Kean 1974. - east dipping Appalachian subduction zone
Malpas and Strong 1975. - the ophiolites represent mantle diapirs
Blair 1975. The Shoal Pond ultramafic complex, Newfoundland. B.Sc. thesis, University of
Western Ontario.
Church 1976. CJES Ages of zircons from the Bay of Islands ophiolite complex, western
Newfoundland: Comment. Geology 4 623-625 - "the Cole Hill trondjhemite body within the Shoal
Pond melange of the Gander Lake belt is associated with ophiolitic olistoliths which also are
lithologically and chemically similar to units of the Betts Cove ophiolite." the ultramafic and mafic
rocks of the Middle Gander Lake Group between Gander and Carmanville are present as
chaotically distributed olistoliths (slide blocks) rather than as intrusive bodies ."
Bell, Blenkinsop, and Strong 1977 The geochronology of some granitic bodies from eastern
Newfoundland and its bearing on Appalachian evolution CJES 14, 456-476. - Fig 1, Gander zone,
Botwood zone, Exploits zone, Fleur de Lys zone
Church 1977. The ophiolites of southern Quebec: oceanic crust of Betts Cove type CJES 14,
1668-1673. - Fig 1 shows "Ellsworth-Gander Lake zone with a reference to the Shoal Pond
ophiolite"
Church, W.R. 1977. Ophiolites of the Appalachian System. Association Mafiques ultra-mafiques
dans les orogenes. Colloque Internationaux de C.N.R.S. no. 272, 35-38. "The ophiolitic rocks of
the eastern belt occur as blocks in the Shoal Pond ophiolitic melange.... Pyroxenes in gabbroic
units, however, have very low Ti contents and in this respect resemble the Betts Cove ophiolite. It
seems likely that the ophiolitic material was emplaced from the north-west into an
exogeosynclinal basin developed with the eastern margin of the Appalachian system." Fig 1 - The
ophiolitic melange is located within the Ellsworth-Gander Lake zone."the clinopyroxenites ...are
charaterised by very low Ti contents. In this respect the Rhyd Y Bont complex closely resembles
the Betts Cove and Gander Lake (Shoal Pond) ophiolites of Newfoundland, and the Asbestos Thetford ophiolite of the Quebec..", "The Rhyd Y Bont complex could represent a section of
dismembered oceanic lithosphere which following obduction was emplaced by gravity sliding into
a marginal deep water basin accumulating muds, cherts and submarine volcanic rocks."
Church, W.R. 1977. Late Proterozoic Ophiolites.Association Mafiques ultra-mafiques dans les
orogenes. Colloque Internationaux de C.N.R.S. no. 272, 105-118.
McKerrow and Cocks 1977. CJES - the Reach fault as the location of the Iapetus Ocean suture in
Newfoundland
Pajari, G.E. and Currie, K.L. 1978. The Gander Lake and Davidsville Groups of northeastern
Newfoundland: a re-examination CJES 15, 708-714. - abst:"the ocean floor sequence of
ultramafites, mafic volcanic rocks with minor plagiogranites and turbidites of the Davidsville Group
proper were disturbed by olistostromes and tectonic slides beginning in late Ordovician time."
"final tectonic emplacement occurred in the Devonian. "Southeast of the fault, the gneiss complex
was metamorphosed to sillimanite grade before deposition of the Gander Lake Group."The
Gander Lake Group may be time equivalent to the Davidsville Group." " The observed relations
are compatible with obduction of oceanic material in late Ordovician time."
"we agree that the term (Davidsville Group) is a useful one to designate the assemblage of of
black, greenish and maroon shale, slate, greywacke and siltstone with basal volcanic rocks,
which seems to rest onan ultramafic base." "This association strongly resembles the ocean floor
sequences of Notre Dame Bay to the west,.." " The two groups belong to quite different
geological settings whose contacts are everywhere faulted." "or the ultramafic basement."
"Blackwood (1977) has observed the Gander Lake Group resting unconformably on the gneiss
complex." "The presence of ultramafic fragments within the Davidsville Group shows that the
latter is younger than the ultramafic belt, and in some sense rests upon it." " these fact... strongly
suggest an oceanic floor origin for the Davidsville Group and a mantle origin for its presumed
ultramafic base"Stratigraphic evidence on the age of the olistostromes shows that transport may
have commenced as early as Arenig time." "Assuming that the Davidsville Group and the
underlying ultramafic rocks represent oceanic material, this configuration is consistent with
obduction of oceanic plate over continental crust." "Since the age is indeterminate, the evidence
for the "Ganderian orogeny" (Kennedy 1975) evaporates." "The observed relations are
compatible with obduction of oceanic material during Ordovician time."
Church, W.R. 1978. correspondance - The Gander ultramafic rocks are olistoliths within a
fore-land basin olistostromal melange at the base of the Davidsville, the obduction complex from
where it was derived is located further west.. It does not represent an in-situ obduction complex.
Pajari, G.E. and Currie, K.L., S.P. 1978. reply - "The Shoal Pond complex does not map as an
"olistolith within shales " "The Shoal Pond and Weir's Pond complexes consist of mafic volcanic
and ultrbasic rocks which were topographic highs that shed theri debris during Llanvirn time.""an
unconformity.... has been onserved at their top. These easterly obducted slabs were involved in a
major olistostromal event which involved Caradocian sediments, and was therefore distinctly
younger.."
"field evidence ... clearly proves that the Davidsville Group is autochthonous, and not
transported."
"The The Gander Lake and Davidsville Groups have been shown... to be a single sequence of
sedimentation. the ultramarfic and volcanic rocks are allochthounous, and were thrust into this
sequence in Llandeilo-Llanvirn time."
"we wish to apologise to the pioneers of plate tectonic models in Newfoundland for suggesting
that the eastern margin of the mobile belt had not been explained. It was our intention to suggest
that detailed models for the eastern side, such as thos of Strong et al (1974), Malpas and Strong
(1975) and Stevens et al (1974) were clearly inadequate to explain the observations."
Church, W.R. 1978. reply to reply Blackwood, R.F. 1978. Rpt Activities 78-1
Currie, K., Pajari, G. and Pickerill, R. 1979. - Fig 14.1 Obduction model : Gander River Group =
unit 4; oceanic floor is unit 1, unit 3 and the unit 2 volcanic assemblage; unit 5 (Davidsville) is now
post-obduction and unconformable on the obducted ophiolite and on unit 4; unit 6 is coarse debris
laterally equivalent to unit 5 deposited locally in the vicinity of the obducted slab. The upper
olistostromal units are derived from the east.
Blackwood, R.F. 1979. Rpt Activities 79-1 Blackwood, R.F. 1979. - map 7929. Gander River SW 55E,49N; NE 54 30'E, 49 15'N
Currie, K., Pajari, G., and Pickerill, R. 1980. - "...the base of the Davidsville Group can be
established by choosing the stratigraphically lowest occurrence of clastic rocks containing
ultramafic or plagiogranite debris." "conodont assemblages from limestone immediately overlying
ultrabasic rocks (Blackwood 1978),.."
Colman-Sadd, S.P. 1980. Geology of south-central Newfoundland and evolution of the eastern
margin of Iapetus Am Jour Sci 280, 991-1017 - evolution of the eastern margin of Iapetus.
Pajari, G.E., Pickerill, R.K., and Currie, K.L. 1980. discussion Am Jour Sci 280, 934-935 "Gander River Ultrbasic Belt slabs were emplaced during Davidsville Group time and specifically
just prior to deposition of the of the Upper Llanvirn - Lower Llandeilo limestones ... and not during
the Acadian deformation. The provenance of the sedimentary succession changed from a
quart-rich terrain (Gander Group) to include a significant mafic, ultramafic, plagiogranite, and
albite-porphyry component immediately following emplacement of the Gander River Ultrabasic
belt slabs.."
Colman-Sadd, S.P. 1980. reply Am Jour Sci 280, 936-938. "I have proposed that it was not until
the Silurian-Devonian Acadian orogeny that ultrabasic rocks of the Gander River belt came into
tectonic contact (as opposed to sedimentary contact) with the Gander Group, and it was not until
this orogeny that the Davidsville and Gander Groups were deformed." "(This view) is supported
by recent mapping (Blackwood, 1980, and in press), which shows ultramafic rocks in fault contact
with the Davidsville Group and completely surrounded by it. Emplacement of some ultramafic
rocks must, therefore have post dated the sub-Davidsville unconformity."
Blackwood, R.F. 1980. - map of the Gander Lake area (Gander West) Rpt 80-1- detailed copy of
Jenness's map
Blackwood, R.F. 1981 - map 81-100 West Gander Rivers and Dead Wolf Pond
Wonderley, P.F., and Neuman, R.B. 1984. The Indian Bay Formation: fossiliferous Early
Ordovician volcanogenic rocks in the northern Gander Terrane, Newfoundland, and their regional
significance. Canadian Journal of Earth Sciences, 21: 525-532.
Church, W.R. 1992. Intra-Iapetus brachiopods from the Ordovician of eastern Ireland:
implications for Caledonide correlation CJES, 29, 4, p. 830-832, p. 833-834 - "faunas with
supposed 'Celtic' affinities were subsequently found south of the Reach Fault in Arenig sediments
(Jenness 1963; McKerrow and Cocks 1977; Neuman 1984) overlying GRUB line ophiolites
(high-Cr low-Ti primitive arc type material) obducted onto rocks of the Gander Group; in rocks of
the Baie d'Espoir Group (cf. Orthambonites cf. Productorthis, Colman-Sadd 1976) of southeast
Newfoundland; in tuff associated with pillow lava of the Indian Bay Formation within the Gander
zone (Wonderly and Neuman 1984); and more recently (Colman-Sadd and Swinden 1984; Dec
and Colman-Sadd 1990), in ophiolite debris-bearing limestone conglomerates above the Spruce
Brook Formation (Mount Cormack window of Gander Terrane rocks?). "
Church, W.R. 1992. Discussion on the trace of the Iapetus suture in Ireland and Britain CJES
149, 1048-1049 - "If the GRUB line ophiolites of Newfoundland to the south of the amalgamated
oceanic arcs of the Exploits zone are not remnants of Iapetan oceanic crust, what do they
represent? Petrographically and chemically they are more similar to primitive arc ophiolites than
to oceanic crust, and could have formed above a northwesterly dipping subduction zone within
the southernmost part of Iapetus. In this respect they are the mirror image of the Betts Cove Ballantrae - Highland Border ophiolites of the northern Iapetan margin. In the British
Caledonides, a possible analogue to the GRUB ophiolites is the Rhyd Bont ophiolitic
fragment within the New Harbour fore-deep succession of Anglesey."
Soper, N.J., Strachan, R.A., Holdsworth, R.E., Gayer, R.A., and Greiling, R.O. , 1992. Sinistral
transpression and the Silurian closure of Iapetus. JGS, v. 149, p. 871-880. - place the suture
along the Solway line in Scotland and Ireland but along the Dover Fault separating the Gander
and Avalon zones in Newfoundland.
David P. West, Jr., Heather M. Beal, and Timothy W. Grove 2003. Silurian deformation and
metamorphism of Ordovician arc rocks of the Casco Bay Group, south-central Maine. CJES 40
887-905
The Casco Bay Group in south-central Maine consists of a sequence of Late Cambrian to Early Ordovician
interlayered quartzofeldspathic granofels and pelite (Cape Elizabeth Formation) overlain by Early to Late
Ordovician back-arc volcanic (Spring Point Formation) and volcanogenic sedimentary rocks (Diamond
Island and Scarboro formations).
These rocks were tightly folded and subjected to low-pressure amphibolite-facies metamorphism in the
Late Silurian.This phase of deformation and metamorphism was followed by the development of a variety
of structures consistent with a period of dextral transpression in Middle Devonian – Early Carboniferous
time. Previously dated plutons within the sequence range in age from 422–389 Ma and record a period of
prolonged intrusive activity in the region. Similarities in age, volcanic rock geochemistry, and lithologic
characteristics argue strongly for a correlation between rocks of the Casco Bay Group and those in the
Miramichi belt of eastern Maine and northern New Brunswick. The Cape Elizabeth Formation
correlates with Late Cambrian to Early Ordovician sediments of the Miramichi Group (Gander
Zone) and the Spring Point through Scarboro formations correlate with Early to Late Ordovician
back-arc basin volcanics and volcanogenic sediments of the Bathurst Supergroup. The folding and
low-pressure metamorphism of the Casco Bay Group is attributed to Late Silurian to Early Devonian
terrane convergence and possible lithospheric delamination that would have resulted in a prolonged period
of intrusive activity and elevated temperatures at low pressures. Continued convergence and likely plate
reconfigurations in the Middle Devonian to Carboniferous led to widespread dextral transpression in
the region.
West, D.P., Jr, Coish, R.A. and Tomascak, P.B. 2004. Tectonic setting and regional correlation of
Ordovician metavolcanic rocks of the Casco Bay Group, Maine: evidence from trace element and
isotope geochemistry Geol. Mag. 141, 125–140.
p. 136 "This suggests that Early to Middle Ordovician Tetagouche-Exploits basin (van
Staal,Winchester & Bedard, 1991;vanStaal et al.1998) can be traced well into southern Maine."
p. 138 the following tectonic model is proposed for the Casco BayGroup in Maine. (1)Arc volcanism along
the Gander continental margin begins in Early Ordovician time and the Cape Elizabeth Formation
represents volcanogenic sediment shed from this growing volcanic arc. (2) Crustal thinning and rifting of
this continental arc begins about 470 Ma and bimodal volcanic rocks of the Spring Point Formation are
erupted during the early stages of this rifting episode. Rocks of the Cushing Formation and
Falmouth-Brunswick sequence may represent continued arc magmatism on the trench side of the back-arc
basin. (3)Metasedimentary rocks of the Diamond Island and Scarboro formations (above the Spring Point
Formation) reflect sedimentation within the back-arc basin. Late Ordovician (?) or Silurian compressional
tectonic events subsequently closed the back-arc basin and juxtaposed the various elements of the arc–
back-arc basin complex.
BARR, S.M., WHITE, C. E., KING, M.S., and BLACK, R. S., 2004. PERI-GONDWANAN TERRANES
OF SOUTHERN NEW BRUNSWICK, CANADA: NEW INSIGHTS AND ENIGMAS. 39th Ann. GSA
Northeastern Meeting, T25.
Southern New Brunswick consists of fault-bounded belts of rocks which show both similarities and contrasts
in Late Proterozoic - Early Paleozoic evolution. The number of distinct terranes represented by these belts,
and their affinity to the classical Avalon and Gander zones of the northern Appalachian orogen, remain
controversial, in spite of a large body of accumulated field, petrochemical, and geochronological data.
Myriad Carboniferous and younger faults in the area obscure the original nature of boundaries between
rock packages, and it is likely that many of the original components are missing. Remnants of high-pressure
metamorphic belts provide evidence for the presence of former terrane boundaries. P-T estimates for the
Hammondvale metamorphic suite (HMS) on the northwestern margin of Caledonia terrane indicate peak
metamorphic conditions at 9.5-12 kbar and 580-420°C. The HMS is interpreted to represent a remnant
of an accretionary complex formed in association with ca. 620 Ma subduction in Caledonia terrane,
and its presence confirms that the now-adjacent Brookville terrane was not part of the Caledonia
(Avalon) terrane at that time. The Pocologan metamorphic suite at the boundary between the Brookville
and Kingston terranes had peak P-T conditions of 9.5 kbars and 550°C, probably at ca. 420 Ma. A complex
later history is indicated by 40Ar/39Ar cooling ages as young as ca. 320 Ma. Modelling of magnetic and
gravity data, constrained by magnetic susceptibility and density measurements from surface samples,
indicates that present fault boundaries are sub-vertical or dip slightly to the southeast, although more shallow
structures indicative of northwesterly thrusting are evident in some areas. The models require geophysically
distinct bodies at depth (ca. 6 km or more) that are interpreted to correspond to Avalon, Brookville (Bras
d'Or???), and Ganderia basements. Tracing terranes of southern New Brunswick into Maine is
complicated by abundant Silurian and Devonian igneous units, and by apparent offset to the southeast to
Grand Manan Island, where rock types and ages show elements of Avalon, Brookville, New River, and/or
St. Croix terranes, in fault-bounded packages. Correlation with the mainland of New Brunswick or Nova
Scotia is not yet resolved.
MATARAGIO, J.P. HOGAN, J. P., and WALKER, J. D., 2004. INITIAL ND-SR ISOTOPIC
COMPOSITION OF GRANITE PLUTONS FROM EASTERN AND CENTRAL MAINE:
IMPLICATIONS FOR TERRANE ACCRETION. 39th Ann. GSA Northeastern Meeting, T25.
Initial Nd and Sr isotopic composition of Paleozoic granites from the Medial New England Terrane (MNET)
and the Composite Avalon Terrane (CAT) in Maine indicate the basement beneath these terranes changed
dramatically after the Silurian. Two major episodes of Paleozoic magmatism are documented in this area.
"Silurian" magmatism is bimodal, and characterized by distinctive epizonal plutonic and volcanic
igneous complexes (e.g., Vinalhaven, South Penobscot). Silurian magmatism is known southeast of the
Norumbega Fault Zone (NFZ). Silurian granites exhibit a large variation in e Nd values (2.5 to -8) and
87
Sr/86Sr)i ratios (0.703 to 0.713).
"Devonian to Carboniferous" magmatism is dominantly granitic and includes stocks of (1)
peraluminous granite (e.g., Waldoboro); 2) metaluminous granite (e.g., Deer Isle, Mt. Waldo); and (3) Large
batholiths of weakly peraluminous to metaluminous granite with megacrystic alkali feldspar (e.g., Lucerne).
Devonian magmatism is wide spread throughout the area and is found on both sides of the NFZ. Devonian
granites exhibit a narrow range in eNd (0.8 to -2) and a large range in 87Sr/86Sr)i ratios (0.701-0.710). On a
Nd-Sr isotopic correlation diagram the fields for Silurian and Devonian granites partially overlap, however,
they exhibit distinctly different slopes. Silurian granites define the field with the steeper slope. The most
radiogenic Silurian granite yields a T DM age of 1.8 Ma. Devonian granites define the field with a shallow
slope. The most radiogenic Devonian granite yields a TDM age of 1.4 Ma. This is compatible with Silurian
and Devonian granites being derived from partial melting of distinct basement source regions. Silurian
granites and Devonian granites intrude both MNET and CAT. This suggests 1) "terrane-bounding" faults in
coastal Maine juxtapose distinct upper crustal terranes but not distinct basement terranes and that the upper
crustal terranes were assembled prior to the Silurian melting event. 2) The source region for Silurian granites
was not "tapped" during the Devonian melting event, either because of its refractory nature, or because the
Silurian granites and their (GANDER??) host terranes are both allochthonous and were displaced
over the MNET (AVALON???) basement source region prior to the Devonian melting event.
POLLOCK, J., MCNICOLL, V., VAN STAAL, C.R., and WILTON, D., 2004. GEOLOGY OF THE
TALLY POND GROUP, NEWFOUNDLAND: NEW GEOCHRONOLOGY AND GEOCHEMICAL
DATA FROM THE EXPLOITS SUBZONE, DUNNAGE ZONE. 39th Ann. GSA Northeastern Meeting,
T25.
The (Tally Pond) group comprises Cambrian island-arc felsic pyroclastic rocks with intercalated mafic
volcanic rocks and epiclastic volcanic and sedimentary rocks. ...arc plutonic rocks of the Crippleback
Lake Quartz Monzonite form the basement to the Tally Pond group. A sequence of dominantly
pillowed mafic volcanic rocks, mafic to andesitic volcaniclastics, and intercalated felsic volcanic rocks
are nonconformable on the Crippleback Lake Quartz Monzonite. U-Pb zircon geochronology indicates
that the felsic volcanic rocks were erupted at 509 ± 1 Ma. Dykes and stocks of medium-grained
gabbro-diorite intrude all of the rocks of the Tally Pond group. These mafic intrusions yielded a U-Pb
zircon age of 465 ± 2 Ma. Major, trace and rare earth element geochemistry indicates that the volcanic
rocks have geochemical affinities consistent with a volcanic arc paleotectonic environment. Mafic intrusive
rocks show no evidence of arc-related volcanism. Pb isotope data from VMS occurrences in the Tally
Pond group contrast with those from the Notre Dame Subzone and are comparable to data from the
Exploits subzone. The youngest rocks in the study area are conglomerates and coarse-grained sandstones
of the Silurian Rogerson Lake Conglomerate which unconformably overlies rocks of the Tally Pond group;
the conglomerate is dominated by volcanic clasts derived from the underlying Exploits subzone sequences.
The Early Cambrian rocks of the Tally Pond group are analogous to rocks of the Brookville and Bras
d'Or terranes in New Brunswick and Nova Scotia. Previous workers have suggested that the Brookville
and Bras d'Or terranes represent the eastern margin of the Central Mobile Belt of the Appalachians
(Gander Zone). Correlation of the Tally Pond group with these terranes, suggests that the Tally Pond
group formed along the peri-Gondwanan margin of Iapetus. The Silurian Rogerson Lake Conglomerate
that unconformably overlies the Tally Pond group indirectly indicates that these terranes were accreted to
Laurentia by Late Ordovician.
REUSCH, D.N., VAN STAAL, C.R., and MCNICOLL, V.J., 2004. DETRITAL ZIRCONS AND
GANDERIA'S SOUTHERN MARGIN, COASTAL MAINE. 39th Ann. GSA Northeastern Meeting, T25.
In central Newfoundland, a large, Upper Cambrian (~494 Ma) ophiolitic thrust sheet, the Gander River
Ultrabasic Belt (GRUB), constitutes one of the most striking features of the northern Appalachian orogen.
Gander Zone arenites and shales of Cambro-Tremadoc age occupy the footwall southeast of the GRUB line
and the Cormacks window. Arenig strata that unconformably overlie both the ophiolite and Gander Zone
sediments, combined with a 474 Ma stitching pluton, demand a Tremadoc/early Arenig age of
emplacement (Penobscot orogeny). In the simplest scenario, the ophiolite formed in a back-arc setting
southeast of the Cambrian Victoria arc; Gander Zone arenites accumulated along the southeasterly passive
margin; and hot ophiolite was obducted shortly after its formation.
In New Brunswick and Maine, a thousand kilometers southeast (length of Java), discontinuous Cambrian
marine igneous rocks (509 Ma Ellsworth, 502 Ma Castine, 497 Ma Lawson Brook, 493 Ma East Scotch) of
the Ellsworth and Annidale terranes (EAT) comprise bimodal assemblages largely devoid of arc or
continental signature. Rare arc-like rocks, however, suggest an ensimatic back-arc setting. The structurally
lower St. Croix terrane comprises, in downward order, Caradocian shales and orthoquartzites (Kendall
Mountain), quartzofeldspathic wackes (Woodland), and Tremadocian black shales and basalts
(Calais-Penobscot). Both assemblages display top-to-NW sense-of-shear in early structures that must be
post-Tremadoc and possibly post-Caradoc. A white-weathering, pin-striped arenite from Ellsworth Falls,
close to highly sheared rocks at the northwestern limit of the Ellsworth terrane, yielded dominantly
545±4Ma (n=28; 73%) and lesser younger (507±6 Ma) and older Neo- (ca. 630 Ma, 680 Ma), Meso- (1.21
Ma, 1.50 Ma), and Paleoproterozoic (1.97-2.09 Ma) zircons, an age distribution typical of Gander Zone
arenites.
The Ellsworth-Annidale terranes and GRUB share similar rock assemblages, ages, and contact
relationships with the Gander Zone but their emplacement histories may differ. Paleo-position of EAT and
its age of emplacement remain important questions.
VAN STAAL, C. R., MCNICOLL, V., VALVERDE-VAQUERO, P., BARR, S. M., FYFFE, L. R., and
REUSCH, D. N., 2004. GANDERIA, AVALONIA, AND THE SALINIC AND ACADIAN OROGENIES.
39th Ann. GSA Northeastern Meeting, T25.
New SHRIMP-analyses of zircon grains from Cambrian arenites in New Brunswick and Maine constrain
the location of the Gander-Avalon terrane boundary, which is critical to understanding the Early Silurian
Salinic and Early Devonian Acadian orogenies. Whereas peri-Gondwanan Ganderia and Avalonia have
similar arc-dominated Neoproterozoic basements, their Lower Paleozoic rocks and tectonic evolutions
differ significantly. In Ganderia, Middle Cambrian through Tremadoc arenites and shales overlie Lower
Cambrian arc rocks, which were locally accompanied by coeval tectonism. In Avalonia, however,
shale-dominated Lower Cambrian to Ordovician strata indicate a stable platform. Arenite samples collected
from the Baskahegan Lake, Calais, Ellsworth, and Matthews Lake Formations contain abundant Early
Cambrian and Late Neoproterozoic detrital zircon grains derived, probably, from local basement as
well as important populations of Mesoproterozoic (1.2 -1.6 Ga) and Early Paleoproterozoic (2.0 - 2.3
Ga) zircon grains, which suggest an Amazonian provenance. We propose that the Gander-Avalon zone
boundary coincides with the Caledonia Fault in New Brunswick, lies southeast of Grand Manan Island
(Stanley Brook granite is c. 535 Ma), which is due to sinistral offset along the Oak Bay fault, and emerges
southeastward from the Gulf of Maine as the Bloody Bluff Fault.
At ~430 Ma, the bulk of Ganderia accreted to Laurentia along its northern margin due to closure of
the Middle Ordovician Tetagouche backarc basin, which caused the Salinic orogeny. Around this
time (440-425 Ma), the coastal volcanic/Mascarene arc/backarc complex developed on its southern
margin above a northwest-subducting Avalonian plate. Inversion of the Mascarene backarc basin at
~ 420 Ma signals the start of the Avalonia-Ganderia collision, which caused the Acadian orogeny.