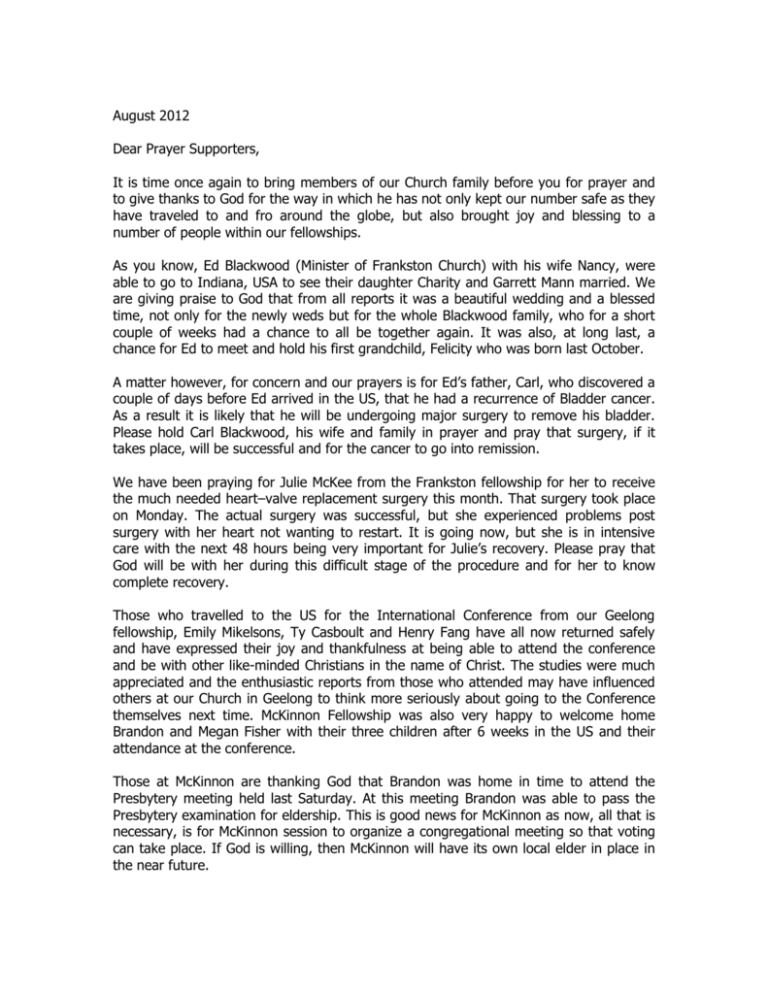 August 2012
Dear Prayer Supporters,
It is time once again to bring members of our Church family before you for prayer and
to give thanks to God for the way in which he has not only kept our number safe as they
have traveled to and fro around the globe, but also brought joy and blessing to a
number of people within our fellowships.
As you know, Ed Blackwood (Minister of Frankston Church) with his wife Nancy, were
able to go to Indiana, USA to see their daughter Charity and Garrett Mann married. We
are giving praise to God that from all reports it was a beautiful wedding and a blessed
time, not only for the newly weds but for the whole Blackwood family, who for a short
couple of weeks had a chance to all be together again. It was also, at long last, a
chance for Ed to meet and hold his first grandchild, Felicity who was born last October.
A matter however, for concern and our prayers is for Ed's father, Carl, who discovered a
couple of days before Ed arrived in the US, that he had a recurrence of Bladder cancer.
As a result it is likely that he will be undergoing major surgery to remove his bladder.
Please hold Carl Blackwood, his wife and family in prayer and pray that surgery, if it
takes place, will be successful and for the cancer to go into remission.
We have been praying for Julie McKee from the Frankston fellowship for her to receive
the much needed heart–valve replacement surgery this month. That surgery took place
on Monday. The actual surgery was successful, but she experienced problems post
surgery with her heart not wanting to restart. It is going now, but she is in intensive
care with the next 48 hours being very important for Julie's recovery. Please pray that
God will be with her during this difficult stage of the procedure and for her to know
complete recovery.
Those who travelled to the US for the International Conference from our Geelong
fellowship, Emily Mikelsons, Ty Casboult and Henry Fang have all now returned safely
and have expressed their joy and thankfulness at being able to attend the conference
and be with other like-minded Christians in the name of Christ. The studies were much
appreciated and the enthusiastic reports from those who attended may have influenced
others at our Church in Geelong to think more seriously about going to the Conference
themselves next time. McKinnon Fellowship was also very happy to welcome home
Brandon and Megan Fisher with their three children after 6 weeks in the US and their
attendance at the conference.
Those at McKinnon are thanking God that Brandon was home in time to attend the
Presbytery meeting held last Saturday. At this meeting Brandon was able to pass the
Presbytery examination for eldership. This is good news for McKinnon as now, all that is
necessary, is for McKinnon session to organize a congregational meeting so that voting
can take place. If God is willing, then McKinnon will have its own local elder in place in
the near future.
McKinnon are also thanking God for answering their prayers to increase their numbers.
A man named Hong with his three young daughters has come along three weeks in a
row. He has also been to the Monday night Bible study. Please pray for Hong, who is in
his probationary period as a radiation therapist at a nearby hospital. Pray that his
position will be become permanent and that he will be able to continue to fellowship at
McKinnon. Pray also for his wife who is not a Christian, to be converted.
Please continue to pray for the revitalization of the God's work at McKinnon. Last
Sunday the congregation was all given two different tracts to hand out to someone over
the week. Pray that God would provide them a suitable opportunity to hand them out to
someone and for the Holy Spirit to work in the hearts of those who receive them.
We rejoice with Andrew Barkley and Lisa Mounsey from the Geelong Fellowship who
were joined in marriage on the 3rd of August. Andrew grew up in the Geelong
congregation and has been a member for many years. Lisa is a relatively new believer
and is being discipled in the faith. We praise God that they begin their married life
together as a Christian couple.
On a sadder note, I have to report that Alan Bedford, of McKinnon fellowship and who
has family members at Geelong, passed away at the end of July. Pray for the Bedford
family as they grieve the loss of a father and grandfather. Pray especially for his wife
Jean who suffers with dementia and must now adjust to a life without her husband. The
family will now need to find a suitable nursing home for her to live in, so pray that they
will have God's help to find the best place for her.
There are others in our fellowships that are still away travelling and we would appreciate
your prayer for their safety. At Frankston, Tony and Norma McKeeman have travelled to
Ireland. David Feldman (who is an elder at Geelong and also an interim elder in
McKinnon) along with his wife, Jill, are currently travelling around Australia while David
is on long service leave. Luke Feldman (David's son) with his family left at the end of
July to go to East Timor and will be living there for a couple of months. Jonathan and
Louise Blakston and children are due to return to Australia this Saturday, which will
conclude their three months trip around the world. We look forward to hearing about
their trip and how God has blessed them on their journey.
Again we say thank you to our Father in Heaven who holds us in His care, both
individually and as a Church family. We thank him for the encouragements that have
been received and for his protection in travel. As we bring our prayers to God, like David
in Psalm 5:3 we can say "In the morning, O LORD, you hear my voice; in the morning I
lay my requests before you and wait in expectation."
With kind regards and best wishes,
Gayle Erskine
(On behalf of the members of the Reformed Presbyterian Church of Australia).