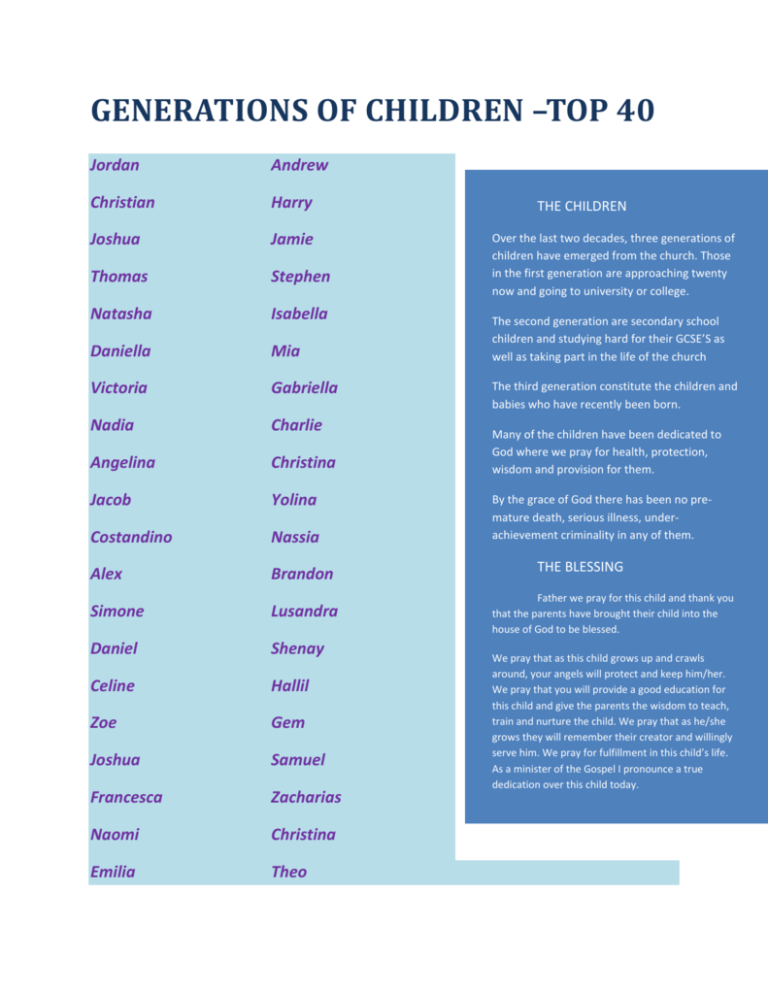 GENERATIONS OF CHILDREN –TOP 40
Jordan
Andrew
Christian
Harry
Joshua
Jamie
Thomas
Stephen
Natasha
Isabella
Daniella
Mia
Victoria
Gabriella
Nadia
Charlie
Angelina
Christina
Jacob
Yolina
Costandino
Nassia
Alex
Brandon
Simone
Lusandra
Daniel
Shenay
Celine
Hallil
Zoe
Gem
Joshua
Samuel
Francesca
Zacharias
Naomi
Christina
Emilia
Theo
THE CHILDREN
Over the last two decades, three generations of
children have emerged from the church. Those
in the first generation are approaching twenty
now and going to university or college.
The second generation are secondary school
children and studying hard for their GCSE'S as
well as taking part in the life of the church
The third generation constitute the children and
babies who have recently been born.
Many of the children have been dedicated to
God where we pray for health, protection,
wisdom and provision for them.
By the grace of God there has been no premature death, serious illness, underachievement criminality in any of them.
THE BLESSING
Father we pray for this child and thank you
that the parents have brought their child into the
house of God to be blessed.
We pray that as this child grows up and crawls
around, your angels will protect and keep him/her.
We pray that you will provide a good education for
this child and give the parents the wisdom to teach,
train and nurture the child. We pray that as he/she
grows they will remember their creator and willingly
serve him. We pray for fulfillment in this child's life.
As a minister of the Gospel I pronounce a true
dedication over this child today.