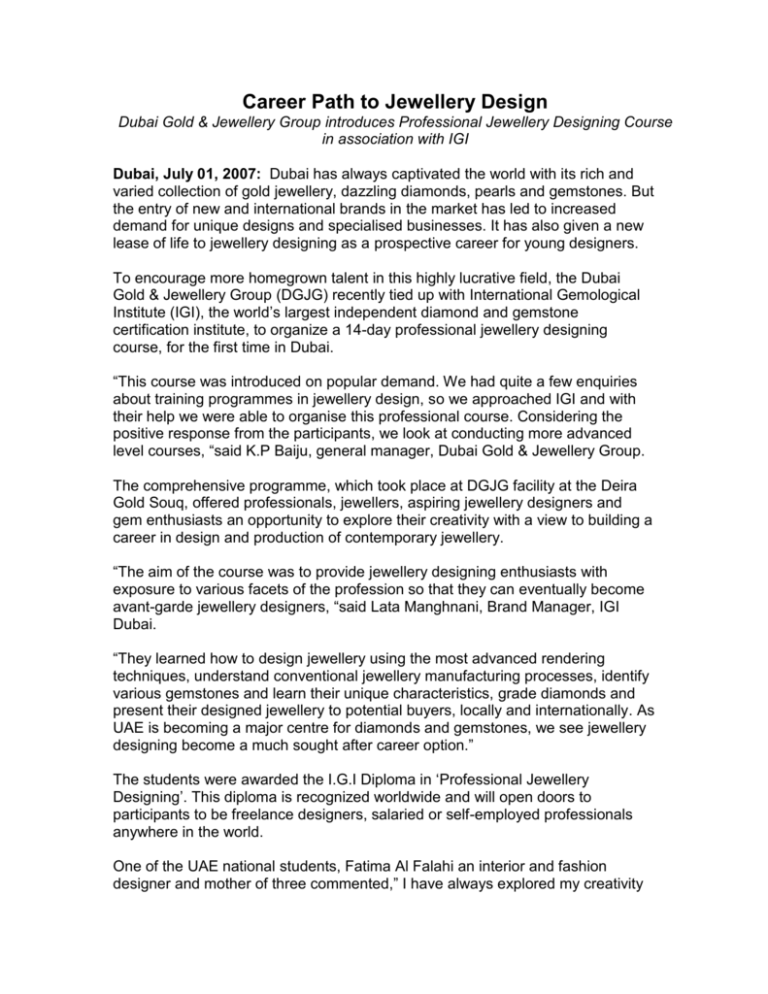 Career Path to Jewellery Design
Dubai Gold & Jewellery Group introduces Professional Jewellery Designing Course
in association with IGI
Dubai, July 01, 2007: Dubai has always captivated the world with its rich and
varied collection of gold jewellery, dazzling diamonds, pearls and gemstones. But
the entry of new and international brands in the market has led to increased
demand for unique designs and specialised businesses. It has also given a new
lease of life to jewellery designing as a prospective career for young designers.
To encourage more homegrown talent in this highly lucrative field, the Dubai
Gold & Jewellery Group (DGJG) recently tied up with International Gemological
Institute (IGI), the world's largest independent diamond and gemstone
certification institute, to organize a 14-day professional jewellery designing
course, for the first time in Dubai.
"This course was introduced on popular demand. We had quite a few enquiries
about training programmes in jewellery design, so we approached IGI and with
their help we were able to organise this professional course. Considering the
positive response from the participants, we look at conducting more advanced
level courses, "said K.P Baiju, general manager, Dubai Gold & Jewellery Group.
The comprehensive programme, which took place at DGJG facility at the Deira
Gold Souq, offered professionals, jewellers, aspiring jewellery designers and
gem enthusiasts an opportunity to explore their creativity with a view to building a
career in design and production of contemporary jewellery.
"The aim of the course was to provide jewellery designing enthusiasts with
exposure to various facets of the profession so that they can eventually become
avant-garde jewellery designers, "said Lata Manghnani, Brand Manager, IGI
Dubai.
"They learned how to design jewellery using the most advanced rendering
techniques, understand conventional jewellery manufacturing processes, identify
various gemstones and learn their unique characteristics, grade diamonds and
present their designed jewellery to potential buyers, locally and internationally. As
UAE is becoming a major centre for diamonds and gemstones, we see jewellery
designing become a much sought after career option."
The students were awarded the I.G.I Diploma in 'Professional Jewellery
Designing'. This diploma is recognized worldwide and will open doors to
participants to be freelance designers, salaried or self-employed professionals
anywhere in the world.
One of the UAE national students, Fatima Al Falahi an interior and fashion
designer and mother of three commented," I have always explored my creativity
in interior designing and fashion, though I have wanted to try my hands at
jewellery designing I just didn't know how to go about it. When I heard of this
course, I thought I must try it. Now I know how to put my designs into paper and
how to combine creativity and practicality. I really look forward to starting my own
workshop."
For Anees Nahidi of ARY Jewellery, designing has always been close to her
heart. "I have always had an interest in creative design but this course has taught
me how to use my imagination and inspirations in jewellery designing. This is
only the beginning, there is so much more I want to learn. I look forward to
enrolling for more advanced level courses."
On the last day of the course, students got an opportunity to interact with Tawhid
Abdullah, Managing Director of Dubai Gold & Jewellery Group and also the
Managing Director of Damas. He was impressed by the original ideas and
enthusiasm of the students, most of them designing jewellery for the first time.
"The imagination and passion the students have shown is absolutely stunning.
As Dubai looks to further develop the jewellery trade, it is essential to nurture this
kind of talent. We will be in touch with the students and guide them as they
embark on their career, "he said.
Recognizing the need for a strong talent pool to support Dubai's growing
jewellery trade, Dubai Gold & Jewellery Group conducts regular training
programmes for its members and jewellery enthusiasts throughout the year. The
courses include: Identification & Grading of Diamonds, Identification & Grading
of Colour stones and Gold Manufacturing Techniques. Workshops are also
conducted periodically on Managerial Excellence, Leadership & Motivation and
Team Building.
For further info, please contact: Lisa George/Wendy D'Silva, ASDA'A Public Relations,
Dubai. Tel: 0097143355969. E-mail: l.george@asdaa.com.