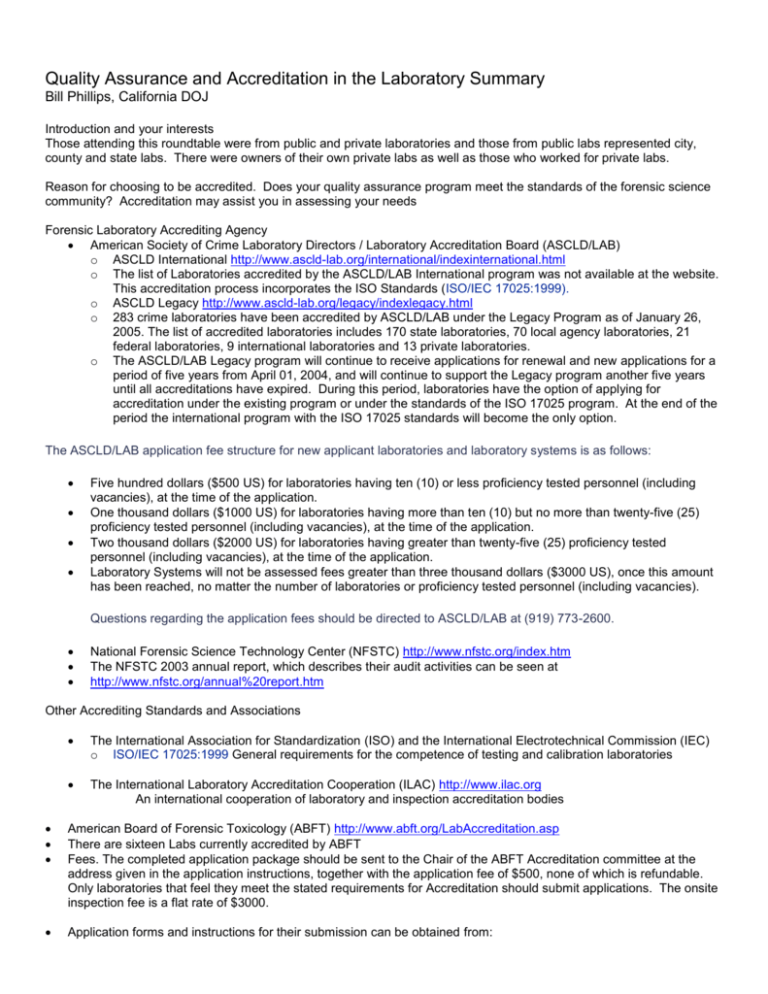 Quality Assurance and Accreditation in the Laboratory Summary
Bill Phillips, California DOJ
Introduction and your interests
Those attending this roundtable were from public and private laboratories and those from public labs represented city,
county and state labs. There were owners of their own private labs as well as those who worked for private labs.
Reason for choosing to be accredited. Does your quality assurance program meet the standards of the forensic science
community? Accreditation may assist you in assessing your needs
Forensic Laboratory Accrediting Agency
 American Society of Crime Laboratory Directors / Laboratory Accreditation Board (ASCLD/LAB)
o ASCLD International http://www.ascld-lab.org/international/indexinternational.html
o The list of Laboratories accredited by the ASCLD/LAB International program was not available at the website.
This accreditation process incorporates the ISO Standards (ISO/IEC 17025:1999).
o ASCLD Legacy http://www.ascld-lab.org/legacy/indexlegacy.html
o 283 crime laboratories have been accredited by ASCLD/LAB under the Legacy Program as of January 26,
2005. The list of accredited laboratories includes 170 state laboratories, 70 local agency laboratories, 21
federal laboratories, 9 international laboratories and 13 private laboratories.
o The ASCLD/LAB Legacy program will continue to receive applications for renewal and new applications for a
period of five years from April 01, 2004, and will continue to support the Legacy program another five years
until all accreditations have expired. During this period, laboratories have the option of applying for
accreditation under the existing program or under the standards of the ISO 17025 program. At the end of the
period the international program with the ISO 17025 standards will become the only option.
The ASCLD/LAB application fee structure for new applicant laboratories and laboratory systems is as follows:




Five hundred dollars ($500 US) for laboratories having ten (10) or less proficiency tested personnel (including
vacancies), at the time of the application.
One thousand dollars ($1000 US) for laboratories having more than ten (10) but no more than twenty-five (25)
proficiency tested personnel (including vacancies), at the time of the application.
Two thousand dollars ($2000 US) for laboratories having greater than twenty-five (25) proficiency tested
personnel (including vacancies), at the time of the application.
Laboratory Systems will not be assessed fees greater than three thousand dollars ($3000 US), once this amount
has been reached, no matter the number of laboratories or proficiency tested personnel (including vacancies).
Questions regarding the application fees should be directed to ASCLD/LAB at (919) 773-2600.



National Forensic Science Technology Center (NFSTC) http://www.nfstc.org/index.htm
The NFSTC 2003 annual report, which describes their audit activities can be seen at
http://www.nfstc.org/annual%20report.htm
Other Accrediting Standards and Associations

The International Association for Standardization (ISO) and the International Electrotechnical Commission (IEC)
o ISO/IEC 17025:1999 General requirements for the competence of testing and calibration laboratories

The International Laboratory Accreditation Cooperation (ILAC) http://www.ilac.org
An international cooperation of laboratory and inspection accreditation bodies



American Board of Forensic Toxicology (ABFT) http://www.abft.org/LabAccreditation.asp
There are sixteen Labs currently accredited by ABFT
Fees. The completed application package should be sent to the Chair of the ABFT Accreditation committee at the
address given in the application instructions, together with the application fee of $500, none of which is refundable.
Only laboratories that feel they meet the stated requirements for Accreditation should submit applications. The onsite
inspection fee is a flat rate of $3000.

Application forms and instructions for their submission can be obtained from:
The American Board of Forensic Toxicology, Inc.
Attn: The Forensic Sciences Foundation, Inc.
P.O. Box 669 (410 North 21st Street, Suite 203)
Colorado Springs, Colorado 80901-0669
Phone: (719) 636-1100
Fax: (719)-636-1993
E-Mail: Membship@aafs.org
Clinical Laboratories Accreditation Programs
 The Collage of American Pathologists (CAP)
http://www.cap.org/apps/docs/laboratory_accreditation/lap_info/appaccred.html
o
Two clinical participants mentioned CLIA and the national standards that are applied at their laboratories.
Proficiency Testing
ASCLD/LAB Providers http://www.ascld-lab.org/legacy/aslablegacyapprovedproviders.html

ASCLD Proficiency Review Program and Proficiency Review Committee (PRC)
Association dedicated to Quality Assurance
 The Association of Forensic Quality Assurance Managers (AFQAM) promotes standardized practices and
professionalism in quality assurance management for the forensic community.
ASCLD/LAB Application Process from website
Crime Laboratory directors seeking information about the ASCLD/LAB Legacy laboratory accreditation should direct their
inquiries to the Executive Director of ASCLD/LAB. The reply to such inquiries will be a copy of the Accreditation Manual.
The process need not go any further; there is no obligation on the part of the crime laboratory director. He/she may elect
to evaluate his/her own laboratory for the purpose of self-improvement without seeking accreditation. This is done without
incurring obligation or expense beyond the cost of the manual. When the crime laboratory director determines that the
laboratory is prepared, he/she may elect to apply formally for accreditation following the instructions in the manual.
The process may continue as follows:
1. Self-evaluation by applicant laboratory
2. Application and supporting documents filed by applicant laboratory
3. On-site inspection by a team of trained inspectors
4. Inspection report considered by ASCLD/Laboratory Accreditation Board
5. One year to remedy deficiencies before final decision by the Board
6. Accreditation review completed by the laboratory annually
7. Full re-inspection required every five years.
ASCLD/LAB – The following are Standards and criteria considered during the inspection process . A complete list of the
criteria can be obtained by ordering the manual http://www.ascld-lab.org/legacy/aslablegacymanual.html License with
Electronic Version of 2003 Manual on a CD (Adobe Acrobat format only) $ 50.00 each
1. Laboratory Management and Operations
2. Personnel Qualifications
3. Physical Plant
Examples of findings during an ASCLD/LAB inspection were discussed.
 Evidence chain of Custody
 Physical plant, Safety issues. It was pointed out that most of the criteria for physical plant are import or
desirable, except for the security issues, which are essential.
 Personnel qualifications include the requirement of a bachelor's degree in all disciplines except of
Questioned Documents and Latent Prints.
The following laboratories that are currently accredited in California by ASCLD/LAB
Alameda County Sheriff's Office Criminalistics Laboratory, San Leandro, CA
Bureau of Alcohol, Tobacco & Firearms, Walnut Creek, CA
California Department of Justice, Bureau of Forensic Services Laboratory System
Contra Costa County Office of the Sheriff, Forensic Services Division, Martinez, CA
Drug Enforcement Administration, Southwest Laboratory, National City, CA
Drug Enforcement Administration, Western Laboratory, San Francisco, CA
El Cajon Police Department Forensic Laboratory, El Cajon, CA
Forensic Science Laboratory, Department of Coroner, County of Los Angeles, Los Angeles, CA
Los Angeles Police Department Scientific Investigation Division, Los Angeles, CA
Los Angeles County Sheriff's Office, Los Angeles, CA
Long Beach Police Department Crime Laboratory, Long Beach, CA
Naval Criminal Investigative Service Laboratory, San Diego, CA
Oakland Police Department, Oakland, CA
Orange County Sheriff- Coroner Department, Santa Ana, CA
Sacramento County District Attorney's Laboratory of Forensic Services, Sacramento, CA
San Bernardino County Sheriff's Office, San Bernardino, CA
San Diego Police Department Crime Laboratory, San Diego, CA
San Diego Sheriff's Department Regional Crime Laboratory, San Diego, CA
Santa Clara County District Attorney's Crime Laboratory, San Jose, CA
San Francisco Police Department Criminalistics Laboratory, San Francisco, CA
Serological Research Institute, Richmond, CA
Ventura County Sheriff Department Forensic Science Laboratory, Ventura, CA

The following laboratories from other states are currently accredited by ASCLD/LAB and had representatives that
attended the panel discussion:
Arizona Department of Public Safety, Southern Regional Laboratory, Tucson, AZ
Mesa Police Department Crime Laboratory, Mesa, AZ
Phoenix Police Department, Laboratory Services Bureau, Phoenix, AZ

Persons that attended the panel discussion from the following laboratory were accredited by the American Board of
Forensic Toxicology (ABFT):
New Mexico Department of Health, Scientific Laboratory Division, Toxicology Bureau
Albuquerque, NM

Other public and private laboratories that attended the panel discussion were licensed by the California Department of
Health service to do Alcohol testing.