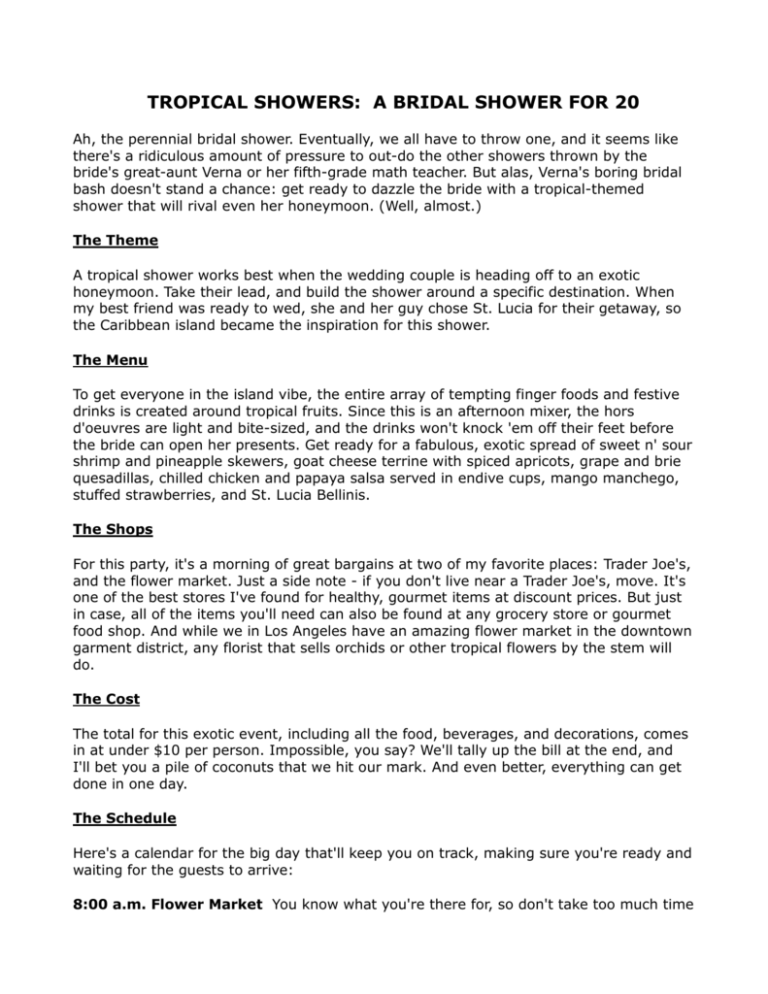 TROPICAL SHOWERS: A BRIDAL SHOWER FOR 20
Ah, the perennial bridal shower. Eventually, we all have to throw one, and it seems like
there's a ridiculous amount of pressure to out-do the other showers thrown by the
bride's great-aunt Verna or her fifth-grade math teacher. But alas, Verna's boring bridal
bash doesn't stand a chance: get ready to dazzle the bride with a tropical-themed
shower that will rival even her honeymoon. (Well, almost.)
The Theme
A tropical shower works best when the wedding couple is heading off to an exotic
honeymoon. Take their lead, and build the shower around a specific destination. When
my best friend was ready to wed, she and her guy chose St. Lucia for their getaway, so
the Caribbean island became the inspiration for this shower.
The Menu
To get everyone in the island vibe, the entire array of tempting finger foods and festive
drinks is created around tropical fruits. Since this is an afternoon mixer, the hors
d'oeuvres are light and bite-sized, and the drinks won't knock 'em off their feet before
the bride can open her presents. Get ready for a fabulous, exotic spread of sweet n' sour
shrimp and pineapple skewers, goat cheese terrine with spiced apricots, grape and brie
quesadillas, chilled chicken and papaya salsa served in endive cups, mango manchego,
stuffed strawberries, and St. Lucia Bellinis.
The Shops
For this party, it's a morning of great bargains at two of my favorite places: Trader Joe's,
and the flower market. Just a side note - if you don't live near a Trader Joe's, move. It's
one of the best stores I've found for healthy, gourmet items at discount prices. But just
in case, all of the items you'll need can also be found at any grocery store or gourmet
food shop. And while we in Los Angeles have an amazing flower market in the downtown
garment district, any florist that sells orchids or other tropical flowers by the stem will
do.
The Cost
The total for this exotic event, including all the food, beverages, and decorations, comes
in at under $10 per person. Impossible, you say? We'll tally up the bill at the end, and
I'll bet you a pile of coconuts that we hit our mark. And even better, everything can get
done in one day.
The Schedule
Here's a calendar for the big day that'll keep you on track, making sure you're ready and
waiting for the guests to arrive:
8:00 a.m. Flower Market You know what you're there for, so don't take too much time
to stop and smell the flowers! Get your orchids, get your rocks, and get out of there. (I'll
explain in a minute.)
9:00 a.m. Trader Joe's Don't forget to make a shopping list, so you should be in and
out of T.J.'s in half an hour, then on your way back home.
10:00 a.m. Decorating Take two hours to set up the food table, beverage/cake table,
and gifts table; create orchid and river rock arrangements; set out extra chairs.
12:00 p.m. Food Prep Because these are individual appetizers, you'll need about three
hours to get all the goodies ready. And be sure to give yourself ample time to sample as
you go!
3:00 p.m. Get Ready Now's your chance to shower for your shower! Don't forget to
put a flower in your freshly coiffed hair, and save one for the bride, too.
4:00 p.m. Party Time!
Set the Stage
When you're at the flower market, look for bunches of cut orchids. Buy as many as will
fit in your budget (I found them for $5.50 per bunch), then get a couple bags of river
rock. Once you get your stash home and it's time to start decorating, use different sized
drinking glasses, jugs, and even tea light holders, and fill them with river rock, orchids,
and water. Cluster the arrangements all around your entertaining area to give the
impression of a sea of flowers.
Dress it Up
There's an easy way to set the tropical mood in your decorating, and it's free - raid your
closet! I happen to have a sarong fetish, so I have lots of exotic batik prints lying around
on my shelves. As you're rummaging through your storage, be sure to also dig through
old fabric scraps you may have kept over the years to see if you have any hidden
tropical treasures. But if you come up short, swing by any fabric store one afternoon on
your way home from work and go to the discount bins. You'll find tons of fun prints for a
dollar a yard. Use the fabrics to dress your food table, beverage/cake table, and gifts
table. A trick I like to use for the food table is to set large pots and boxes on the table,
then drape fabric over them and set the serving trays on the levels. It's a simple tip the
pros use to create multiple tiers for the various appetizer platters, which adds a touch of
visual wow.
Get Cooking
Once you've done all your shopping and decorating and you're ready to start preparing
the food, you'll need a little extra time for this one. These are all individually prepared
appetizers, and while they're still easy, they take a little longer to assemble because of
sheer quantity - but it's worth it!
Sweet n' Sour Shrimp and Pineapple Skewers
Total Prep Time: 15 minutes
1 can pineapple chunks, drained
2 packages pre-cooked medium sized shrimp, tail off
1 bottle Soy Vay or other teriyaki sauce
1 bottle sweet n' sour sauce, any variety
hot sauce to taste
Mix one part Soy Vay with one part sweet n' sour sauce, then add any variety hot sauce
(like Tabasco, Tapatio, or Louisiana Gem) to taste. (I personally prefer it a bit spicy.) Add
in pineapple chunks and shrimp, then create mini-kabobs by using toothpicks to skewer
one piece of pineapple with one shrimp. Set the skewers in a cooking dish, cover, and
leave them in the fridge until the party starts.
As soon as the first guests arrive, uncover the dish and bake in the oven at 375 degrees
for about 8 minutes--just enough to warm them up. Serve with a side dish of the same
sauce, so that guests can dip a little extra.
Goat Cheese Terrine with Spiced Apricots
Total Prep Time: 10 minutes
2 tubes goat cheese, room temperature
1 jar apricot preserves
1 jar mango salsa
hot sauce to taste
Mix one part mango salsa, one part apricot preserves, and any variety hot sauce to taste
(depending on how spicy you want your sauce). Cover, and set aside until right before
the party. On a sheet of aluminum foil or wax paper, mush the tubes of goat cheese into
one rectangular block (squoosh it with your hands!) then cut and mold into a heart
shape. Set back in the fridge until you're ready to set out the food. Just before the
guests arrive, unwrap the heart-shaped cheese and flip onto a serving platter. Microwave
the sauce for about 20 seconds, then pour on top of terrine. Serve with peppered water
crackers.
Grape and Brie Quesadillas
Total Prep Time: 15 minutes
1 package medium-sized flour tortillas (8 to a package)
2 triangle chunks brie (the French kind, and at least 60% fat)
1 bunch green grapes
Cut medium thickness (about 1/4") slices of brie, and lay out across a tortilla, leaving
slight spaces in between the slices (too much brie can be overkill). Slice grapes in half
the long way, and scatter across the cheese. Cover with another tortilla. Repeat this
process four times (four of these quesadillas will give you 32 slices if you cut each into
eighths, which should be plenty for 20 women). Stack uncooked quesadillas on top of
each other, and wrap with aluminum foil until just before the party.
When the first guests arrive, throw two quesadillas in the oven on a sheet of foil at 375
degrees for about 6-8 minutes, or until the cheese starts to melt. Remove from the oven
and cut into eighths. Serve this first round to guests at the beginning of the party;
repeat with the other two quesadillas about half way through the soirée.
Chilled Chicken and Papaya Salsa Served in Endive Cups
Total Prep Time: 30 minutes
2 packages endive (6 heads total)
1 container fresh papaya-mango salsa (in the refrigerated section)
1 package pre-cooked chicken breast meat
Separate endive leaves; cut chicken into bite-sized chunks. At the base of each leaf,
place one bite of chicken, followed by one blob of salsa (fresh salsa is usually watery, so
use a fork to drain each scoop a bit first). Sounds quick, but making 30 of them will take
close to half an hour. Simple, but elegant!
Stuffed Strawberries
Total Prep Time: 45 minutes
2 quart-sized boxes fresh strawberries
1 jar lemon curd
1 12-oz container whipped cream cheese
vanilla flavoring or vanilla extract
Using a sharp paring knife, carve out a cone shape from the strawberries, at the stem
end. Into the cream cheese, mix vanilla flavoring to taste (about 3 tablespoons, but
taste it after each addition). The flavor of the cream cheese should have a hint of
sweetness, but shouldn't be too strong. Fill a ziploc bag with lemon curd, and another
bag with the cream cheese mixture. Cut a small tip off the corner of each bag, creating a
homemade piping bag. Squirt a dime-sized amount of lemon curd in the carved out
strawberries, then cap with a good-sized dollop of the vanilla cream cheese. These
suckers are time-consuming, but are sure to be the hit of the party.
Mango Manchego
Total Prep Time: 30 minutes
2 ripe mangoes
2 boxes pepper water crackers
1 chunk manchego cheese
Using the wide slot on a cheese grater, grate the entire chunk of cheese into long, thin
slices. Skin the mangoes, and cut into bite-sized pieces. Lay crackers on a serving tray,
then top with a few thin slices of cheese, breaking pieces to fit crackers. Top that with
mango. Only takes a second, but give yourself half an hour to make a lot--once the
party starts, these babies go fast. The salty, sweet, and spicy flavors all meld together
for one amazing bite!
Just a side note: save this for the last item you prepare. Otherwise, the crackers get
soggy and the cheese dries out. Cover tray with plastic wrap until just before the guests
arrive to keep everything fresh.
St. Lucia Bellinis
Total Prep Time: 5 minutes
3 quarts mango nectar
8 bottles champagne
6 kiwis
In a pitcher, mix two parts champagne with one part mango nectar. Garnish all glasses
with kiwi slices ahead of time, so you won't have to bother with them during the shower.
Place pitcher in an ice bucket so that during the party, guests can serve themselves if
they choose.
By the way, the name of these bellinis isn't carved in stone, so name them after the
couple's honeymoon destination for a personal touch.
A Little Something Extra
If you really want to go the extra mile, these island-inspired party favors will make your
guests feel like you spared no expense for their pleasure. Though they're not included in
the final budget, each favor will run about $3.00 per person. To create these shower
favors, you'll need to grab a few boxes of seashell-shaped chocolates and gold-wrapped
dulce de leche chocolates while you're at Trader Joe's. You'll also need to make a trip
before the party day to a craft store to pick up mini Chinese takeout boxes, small sachet
bags, silk orchids, hair clips, and ribbon.
Pluck the silk orchids from their stems, and glue one bud to each hair clip. Fill the sachet
bags with two seashell chocolates and one gold chocolate. Place the sachet bags and
hair clips in the boxes (lined first with gold tissue if you so choose), then close the box
and tie up with ribbon. Don't forget to print personal "thank you" stickers on your
computer using standard address labels. It'll take you a few hours to assemble
everything, but the effect is a much-appreciated elegant indulgence.
Tips and Tricks
Here are a few suggestions to help make your party perfect:
-In addition to serving bellinis, also have passion fruit iced tea on hand for the nondrinkers. Drop several orange slices in the pitcher for a flavorful, festive look.
-Music sets the mood. I found a fun Caribbean cd in the used bin at my local record
store for $4.88!
-Set the cold snacks on the food table, but try serving the hot food fresh from the oven
on pass-around trays. Guests love it when you bring the food to them.
-If you need extra flower arrangements, make sure you raid your garden for tropical
treasures you already have, like birds of paradise, hibiscus, or palm fronds.
-Take your friends up on their charity! If anyone offers to help, assign the tasks of
bringing a cake, an orchid centerpiece, and extra champagne to your trusted gal pals.
In case you don't have exactly 20 guests at your fete, plan on making about 2 1/2 of
each hors d'oeuvre per person.
-Suggest to all your guests that they dress in tropical attire, and have them bring the
bride a gift she can use on her honeymoon. The group photos will look great!
-Hand out note cards to the guests, and have them write a personal message for the
bride. Then as a wedding gift, present her with an album filled with the notes and photos
from the shower.
-Don't forget to decorate wherever your guests will be in your home, including the
bathroom. A beautiful touch is to fill the bathtub with water, then float orchids and
candles on top.
-Steal a few orchid buds to use as garnish on serving trays.
The Cost
Remember my bet? Let's add it all up, and see what this tropical shower really cost:
orchids/rocks $50.00
fabrics $0.00
Caribbean cd $4.88
1 12 oz. cream cheese $2.29
1 lemon curd $2.49
2 chunks brie $7.68
flour tortillas $0.99
1 package chicken $5.99
papaya/mango salsa $4.29
1 packages endive $3.58
2 mangoes $2.58
2 packages shrimp $13.18
sweet n' sour sauce $2.69
1 can pineapple chunks $1.09
manchego cheese $4.32
2 boxes water crackers $2.38
3 quarts mango nectar $11.97
6 kiwis $1.79
2 tubes goat cheese $7.98
2 quarts strawberries $3.98
mango salsa $1.79
apricot preserves $2.99
hot sauce $0.99
vanilla $2.99
8 bottles champagne $39.92
1 package fruit iced tea $2.69
total: $185.52
$185.52 for 20 guests =
$9.28 per person!