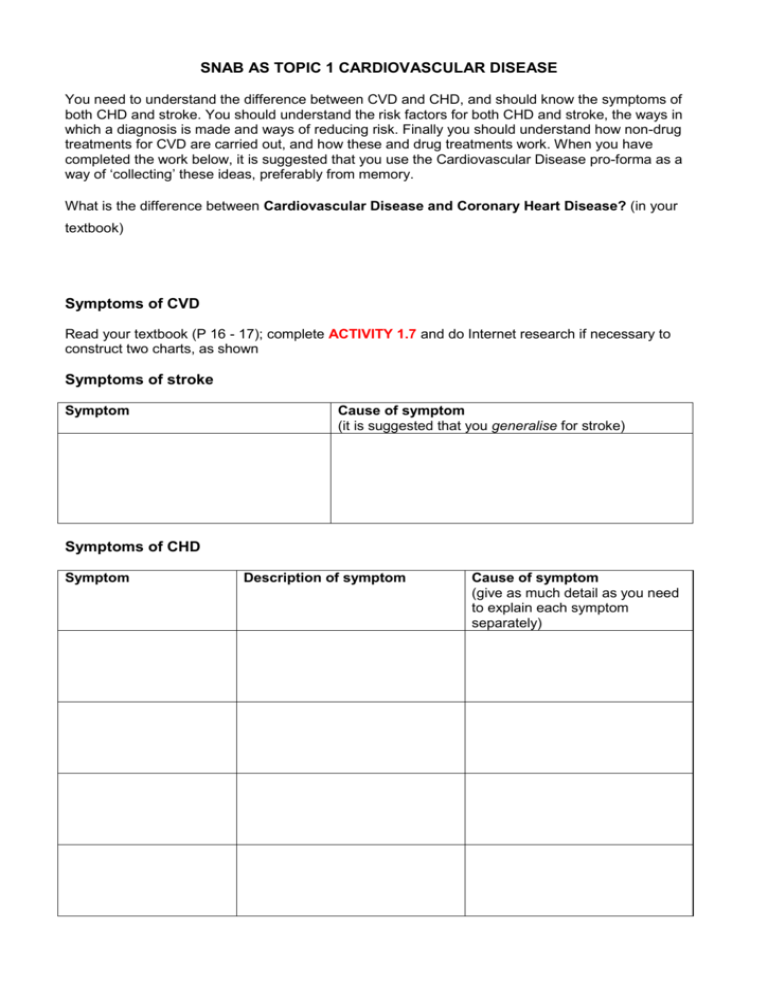 SNAB AS TOPIC 1 CARDIOVASCULAR DISEASE
You need to understand the difference between CVD and CHD, and should know the symptoms of
both CHD and stroke. You should understand the risk factors for both CHD and stroke, the ways in
which a diagnosis is made and ways of reducing risk. Finally you should understand how non-drug
treatments for CVD are carried out, and how these and drug treatments work. When you have
completed the work below, it is suggested that you use the Cardiovascular Disease pro-forma as a
way of 'collecting' these ideas, preferably from memory.
What is the difference between Cardiovascular Disease and Coronary Heart Disease? (in your
textbook)
Symptoms of CVD
Read your textbook (P 16 - 17); complete ACTIVITY 1.7 and do Internet research if necessary to
construct two charts, as shown
Symptoms of stroke
Symptom
Cause of symptom
(it is suggested that you generalise for stroke)
Symptoms of CHD
Symptom
Description of symptom
Cause of symptom
(give as much detail as you need
to explain each symptom
separately)
The lingo
There's an entire language that goes with CVD. Your textbook gives the meaning of these terms.
Make sure you know them. It's extremely unlikely that you'd have to define these in an exam
Definition
What it means
Haemorrhagic
stroke
Intracerebral
haemorrhage
Subarachnoid
haemorrhage
Ischaemia
Transient ischaemic
attack (TIC)
Myocardial infarction
Arrhythmia
Aneurism
DIAGNOSIS
We've covered this already but make sure you know what information these techniques provide. If
you're interested or if you think you may read medicine at university, do EXTENSION ACTIVITY 1.
This time won't be wasted: these techniques are examined at A2!
Technique
Information technique provides
CT or CAT scan (same
thing)
MRI scan
An ECG
RISK FACTORS
You have completed Activity 1.10. What was your main learning outcome from this? (Disregard all
the information you may have got about probability/stats/use of Excel!)
ooooooooooooooooooooooooooooooooooooooooooooooooooooooooooooooooooooooooooooooo
Resources for this section:


ACTIVITY 1.21 and ACTIVITY 1.22
Textbook P 40 – 45 (take special note of 'How to get yourself a heart attack')

Powerpoints that you will be shown in class (not mine). URLs on Biology website.
RISK FACTORS FOR CVD
The three most important risk factors are …
1.
2.
Risk factor
Age
Sex
Genes*
Cholesterol*2
High blood pressure
Smoking
Diet
XS Alcohol*3
Exercise
Stress
Why or how it increase the risk
3.
* P 40 –41 helps. If you've been participating in class discussions you may have other ideas too.
*2 You have not learnt the biochemistry of cholesterol yet (it's coming). Nevertheless, read the section – and here simply remember that it is LDL ('bad' cholesterol) that is more harmful than HDL (which is 'good' cholesterol)
*3 This is hard to understand. Work at it and ask if you need help
REDUCING RISK
Which of these risk factors have we no control over?
Which can, and should, we do something about?
Given that people are rarely capable of doing something about ALL their risk factors at once (see
QQ 1.37, 1.38 and 1.39) what are the most important risk factors that someone should aim to
reduce?
Write answers to QQ 1.37, 1.38 and 1.39 below:
REDUCING RISK
For this section, you should again read your textbook. You also need to complete ACTIVITY
1.24, ACTIVITY 1.25 and ACTIVITY 1.26
The biggest risk factors are …
The National Health service advice is
DRUG Treatment
Diuretics
Beta blockers
Antihypertensives
(You may need to explain the
role of the sympathetic
nervous system separately
here)
Anticoagulant drugs
(e.g. Aspirin)
'Clot busting' drugs
(e.g. Warfarin)
Streptokinase
Statins
How the drug helps the patient with CVD
Underline (left hand column) those that lower blood pressure
Other treatments
Treatment
Description
Coronary angioplasty
Coronary by-pass
Gene therapy
Dietary advice
A diet for a CVD patient should be one that is low in
It should include key items as shown below
Food item
Soluble fibre (eg …
Oily fish
Vegetable oils
Vitamin E
Fruit and vegetables
Garlic
Reason for inclusion in the diet
How it helps the patient with CVD
Stanols and esters
(you will need to do
Activity 1.27 too)
SNAB AS TOPIC 1 CARDIOVASCULAR DISEASE
October 14th – 18th - What you must do

Hand in Activity 1.10

Decide how you're going to work: Identify the remaining Activities (mailed to you) from the CD
ROM. All are mentioned in the text, but they are ACTIVITY 1.7, 1.23, 1.21, 1.22, 1.24, 1.25,
1.26 and 1.27. You should also look at all three EXTENSION ACTIVITIES if you have the time.
Check to see if any require software which may only be on LC1 computers (I think there are no
animations). If you have problems with Internet access, you need to download them in your
LC1 lesson.

Start work on cardiovascular disease. Three choices
1. Write it all out by hand
2. Download Cardiovascular Disease from Ringwoodbiology website as a pdf. Then write on it.
3. Download Cardiovascular Disease from Ringwoodbiology website as a Word document.
This allows you to alter the spacing very easily, so that, if a table, for instance, requires more
space, you can allow for it.

You should have answered EVERY question in the textbook for Topic 1.

When you've completed this work, use the Cardiovascular Disease pro-forma (also on
Ringwoodbiology) as a means of revision. You are welcome to have hard copy, but the
document is on the website so that you can use several copies as part of your revision
process. Reminder: Biofacts sheets (on Network) are useful. There is also a useful CDROM
on the Network (Windows – Subjects – Science – Bio. It's called 'Aircom' & has a blue icon)

Next week: Monday period 1 (12d) and Wednesday period 1 (12b) you will be set the on-line
end of unit test. Make sure that you have completed all the Review Tests (these are designed
to boost GCSE knowledge). If you haven't finished all work on lipids with CSE/MWK this will be
taken into account.

We begin Topic 2 next week.

Next term (so that you have half term for revision) you will have a written test. In addition to AS
exam questions, some questions will be taken from the textbook. After the written test, you can
borrow past paper questions.
HAND-IN DATE FOR CVD work is
Monday October 21st (12d) or Wednesday October 23rd (12b)
MAKE SURE THAT YOU HAVE A COPY OF THE SPECIFICATION. YOU NEED THE LEARNING
OUTCOMES FOR REVISION. THESE ARE WHAT THE EXAMINER IS ALLOWED TO TEST YOU
ON! THE SPECIFICATION IS ON THE BIOLOGY WEBSITE.